News
PR: One and a Half ECKC Championships for K&P Drivers
What?!? ONE and a HALF championships? How does that even work?
Dave Anderson is the 2016 Briggs LO206 Masters ECKC Champion and Jeffrey Kingsley is the Briggs Senior ECKC Champion (but we are only taking HALF credit for that one, as Kingsley consolidated both his drives under the PSL tent at the mid point of the championship).
"Amazing! One and a half LO206 championships is a great way to finish our ECKC championship season. Not bad, considering we only contested in two LO206 categories. Our Awesome Karts were never far from a race win on any given day. A true testament to our drivers and equipment." commented Team Manger, Kyle Herder.
K&P would also like to give a crisp high five to Briggs & Stratton for providing a strong, reliable & steady-performing engine package for the super competitive racing field. Not once did our drivers ever feel that their race ready-crate engines were less than stellar. In fact K&P felt so strong about the even level of performance for the LO206 engine, we actually traded our multiple race winning engine in for a new box-stock engine when the tech's came calling. No questions asked!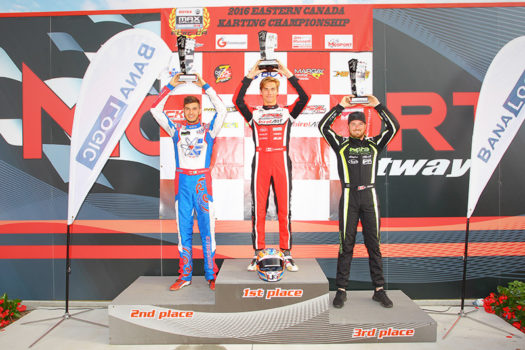 We are already looking forward to next year's elite LO206 championships, here at home, across Canada, and beyond.
Congratulations to:
Dave Anderson – Briggs LO206 Masters Champion
Quinn Dewsburry – Briggs LO206 Masters – 8th place in Championship
Jeffrey Kingsley – Briggs LO206 Senior Champion
Pearce Herder – Briggs LO206 Senior – 3rd place in Championship
Karts & Parts Fast Facts:
Established in 1983, Karts & Parts has always been a contender at the largest races in North America. Specializing in many categories from Briggs & Stratton and Rotax, K&P's branded Awesome Kart and Awesome Engines will be sure to get you to the top step of the podium. The last and most important ingredient is Karts & Parts' Trackside Support of experience and knowledge.
Please contact Karts & Parts at www.kartsandparts.com or (905) 294-4592 for any of your karting inquiries.