Latest News
PR: Details Announced for Canadian Karting Challenge at Shannonville
A must-attend event for ASN Canada drivers in all classes including shifter and Rotax DD2, the Canadian Karting Challenge (CKC) is pleased to announce details for their upcoming event at Shannonville Motorsport Park July 22-24. Running the Full Nelson layout, series drivers and Innsifil Kart Club participants will feel the speed and excitement Shannonville is known for.
"The track is ideally suited for shifter and DD2 racing, so if you have a kart we urge you to come to Shannonville for a spectacular event," explains Innisfil's Tony Launi. "There will be a lot of track time for all classes, and we have some amazing prizes and giveaways."
Event Details:
Friday, July 22 – Practice from 5pm-9pm
Saturday, July 23 – IKC/CKC Doubler Header Race
Sunday, July 24 – CKC Race #5
Prize Details:
Tires will be awarded to the day's fastest time for Junior Shifter with an additional set drawn at trophy presentations
Cash prizes for Junior Shifter: 1st $500, 2nd $300 and 3rd $200 – Sponsored by Andrea Masini from Ultra Coat Industries
Coveted Bear Trophies for all First Place finishers
For all classes that reach a minimum of 10 drivers, cash prizes: 1st $250, 2nd $150 and 3rd $100, excluding Shifter classes
Shifter classes will be hunting for championship points, as both the Jr. 125cc Shifter and Sr. 125cc Shifter class champions will win a ride to the 2016 Superkarts! USA SuperNationals in Las Vegas, Nevada at the conclusion of the 2016 series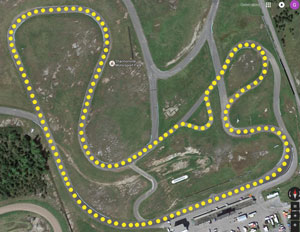 Series officials are asking drivers to register early. Anyone who registers before Sunday, July 10 will receive free parking (some restrictions apply). A "RACE HARD OR GO HOME" t-shirt will also be included in registration, provided by the CKC. Email racing@innisfilindy.com or call 905-775-4686 to register.
Innisfil Indy is also offering shifter kart rentals for the Shannonville race. More details and information can be found by calling 905-775-4686. All rentals must be booked by Sunday, July 10.
The CKC would like to thank Junior Shifter sponsor of CKC Race #3 on Sunday, June 26, the Barry Family at JBB Technical Installations. Karting relies on support from outside industry, and the CKC is very thankful for support from families like the Barry's. Also thank you to Andrea Masini from Ultra Coat Industries and John Ciufo from Dumont Contractors Inc. for all their support and sponsorship of Junior Shifter.
For more information the Innisfil Kart Club and the Canadian Karting Challenge, email racing@innisfilindy.com, call 905-775-4686 or visit www.canadiankartingchallenge.com.