Driver Blogs
CKN Driver Diary: Xavier Harris @ Rotax Pan American Championships
Toronto Micro-Max racer Xavier Harris was part of a large group of Canadians who took part in the Rotax Pan American Challenge event in New Orleans, USA. Following the event, X wrapped up the event in an exclusive driver diary for CKN. Enjoy.
---
PEARSON DEPARTURE.
My mom and dad picked me up from school on Tuesday afternoon and we headed for the airport. My dad and I arrived with time to spare and checked in at the Airline counter. We proceeded through U.S. customs and were the next in line at security when I realized that we did not have my laptop with us. We had left it on the floor in front of the check-in kiosk. I shouted to my dad, "I am going to find it!" and I took off running. I was stopped abruptly by a police officer asking me, "What the heck are you doing?" My dad finally caught up to me and explained to the officer and other security personnel that we had left my laptop at the check-in kiosk. I was told that because we had already gone through customs, I could not go back to the counter. I pleaded with them but it was now a security issue because an item had been left unattended at the airport. Apparently they take these kind of things quite seriously. Fortunately the laptop was located and confirmed to be ours, was returned to us and we met up with our tuner Wrex Roth and waited to board our flight for New Orleans.
AT NOLA MOTORSPORT PARK.
I arrived at the track on Wednesday morning, anxious to get going. I was very impressed by the size and appearance of the facility. Most of the race teams were already there and set up and we had to find our team (Praga/IPK North America) in the sea of tents. After ensuring that my OK1 was set up properly I was ready to hit the track for my first session.
My first session was surprisingly not too bad as I had to get used to a new kart, a new track, the heat, and most importantly MOJO D1 tires.
Throughout the course of the day we tested different set ups and tire pressures in an attempt to learn more about the chassis, which is the same as what will be used at the Grand Final Micro-Mini Invitational , as well as the track.
We had two very good days of testing and we ended the last session on Thursday working with my fellow, Goodwood Kartways Micro Max driver Joshua (Cunha), in learning how to use the draft which is very necessary on that track. I left the track feeling optimistic about qualifying the next morning.
"The net result was that I ended up driving the overwhelming majority of the qualifying session without benefit of the draft."
GETTING SERIOUS.
I had a good warm up session and waited for our first drivers meeting. Wow! what a room. The chairs and couches were very comfortable and the air conditioning felt fantastic as it had been very hot. I had to pay extra attention as some of the rules were somewhat different than what I was used to in Canada.
I went out a little later in in the morning for qualifying and blew it. Most of the drivers and their tuners were playing games on the grid and it was not what I expected especially after the drivers meeting. The net result was that I ended up driving the overwhelming majority of the qualifying session without benefit of the draft. My dad was not very happy with me but I was not very happy with myself either.
Friday afternoon was Heat Race 1. About a half hour before we were called to the grid an unexpected, massive rain storm came down on us. Waiting on the grid to go out on the track, it was difficult to see as the rain kept pounding on my helmet and running down my visor. As we went out for our warm up lap the rain eased but there was so much water on the track it was difficult to see even in the warmup lap. Drivers were spinning and going off in that lap so I wished I had qualified higher than 17th. Things worked out pretty well for me in the race as I was able to finish 6th, not bad but there were two more heats to go.
"…but on exiting a corner, my engine did not respond. I backed off, went back on the throttle, there was a hesitation then the engine kicked in."
On Saturday I finished 8th in the second heat and finished 11th in the third heat, I was happy because I knew at that point I had accomplished my goal when the heats began of starting inside the top 10 for the pre-final. In fact I was going to start 5th.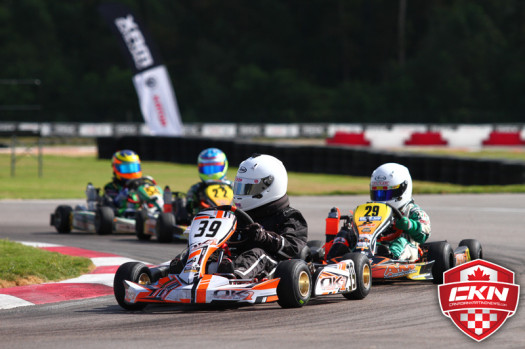 CHAMPIONSHIP SUNDAY
When I got to the track on Sunday morning. I already felt a difference. Everyone was more serious, more business like. After the morning warm up which had gone very well I found a cool quiet spot to relax and settle down a little and wait for the pre-final.
As we went green for the race I realized that everyone was on it that morning. Unfortunately, three laps in there was an accident that resulted in the race being red flagged. I did not realize it at the time but my right rear tire was leaking as a result of a loose valve stem. The race restarted and although I was still at P5, the kart was not the same as I had difficulty turning right and had little rear grip. I managed to hold on to a ninth place finish and upon returning to our pit Wrex discovered the reason for my loosing speed. I thought that sucks but there is still the final.
I started P9 for the final and got a great start, I was up to P5 after a few corners and was at P4 for a time. I lost a couple of positions and remembered my qualifying lessons, get behind them, work in their draft. Well it did not quite work out that way. I was able to stay with the group for a few laps but on exiting a corner, my engine did not respond. I backed off, went back on the throttle, there was a hesitation then the engine kicked in. By then it was too late. I had lost contact with the group and therefore the draft. On the last run down the long back stretch a freight train of 4 karts caught me and went by me through the chicane. I got behind them and pulled out down the straightaway using their draft to reclaim two positions, finishing ninth. At the finish line I realized I had no brakes as I hit another driver and had to drive off into the grass in corner two just to stop.
CONCLUSION.
I was disappointed and happy at the same time. I wish that things had gone a little better for me on Sunday but I was happy with my on track racing performance. I gained very valuable experience on the track for the Grand Finals and I am really looking forward to coming back to NOLA in November. I would like to give a big thanks to my mom and dad for their continuing support. I would also like to thank Wrex, Marco and Nigel for believing in me.
-X