The 2018 Rok Senior Canadian Karting Champion didn't quite have the week in Italy he was expecting. Competing in the Rok Cup International Final amongst the worlds best Rok Cup racers, Xavier Harris witnessed first hand how much different European karting was.
The young driver from Toronto, Ontario has pushed throughout his career for an opportunity to compete on the global stage and after nearly skipping the Canadian Championships, delivered a race-winning performance at Mosport this summer to win that opportunity.
In that regard, Harris was all smiles when we asked him about the experience in Italy.
"Personally, this event represented a culmination of all the effort I have put into racing through the progression of my career. In that aspect it was an overall excellent and enjoyable event. Not to mention that it was my first time in Italy, making it all the more adventurous!"
Paired up with the Intrepid Driver program and supported by three Canadian teammates, Marco DiLeo, Joe Crupi and John Cariati, the team would form their own operation at the South Garda Karting circuit in Northern Italy.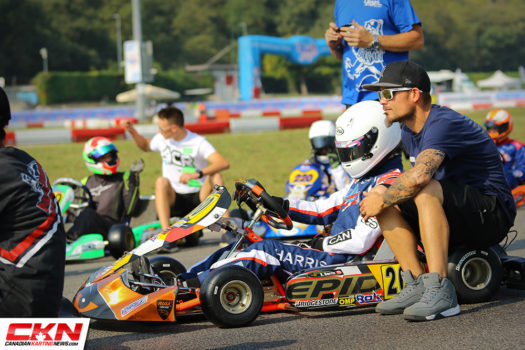 Using the Autumn Trophy race the weekend before the Rok Final to get up to speed, it was all about learning. For X, it was a new circuit to learn, a new go-kart, different tires and intense competition. While it was still a go-kart race, almost everything was different than what he is used to.
Following the Autumn Trophy, the team took one day off before returning for the big event. The number of entries grew significantly and so did the competition. Everyone was closer in speed and even the smallest of mistakes were punished. To top it all off, the team was struggling with some engine issues with both Harris and DiLeo.
"To describe the level of competition, the only thing I would have to say is rough. The level of aggressiveness is significantly higher meaning more hand-to-hand combat racing in tight packs. Compared to Canada, the size of the field and amount of drivers that are close to yourself in speed really make for more exciting and tight racing."
As the weekend went on, Harris put his best efforts into every session and would run very close to his teammate. Trying different settings on the final day, hoping for a little more speed didn't quite pay off and he would struggle in the OMP Trophy, finishing fifteenth in the B Final.
But knowing there was something holding him back from attaining a better result, Harris is motivated for a second shot and a chance at redemption.
"After experiencing such a fantastic event, I am extremely motivated to get back to racing here in Canada to make my way back to the pinnacle of racing for a chance at redemption after a rather lackluster Rok Finals week."
While he will have to wait for winter to pass, we're expecting to see a whole new Xavier Harris on track in the spring of 2019.