Canadian Karting Talents Shine at the 2023 ROK Cup SuperFinal
A group of ten passionate Canadians embarked on an international journey last week to participate in the prestigious ROK Cup SuperFinal. This invitational event gathers top-notch racers from Italy and around the globe, showcasing their skills at the renowned South Garda Karting circuit, considered the ultimate destination for karting enthusiasts.
This year's edition witnessed unprecedented scale, featuring fully booked grids in Mini, Junior, and Senior categories. Additionally, there was significant growth in Shifter, Expert, and Expert Plus divisions, leading to the addition of extra sessions throughout the weekend. Despite Team Canada being smaller in number this year, our dedicated racers proudly represented the maple leaf and demonstrated the robust presence of karting in Canada.
For karting enthusiasts spanning the Canadian expanse, the ROK Cup SuperFinal is a must-experience event, deserving of a spot on every racer's bucket list. After returning home and allowing a few days for recuperation, join us as we delve into a comprehensive review of our Canadian drivers' performance this year.
---
Mini Rok
---
Cole Medeiros
Qualified: 45th of 72
Heats: 19th / 22nd / 19th
Vortex Trophy: 7th
Making his first start outside of North America and still only in his first year of two-cycle competition, the ROK Cup SuperFinal was a grand experience for Medeiros. He teamed up with Ward Racing and competed in the Trophy Cup and the SuperFinal races.
Battling throughout the midfield all week long, Medeiros came up only a few points short of making the Main event. Being so close, he started outside the front row for the Trophy Final. The outside row wasn't kind to many drivers this weekend in any category and Cole slipped back to fifth before he even got to corner one. He battled hard from there, lost a couple of positions in the early laps and then settled into seventh place. He kept up with the racers ahead but could not challenge them and crossed the finish line with a respectable seventh-place finish.
"It was a great Rok Cup event. First I would like to thank REM and Ward Racing for the great support that they provided. It was very interesting to me with the lottery for the engines and I liked it because it was always fair for everyone. This week had a lot of learning and progression that I can bring back home to Canada and the US races as I start my new season in Junior."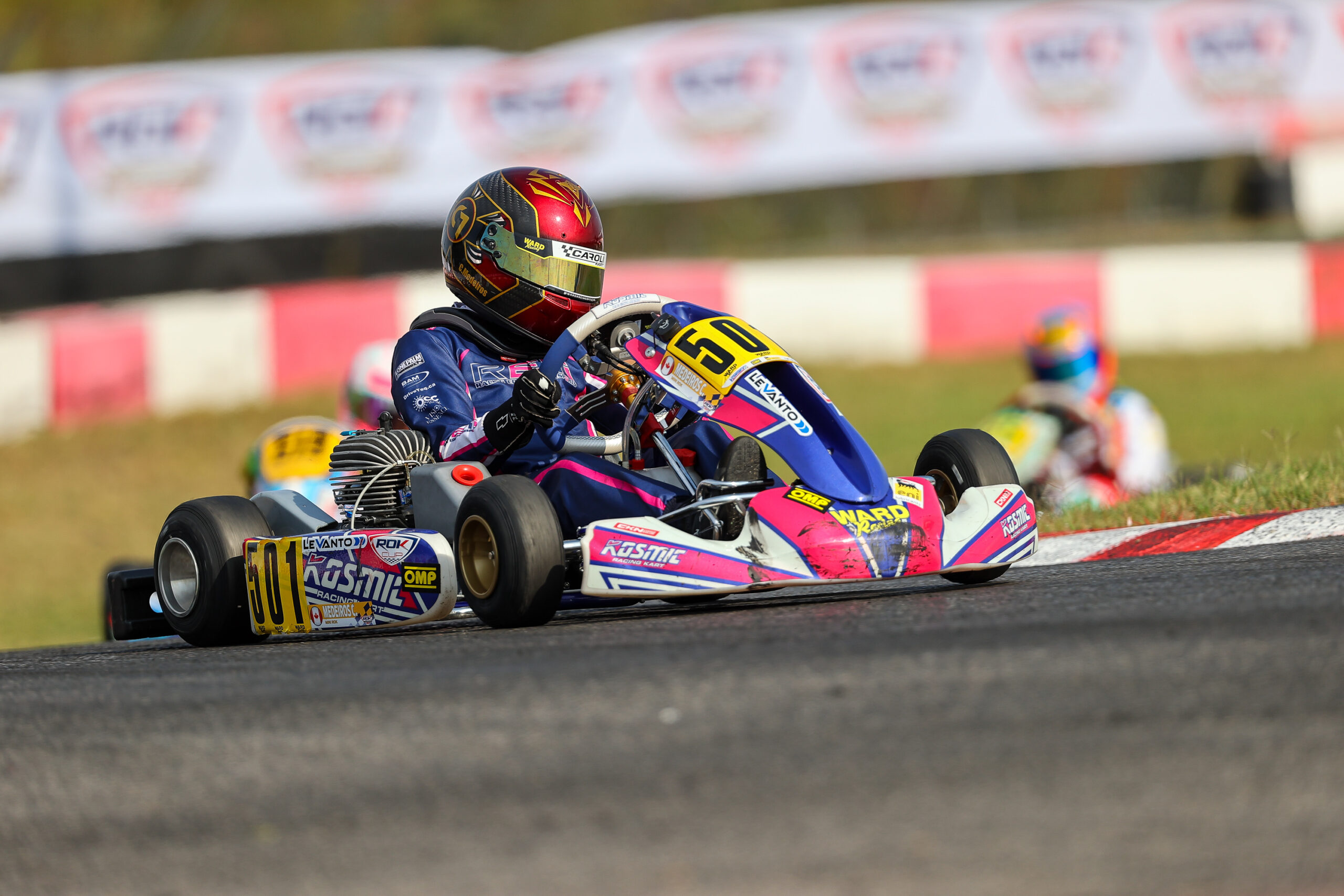 Ethan Tyers
Qualified: 35th of 72
Heats: 20th / 23rd / 30th
Vortex Trophy: 12th
After brother Quinn had the opportunity to compete last year, the Tyers family returned to Italy in 2023 for Ethan. Courtesy of his KartStars Nationals win Ethan Tyers got to experience an international competition. He joined up with a very international and fast group of racers at AV Racing aboard a Parolin Kart. Tyers found himself racing right in the middle of the pack, often racing wheel to wheel with Medeiros.
A tough go in the third heat hurt his chances at the A Final and forced Ethan to start mid-pack in the Trophy Final. He was up and down the running order and eventually crossed the finish line in 12th place, a little lower than the pace he showcased throughout the week.
"I will never forget the experience I've had in Italy at the Rok Superfinal. I learned so much about aggressive racing, hard braking, and trusting the grip! I hope the pace I showed made people in Canada cheering me on proud. I hope to come back to race it again!"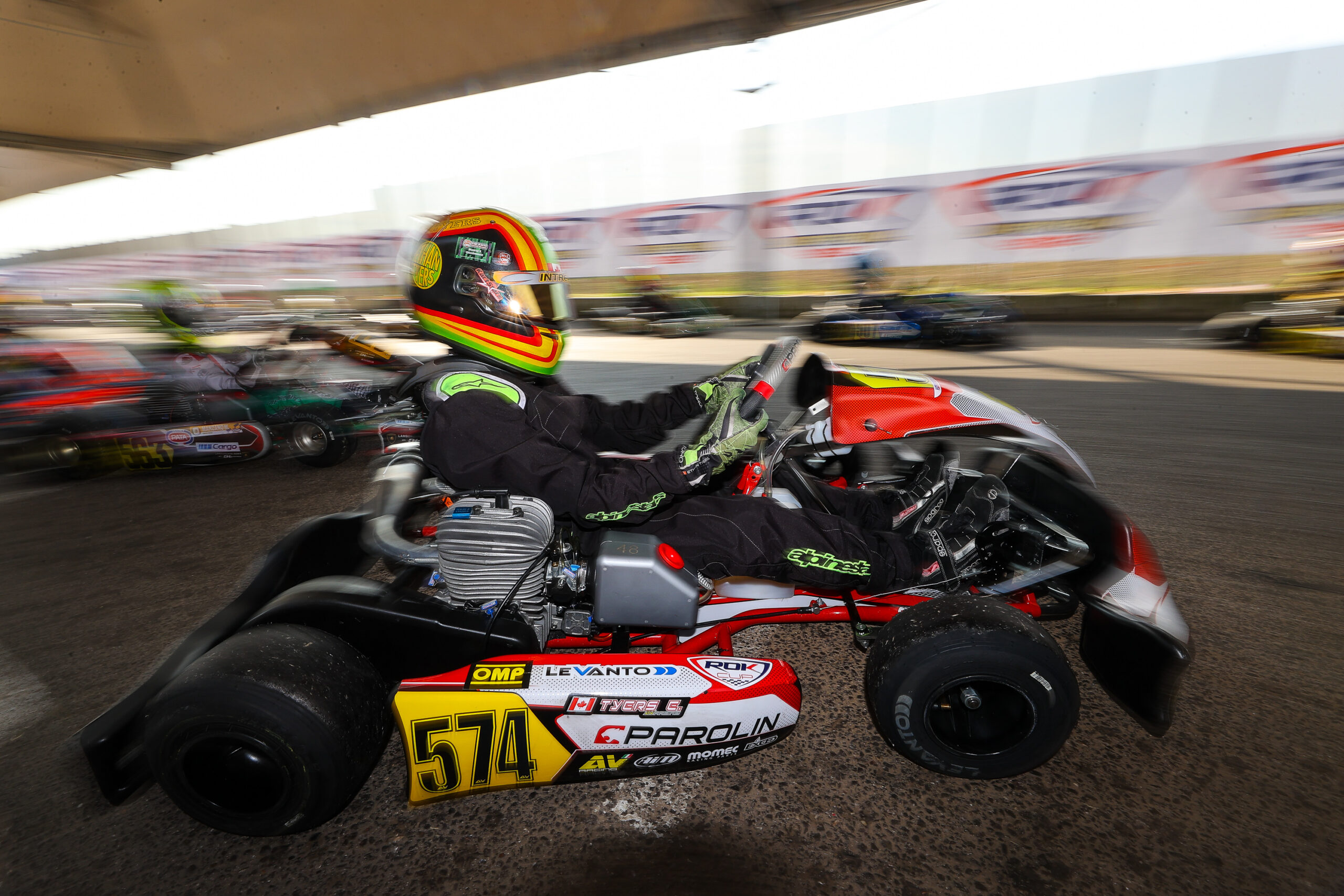 ---
Junior Rok
---
Oliver Mrak
Qualified: 39th of 104
Heats: 7th / 12th / 12th / 18th / 12th
Final: 17th
As one of three Canadians in Junior with support from Racing Edge Motorsports at Ward Racing, Olivier Mrak made his first international start in Italy. He utilized the Trophy Cup race to familiarize himself with the South Garda circuit and quickly got up to speed on the high-grip track to enter the main weekend with some momentum.
After a respectable 39th-place qualifying effort, Mrak had a brilliant first heat. His starts in all of his heats were really strong and while his inexperienced race craft cost him a few spots in his heats, his consistency and ability to avoid trouble helped him transfer directly to the SuperFinal. Driving well above expectations, Mrak advanced fifteen spots throughout the 16-lap race to score a 17th-place result, the best of all the Canadians this year in Italy.
"Coming into this race, I didn't have many expectations. I knew that the competition was going to be tough. After a few unlucky sessions, I was able to finish 17th in the Finals! I definitely learned a lot this weekend and enjoyed the track."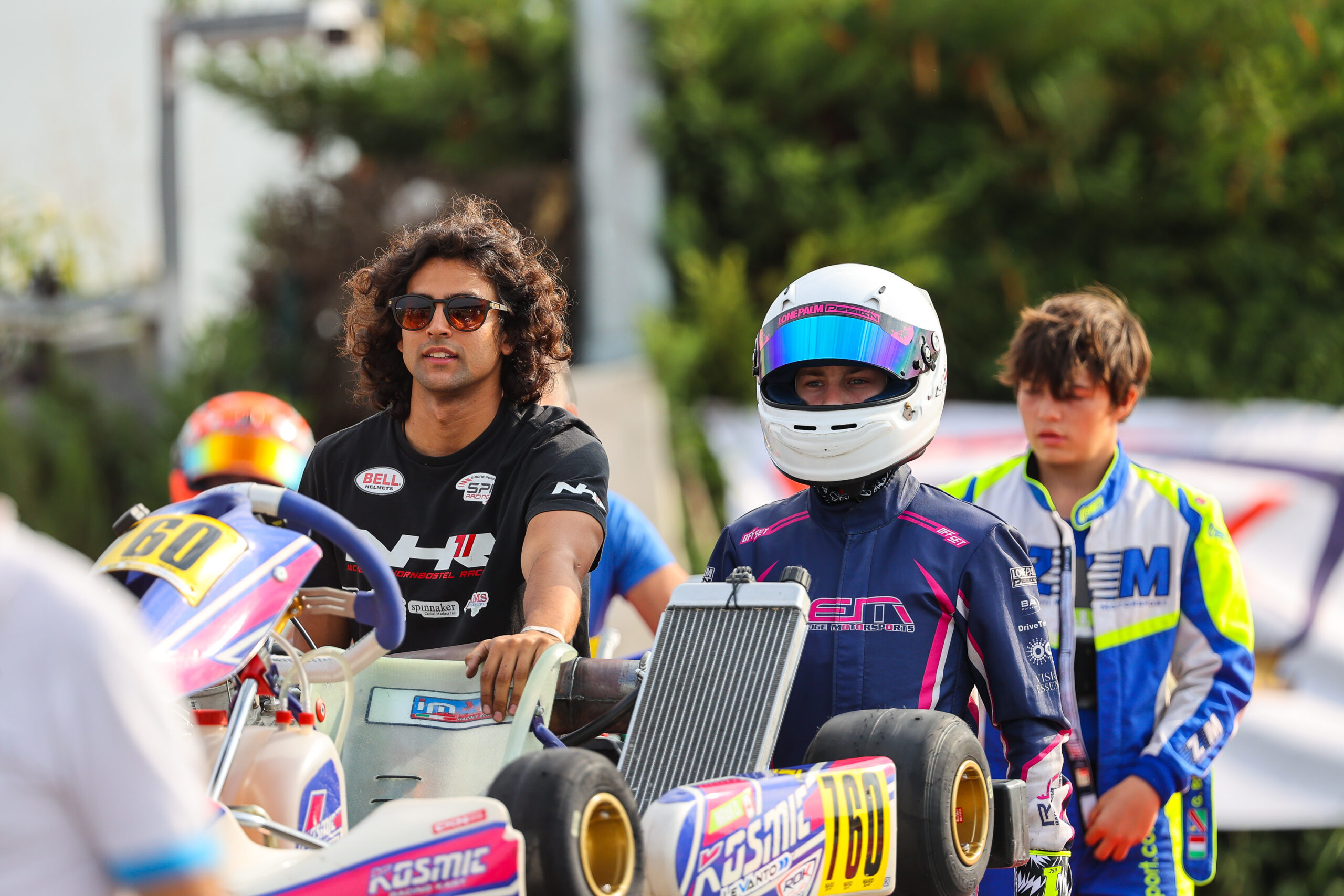 Frederique Lemieux
Qualifying: 34th of 104
Heats: 13th / 14th / 13th / 6th / 11th
Final: 25th
It was a really impressive race week for Frederique Lemieux, one of the best we've seen from her so far. Like Mrak, she was in Italy early for the Trophy Cup race and that helped her settle into her REM/Ward Racing Kosmic Kart and the South Garda Karting circuit. Learning she needed to be more aggressive when it came to the racing, Lemieux progressed in all of her heat races and only got stronger towards the end, with a very impressive P6 in heat 4 helping her transfer directly to the SuperFinal.
While she struggled to move up more than a few spots in the main event, it was an all-around successful trip to Italy for Lemieux.
"I'm happy, I learned a lot and I improved my racecraft. I think luck wasn't on our side, but I still enjoyed my week here. The track is so fun to race on! I would like to thank Austin and Kevin for coming and helping me and pushing me to be my best and Ward Racing for everything they did for us the past two weeks."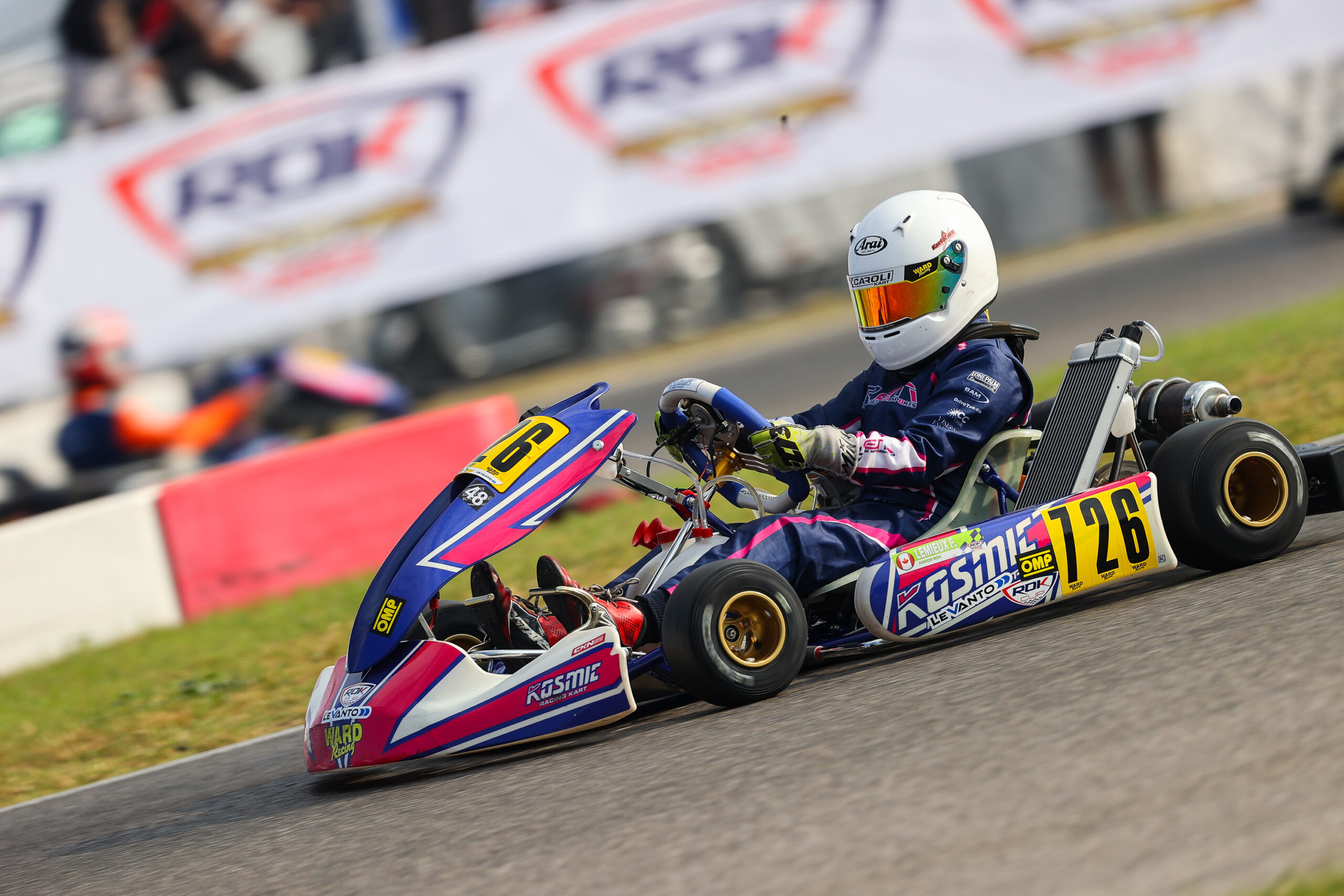 Antoine Lemieux
Qualifying: 104th of 104
Heats: DNF / 21st / 21st / 15th / 13th
Levanto Trophy: 13th
It was a weekend to forget for Antoine Lemieux. He arrived in Italy on Monday morning after a weekend of racing in Dubai. A couple of test days helped him get up to speed, but wasn't quite at the level of Mrak and Frederique.
Disaster struck on the grid for Qualifying as a starter failure forced him to miss the session and rank dead last. It didn't get much better in heat 1 as he went off track to avoid a crash and filled his airbox with debris, ending his heat a lap later with engine failure.
Reseting on Friday, it was a much smoother day of heat racing, progressing forward in all of them but it just wasn't enough to move into the top 36 for the main event. Competing in the LeVanto Trophy, Lemieux continued to move up the ranking and finished 13th in the race for a net gain of 55 positions.
"We had a good week, I think the pace was good considering not doing the weekend before.
Had some issues in Qualifying and made mistakes as a driver but a fun weekend in the end and I learned a lot."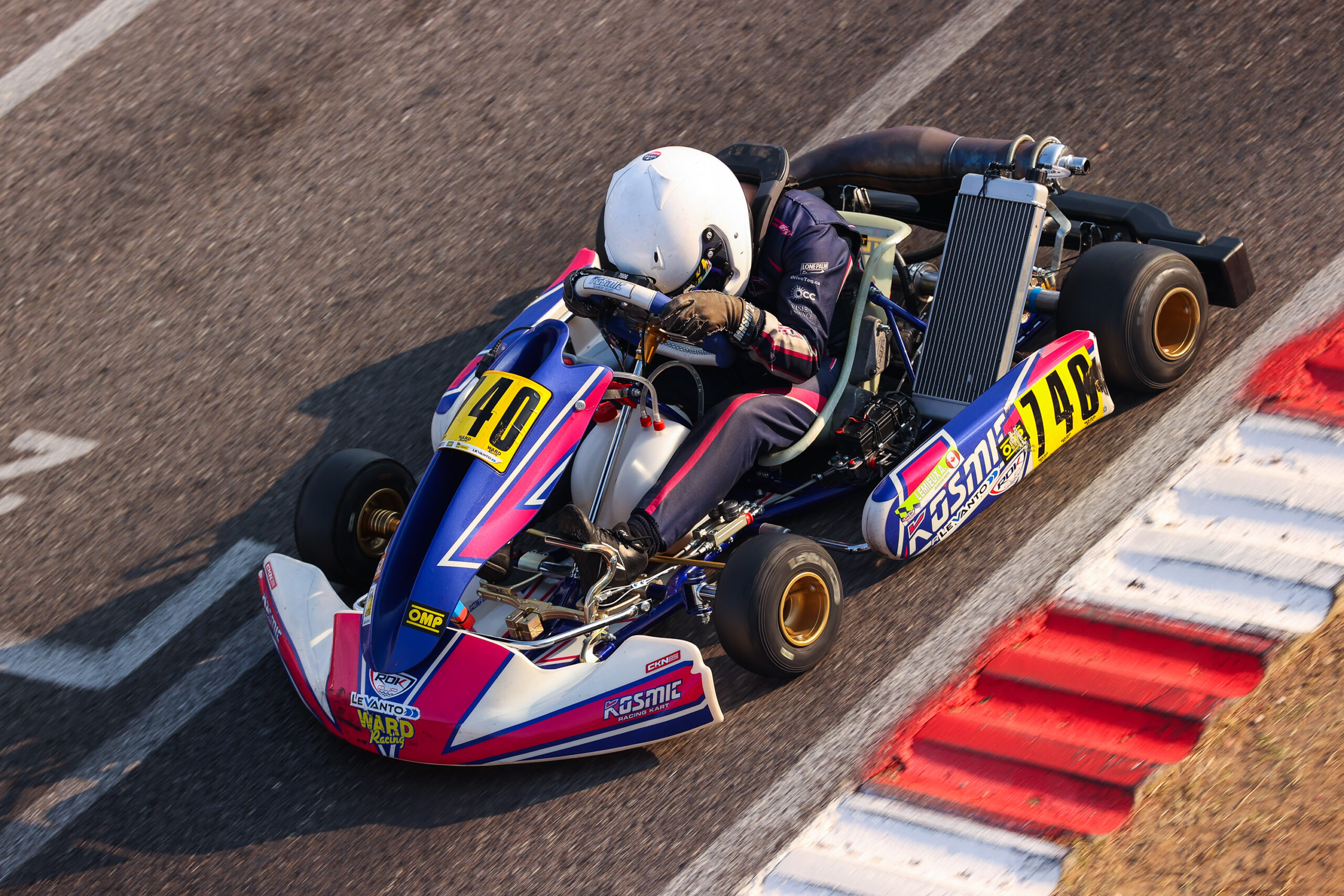 Zachary Taylor
Qualifying: 56th of 104
Heats: 13th / 12th / 9th / DNF / 23rd
Levanto Trophy: 23rd
A very positive start to the race week quickly went downhill for Zachary Taylor, who is now racing with Italian outfit KGT Racing.
Qualifying right in the middle of the pack wasn't ideal but Taylor moved forward in each of his first three heat races to advance up the ranking. But a crash and DNF in heat 4 quickly flipped the momentum and a tough go in his final heat race gave Zach no chance of making the main.
Running the LeVanto Trophy race saw Taylor have a good start, but the racing was aggressive and he was unable to move forward. He crossed the finish line in 19th but had a pushback bumper penalty move him back to 23rd in the final ranking.
"This weekend was quite a difficult one. Definitely not the result we wanted due to some unlucky heats, but I showed promising pace and race-craft which gives us confidence for the upcoming events."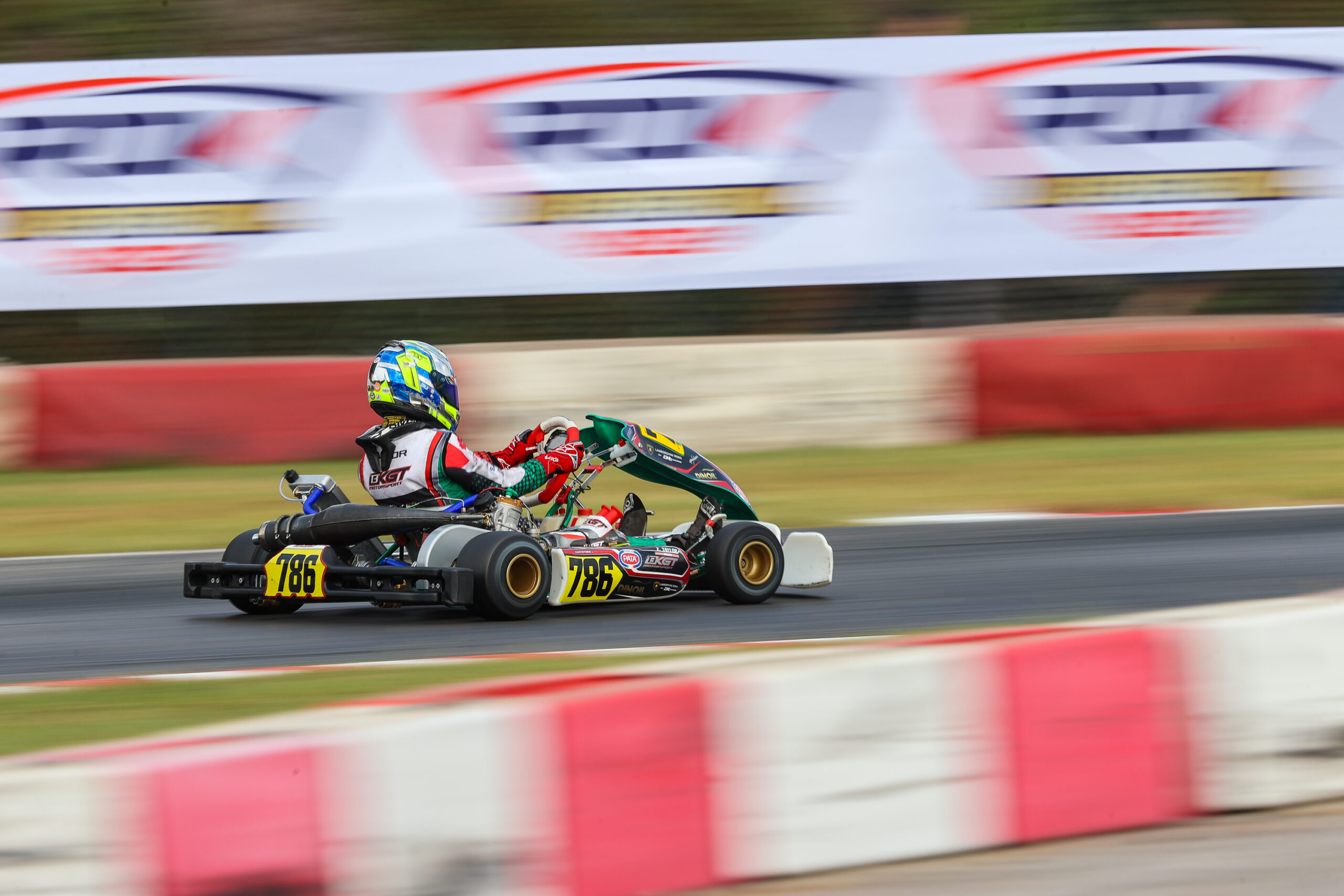 ---
Senior Rok
---
Nolan Bower
Qualifying: 54th of 104
Heats: 16th / 18th / 25th / 21st / 30th
OMP Trophy: 31st (DNF)
It wasn't quite the week Nolan Bower was hoping for in his return to the SuperFinal. Unfortunately, he couldn't replicate the pace he had in 2021 and struggled throughout the week.
He was able to avoid trouble in the first few heat races but as the field became desperate towards the end of Friday and early Saturday, Bower found himself getting bounced a few times and just narrowly advanced into the OMP Trophy.
He made a few gains in the opening laps of the OMP Trophy until a heavy crash ended his weekend early with a DNF.
"Unfortunately the weekend didn't go exactly as planned but regardless of that there were lots of positives to take away and apply going forward. Once again I owe Tyler Ripani a massive thank you for all of the non-stop work he put in each and every day and I'm so grateful to have him as part of my team as well as my parents and sponsors for doing everything they possibly could to get me here."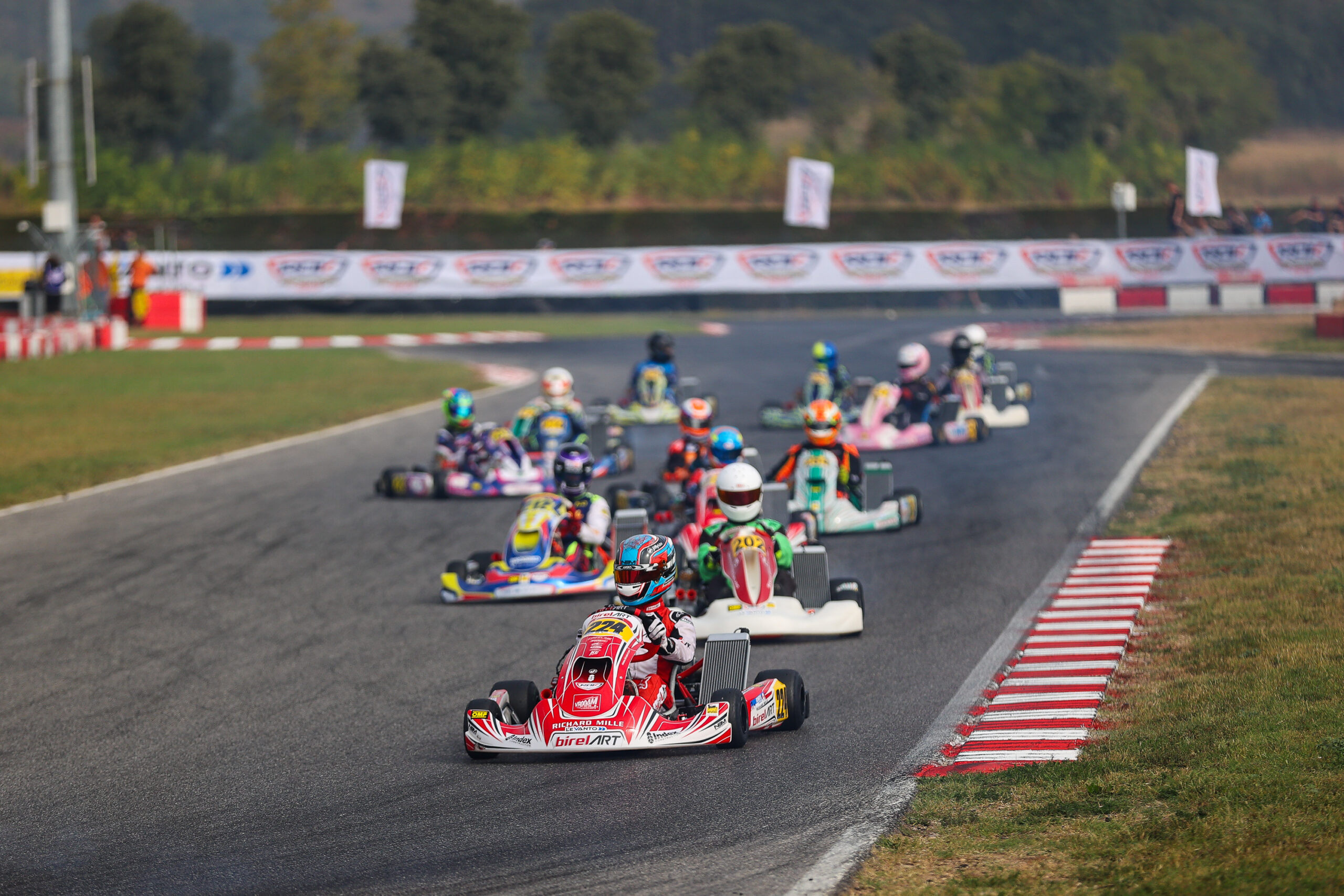 ---
Shifter Rok
---
Nicholas Taylor
Qualifying: 31st of 47
Heats: DNF / 22nd / 4th
Final: 34th (DNF)
A heartbreaking weekend for Nicholas Taylor who entered the weekend as the ROK Cup Italy Shifter Champion as a perennial threat to win.
Qualifying was intense and unfortunately, Taylor was stuck in traffic for his fast laps and ranked down in 31st, well below the times he was showcasing in free practice.
A DNF in heat one came after his motor mount was dislodged while avoiding a crash in front of him on the start. It went from bad to worse in heat two as he finished 22nd and for heat three he went for a hail mary just to make the Final, opting to use his set of new tires. It worked and he drove to fourth place and snuck himself into the top 36 to make the Final.
Unfortunately, his Final lasted only a few laps and he had to withdraw due to a gearbox failure.
"We came into this weekend with hopes of putting my name and GP Kart into the history books. Unfortunately, we had technical troubles all week long starting from the qualifying which really hindered my chances, ending the weekend with a DNF after the first few laps of the Final."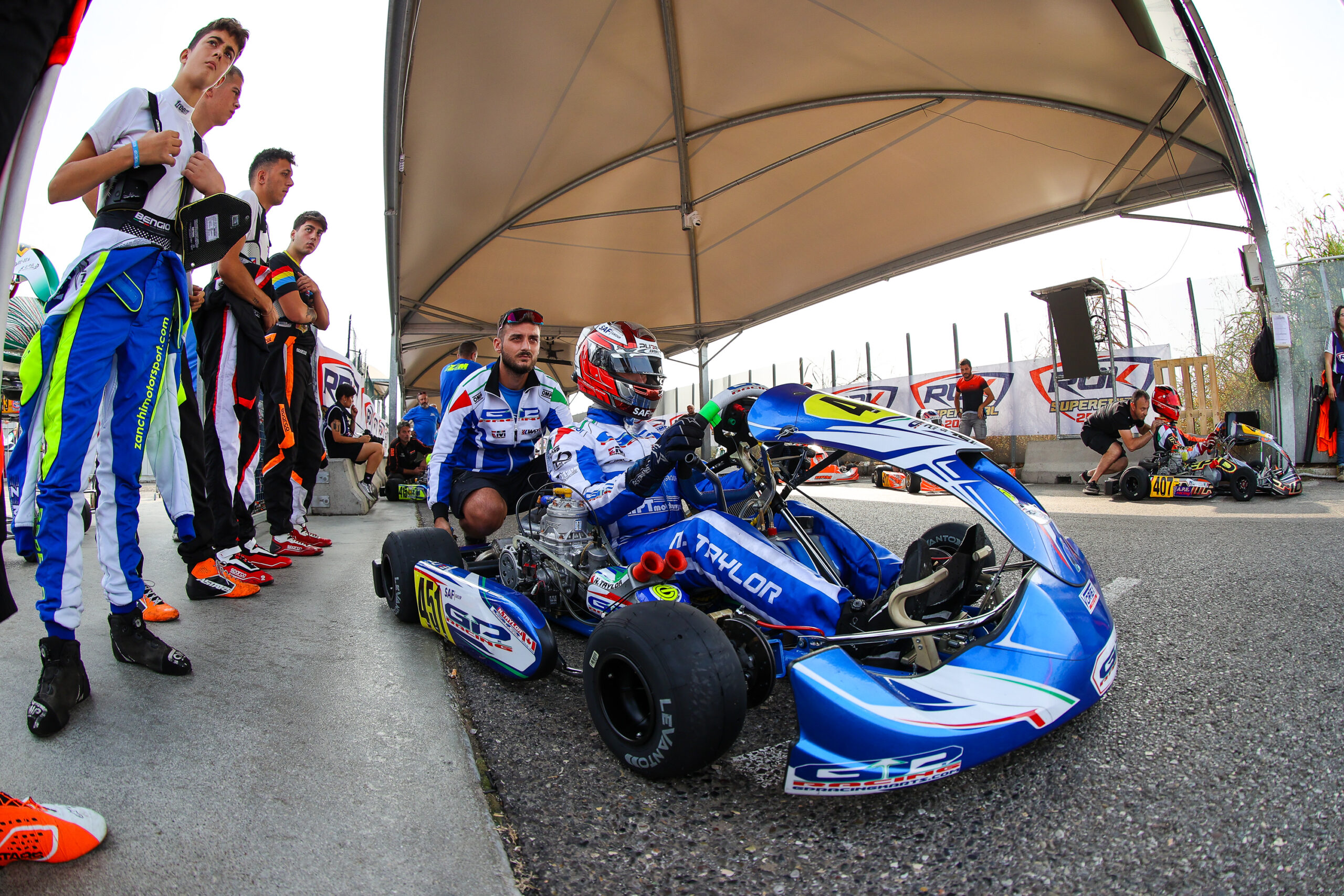 ---
Expert Rok
---
Dave Laplante
Qualifying: 25th of 37
Heats: 11th / 17th / 15th
Final: 34th (DNF)
His first Rok Cup SuperFinal was an experience for Dave Laplante as he joined up with Flowers Racing for the week.
He struggled to find a good balance with the chassis and qualified lower than expected. This put him in heavy traffic for the heat races where he had pushback bumper penalties ruin decent runs in heats one and two.
While he was able to advance to the Final, it only lasted three corners. A big crash ahead left Laplante with nowhere to go and heavy contact knocked his chain off and ended his race on the spot.
"I had an excellent experience for my first European race. We had enough for mid-pack pace but didn't have much luck and DNF in the Final. The experience gained on this level of grip and rubber will help me in future races."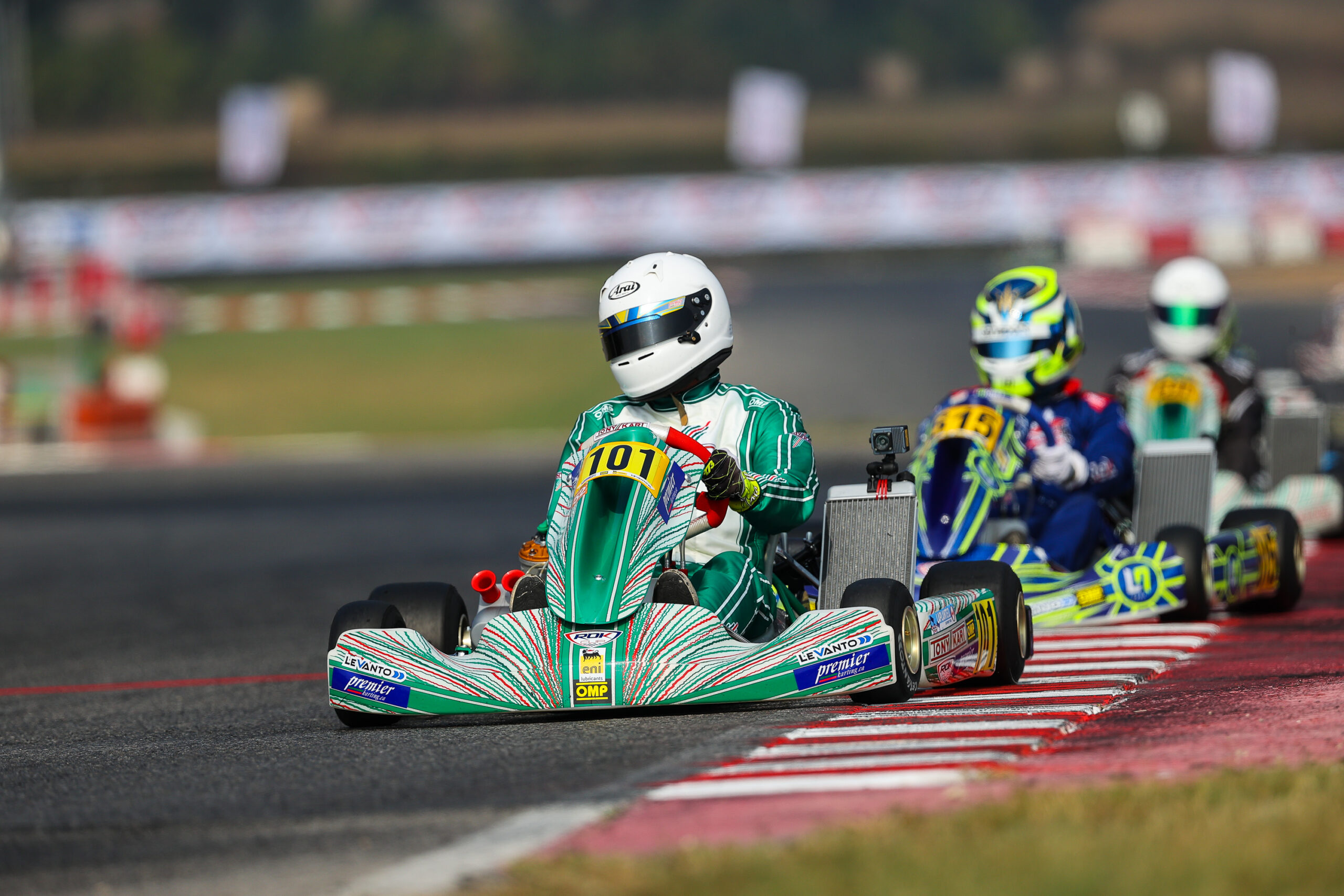 ---
Expert Plus Rok
---
Sylvain Coulombe
Qualifying: 15th of 15
Heats: 14th / 15th / 13th
Final: 13th
Sylvain was back in Italy for the second year in a row to compete as an Expert Plus driver. The growth of both the Expert and Expert Plus divisions meant they were separated this year.
Continuing to gain experience, Coulombe mostly ran at the tail of the field but had some exciting battles and crossed the finish line in the final in 13th place with a pushback bumper penalty.
"Participating in the ROK Superfinal is definitely an eye-opener on the next level of karting. We never see this amount of grip on track in Canada. Certainly, something to try at least once for those who can."