Driver Blogs
CKN Driver Blog: Kellen Ritter Comes Close at US Open of Utah
By: Kellen Ritter, Rotax Senior #399
Well, this weekend went better than expected, but didn't end up the way I hoped it would in the end.
We headed into this weekend 38 points behind Austin Garrison, who was second in the points and in the lead for the ticket to the Rotax Grand Finals in Sarno, Italy. We had a chance to get the ticket and I really wanted it, needing only to stay ahead of Garrison throughout the weekend. I was putting everything into this race as to get a ticket in my rookie season in Senior would be amazing.
With only having a day of practice, we showed great speed for qualifying and heat one.I ran a last lap hot lap in qualifying which put us P3.
For heat one, a decent start kept me P3 in the whopping 10-kart Rotax Senior field. Luke Selliken, Oliver Askew and myself pulled a 3-second gap on the next place driver and the results stayed pretty normal, except for heats 2 and 3. Heat 2 I finished 2nd, and in heat 3 I received a penalty for early acceleration on the start which granted me a 3-second penalty which would only put me down 2 spots. After debating whether we should protest or not, we ultimately didn't which resulted in P5 starting position in the final heat. Starting in the middle of the field wasn't that bad but we ended up salvaging p4 after a rough start.
Our final starting position was p3, and it looked like we were going to stay there after a terrible start, but halfway through the race, Austin Garrison came ripping through the field, ultimately finishing second and leaving me in fourth.
After all the dust settled and the points were tallied, Garrison ended up winning the ticket and leaving me third in the championship.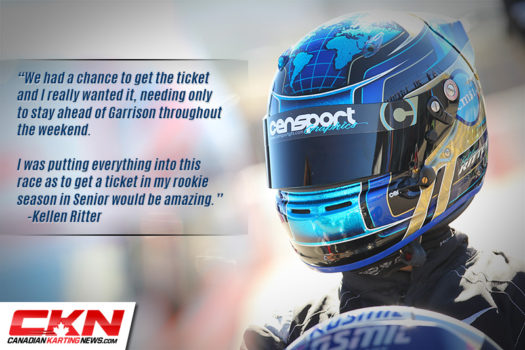 I'd like to thank Kevin Montieth for wrenching this weekend and everyone at Rolison Performance Group for all the help.
This week I'm getting ready to head to Chiliwack, BC for the second round of the Can Am Karting Challenge and also prepping for the SKUSA Pro Tour race in Newcastle, Indiana.
Big thanks to my sponsors, Bosa Foods, CMSI Pacific, Black Racing Engines, Mark Betteridge and Associates, Edgar Development, Ventura Interests (Mr. Guy Scott) and Strategic Equity Corp. and Shorebrook Capital (Mr. Daniel Scott).