International News
Kellen Ritter on RMCGF: "That first heat last year really opened my eyes!"
For the second year in a row, British Columbia's Kellen Ritter will take part in the Rotax Max Challenge Grand Finals. Last year he traveled to Italy and has his eyes opened up to a different world of karting that caught him off guard and put him behind the eightball for the entirety of the week. He just wasn't the same driver that he was in the races he used to qualify for the RGF.
Heading to Portugal next week, Ritter has vowed that he won't make the same mistakes he made last year and returns to the Grand Finals with a chip on his shoulder to show that he is a much better driver than his results showed.
Thinking back to Italy, Ritter cringes when he thinks about how bad he qualified.
"Last year we had the pace but not the race. The qualifications we're awful. Placing so far back really affected the heats. Having to battle through every heat and having to deal with the scarier competitors."
Asking his what surprised him the most, Ritter was quick to respond.
"Showing up and doing that first heat last year really opened my eyes. The level of competition across the pond is something else. The guys are so aggressive and it really affects your confidence."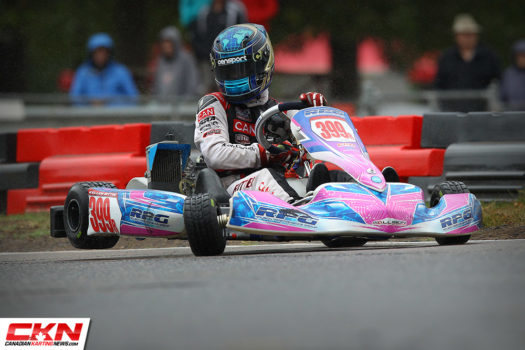 Ritter will have support from more than just his fellow Canadians as his American teammate at Rolison Performance Group, Luke Selliken, will also be in Portugal competing. Selliken has an impressive record at the Grand Finals, earning two top-ten finishes in his two appearances, including a second place finish in Senior Max two years ago in Portugal. He will be a very valuable teammate for Ritter who will also be in the same group as Selliken for practice and Qualifying.
"With Luke being in my qualifying and practice group, I feel as his skill will help push me to the level I need to be at to be up front. He's done very well at this event and especially in Portimao. I'm hoping his track experience and overall experience will help."
Along with his three fellow Canadian drivers in Rotax Senior Max will hit the track for the first time on Monday after picking up their Sodikart from the chassis raffle on Sunday. It will be a tough week for all of them in what is considered the toughest class each year at the Rotax Grand Finals.
The Rotax Max Challenge Grand Finals runs from November 6 to 11 in Portimao, Portugal. Team Canada has fourteen drivers who have qualified to compete and looks to defend their Nations Cup title from 2016 as well as seek the podium in all six categories. CKN will be trackside for the sixth straight year at the RGF and will have all the action, updates, photos and information about Team Canada and the event!
---