Latest News
The West Congregates in Warburg for the Alberta Summer Challenge
The Edmonton and District Kart Racing Association will be hosting their second annual Alberta Summer Challenge race in Warburg, Alberta this weekend. With 126 pre-registered entries spread between eleven classes, many of Western Canada's best karters will be on hand battling for the cash prizes and the opportunity to be the best of the West. The schedule is split up into three days where the single-speed Rotax classes will run in the mornings. On Friday Night, DD2 and DD2 Masters will have a full schedule of racing including qualifying, heats and finals. The Briggs & Stratton categories as well as Open Shifter will run on Saturday night leaving Sunday a short day for Rotax racing.
---
Briggs & Stratton Junior 1 & Junior 2:
In Junior 1 August Distefano and Kiefer Peet will be the favourites running up front all year. While the initial numbers for the category are quite low event organizers are hoping more drivers show up this week and register for the race.
Griffin Dowler and Matthew Taskinen will be the favourites in the premier Briggs Junior category as the duo have shown great pace all year long at Warburg. The two will not go unchallenged however as James Altamirano, Griffin Mackenzie and Levi Schmitdke have been able to challenge for wins in the past. The Gulash siblings, Haley and Wyatt, from Saskatchewan will be looking to spoil the show for the Alberta drivers and challenge for Saturday night's final win. As we all know with Briggs & Stratton racing, in a field of 17 karts it can be anyone's race to win.
Rotax Mini Max & Micro Max:
Can Am challenge drivers Shawn Kozma and Darryen Hliwa will be the drivers to watch in Micro Max as they both have proven to be consistent front runners in the class this season.
In Mini Ryan Dezall and James Altamirano have shown the way in the category so far this season out west and should be the top two runners in the category this weekend however there are many other drivers like Kiefer Peet who can come in and spoil the show.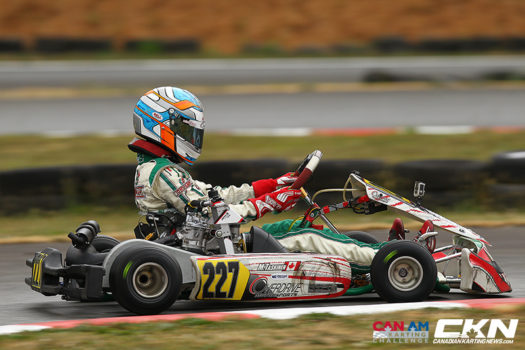 Rotax Junior
Coming off a great run at the Can Am challenge race in Chilliwack Matthew Taskinen will look to continue his great Junior season with a win at Warburg. The Leduc native however will be challenged by Junior rookie Griffin Dowler, Christina Dezall and Townes Allen. Other drivers to watch are Carson Vogel, and Curtis Veselinovich who will be making the trip to Warburg from Manitoba.
Briggs & Stratton Senior:
Skylar Dunning has been running the show in Briggs & Stratton Senior this year winning multiple races at EDKRA and CKRC. However, the K&K driver might have a tough go at this one with some steep competition racing this weekend in the form of Noel and Adam Dowler, Ryan Martin and Tanveer Deen. The list doesn't stop there however as former CKN brand ambassador Coltin McCaughan will be making his Briggs & Stratton Senior debut as well.
Some dark horses in the category include Robin Hendry, Gregor Hendry, Blair Kerenyi, Garret Britton and Ben Maxfield.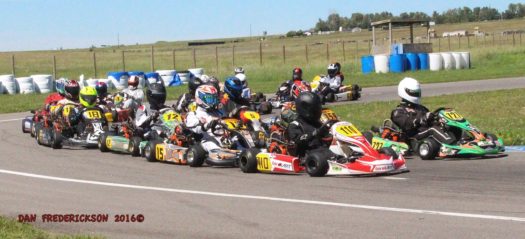 The Briggs & Stratton categories have shown continuous growth out west in the past few years. (Photo: Dan Frederickson 2016)
Rotax Senior & Masters:
There is a stout group of Rotax Senior drivers racing this weekend in Warburg. Coltin McCaughan has had an impressive year winning races in the Challenge of the Americas championship and Can Am karting Challenge. Aside from McCaughan, Skylar Dunning, Noel Dowler, and Ben Maxfield will all be in contention for the win. Dark horses in the category include Adam Dowler and Ryan Martin.
In Masters Rob Kozakowski, Angelo Amorim and Craig Nernberg will be the drivers most likely to fight for the top spot of the podium.
Briggs & Stratton Masters:
Kevin Dowler, Rob Kozakowski and Rob Scharr will be the top local drivers competing in Masters this weekend. Former Ontario karter, Kevin Canning will pose a threat to the Edmonton locals along with John Kwang from Calgary.
Shifter:
In the Shifter division Evan White is the early favourite but he could be challenged by Blair Kerenyi and Nick Wolodko. This is another category that could see some last minute additions show up.
DD2 Masters/ DD2
In the DD2 Category the Whitney Stevenson and Zachary Sinclair have been quick in the category all year and should be at the front of the field on Friday night. Manitoba's Alexis Budel and Dan Precourt will be on hand challenging Sinclair and Stevenson.
Tim Gnida, Rob Kozakowski, and Brent Holowachuk can make it an interesting race at the front of the field on Friday night. However the big question looming is whether former Rotax Grand Finals champion Scott Campbell will be competing in this weekends race.
---
CKN's Neelan Nadesan will be track side covering the event this weekend and will provide race reports, photos and updates throughout the weekend.