Rotax DD2/DD2 Masters Battle to the Very End
Small fields and great competition. That is what sums up the Rotax DD2 categories at the Max Karting Group Canada Final on the Stratotech Raceway.
In the Rotax DD2 Final, the race came down to Griffin Dowler (Apollo/Gillard) and Matthew Taskinen (TAG/CRG) after provisional polesitter Macy Williams (Apollo/TonyKart) had to withdraw early in the race with a flat tire.
Dowler and Taskinen exchanged a lead multiple times until a pass by Taskinen in corner eight resulted in some contact with two ups to go and separated the pair. While Taskinen was the first to cross the finish line, a time penalty was issued for the contact and awarded the victory to Dowler, setting the tone for what should be an exciting championship finale next month.
Third place went to Dylan Ludwig (Red L/BirelART), who unfortunately just didn't have the pace to stick with the lead trio this weekend.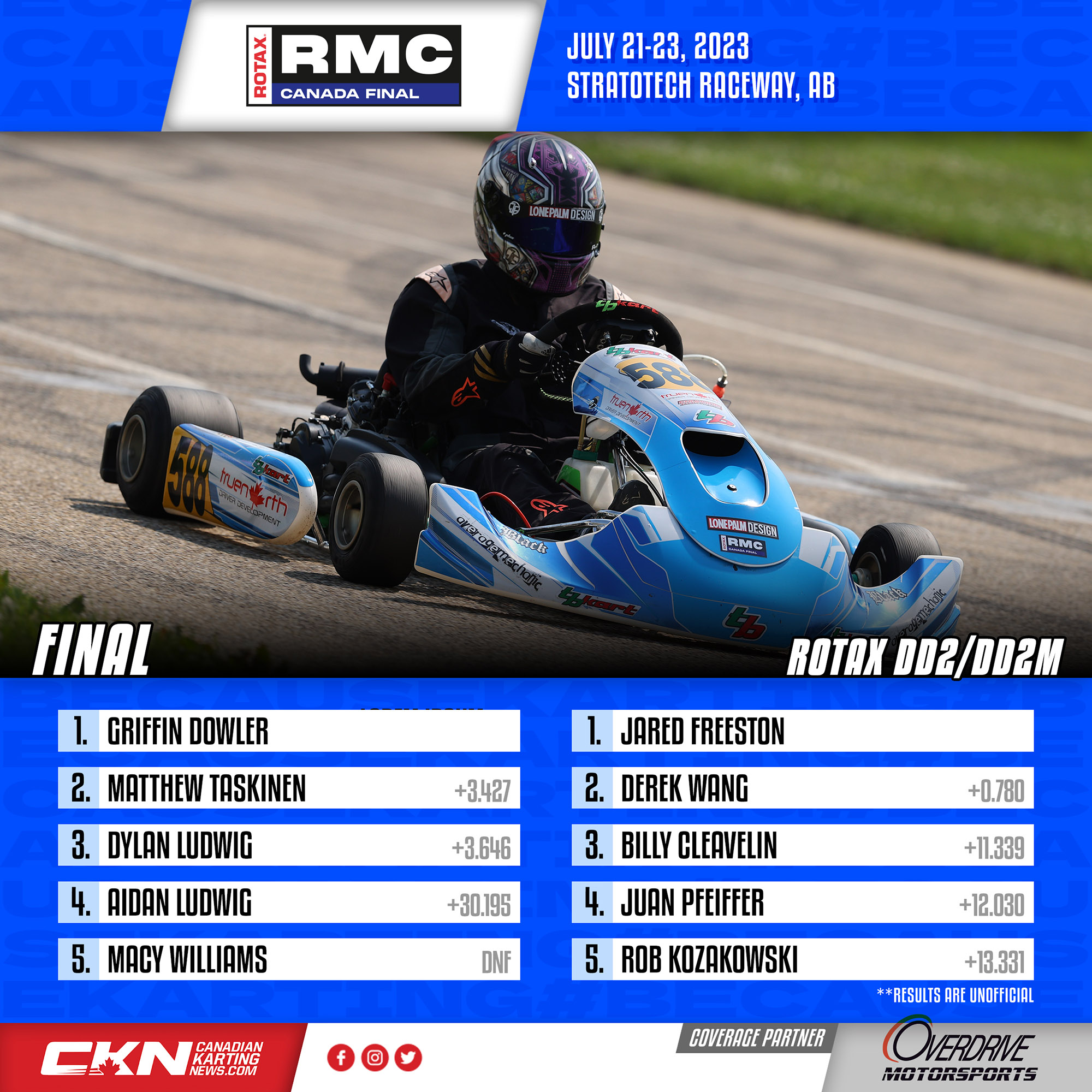 In DD2 Masters, defending champion Jared Freeston (True North/TB Kart) and Rotax Grand Finals veteran Derek Wang (Apollo/EOS Kart) had a battle amongst themselves for the top spot.
They were able to pull away in the race with Wang leading the majority of the way. Freeston kept the pressure on and with two laps to go made his move for the lead, pulling off a great pass. Wang remained close but was unable to return the favour before the checkered flag and that is how they finished; Freeston ahead of Wang by 0.78 seconds.
At nearly 66 years old, American Billy Cleavelin (Apollo/Kosmic) drove to a third-place finish just narrowly edging out Juan Pfeiffer (Red L/BirelART) and Rob Kozakowski (RK/Gillard). This battle for third was close every single lap with Pfeiffer and Cleavelin exchanging the position multiple times and Kozakowski just waiting for an opportunity but unable to move up the results sheet.