It was a superb week of racing at the Rok Cup International Final in Italy, the 15th year of the event. By far the largest turnout of drivers the Rok Final has ever seen, over 400 drivers from around the world took part, including a dominant Italian contingent that brought home victories in three of the five categories. Among the massive list of entrants was seven Canadian drivers, spread across the Junior, Senior and Shifter Rok platforms.
There was also one very happy half-Canadian who delivered the biggest victory of his young career, as Connor Zilitsch, who now calls North Carolina, USA home, stood atop the Mini Rok podium with the championship trophy, topping a massive 162 drivers in the category.
Here is how the weekend broke down for the Canadians in Italy, who no doubt will be pushing to return to this spectacle in a years time.
---
Antonio Serravalle
Category: Rok Shifter
Team: CRG Holland
Qualifying: 9th of 43 Entries
Heat race ranking: 6th
Final result: 18th
Returning to the event he raced a few years back in the Mini Rok category, a much more grown-up Antonio Serravalle was one of four Canadian drivers entered in the Rok Shifter class. Given his season of high profile events, we had high hopes for Serravalle and as expected, our 2017 Canadian Champion led the way among the Canadian contingent.
Qualifying in ninth, Serravalle earned himself a top-6 starting spot for each of his heat races and he managed to keep himself up front, although just off the pace of the outright leaders who definitely appeared to have a home track advantage.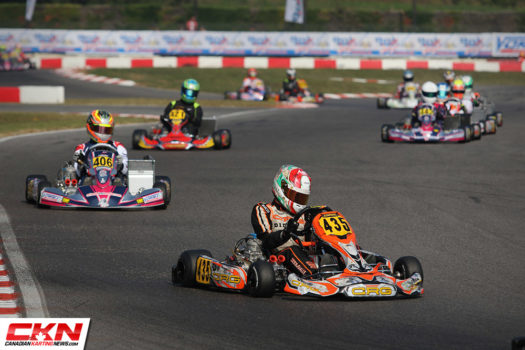 Battling amongst some of the best KZ2 drivers and even Formula 1 legend Rubens Barrichello, Serravalle used consistent results to rank sixth overall after the heats, giving him a great starting spot for the Final.
Involved in many heated battles throughout the Final, Serravalle initially crossed the finish line in ninth, but a 10-second penalty given to him for an incident on track relegated him down the final finishing order to eighteenth.
With his rookie shifter season now behind him, we expect a great season from Serravalle in 2018 where it appears he will make another bid at the Canadian, European and World Championship titles in the Shifter category.