It was a superb week of racing at the Rok Cup International Final in Italy, the 15th year of the event. By far the largest turnout of drivers the Rok Final has ever seen, over 400 drivers from around the world took part, including a dominant Italian contingent that brought home victories in three of the five categories. Among the massive list of entrants was seven Canadian drivers, spread across the Junior, Senior and Shifter Rok platforms.
There was also one very happy half-Canadian who delivered the biggest victory of his young career, as Connor Zilitsch, who now calls North Carolina, USA home, stood atop the Mini Rok podium with the championship trophy, topping a massive 162 drivers in the category.
Here is how the weekend broke down for the Canadians in Italy, who no doubt will be pushing to return to this spectacle in a years time.
---
Marco Di Leo
Category: Rok Senior
Team: Intrepid Kart
Qualifying: 53rd of 81 Entries
Heat race ranking: 39th
Final result: 5th in OMP Trophy B-Main
It was a new experience for Marco Di Leo at the Rok Cup International Finals as the driver with a resume of races around the world, took part in the Rok Cup event for the first time.
After learning the South Garda Karting circuit the weekend before, Di Leo debated throughout the practice sessions on which chassis to run. Testing both a prototype Intrepid Kart and an OTK Exprit, Di Leo waited until the final practice before opting for the Intrepid, the brand he is most familiar with. It was also an opportunity for Di Leo to use the hand front brake system, something that took him some time to get used to.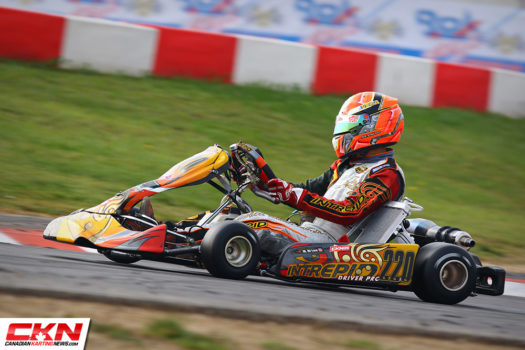 In Qualifying, Di Leo should have ranked higher than the fifty-third position he was given, but at an event of this magnitude and an ever-changing track, the qualifying ranking wasn't fully decided by time, but instead by time in the group.
Advancing forward in his heats, Di Leo stayed out of trouble and progressed up the rankings board but after completing his fourth and final heat, he came up only five points short of making it to the Rok Cup main event.
Starting fifth in the OMP Trophy B-Main, Di Leo was in a heated battle for second place early in the race but he faded back as the laps ticked away and at the finish line, he was ranked fifth. It was a great drive and once again a showing of the veteran driving abilities that Di Leo has developed over his long karting career.
The Rok Cup International Final was also a chance for Di Leo to gain knowledge about the Vortex Rok Cup program as his Goodwood Kartways race team and track lead the way with the program in Canada, with big plans on tap for 2018.