It was a superb week of racing at the Rok Cup International Final in Italy, the 15th year of the event. By far the largest turnout of drivers the Rok Final has ever seen, over 400 drivers from around the world took part, including a dominant Italian contingent that brought home victories in three of the five categories. Among the massive list of entrants was seven Canadian drivers, spread across the Junior, Senior and Shifter Rok platforms.
There was also one very happy half-Canadian who delivered the biggest victory of his young career, as Connor Zilitsch, who now calls North Carolina, USA home, stood atop the Mini Rok podium with the championship trophy, topping a massive 162 drivers in the category.
Here is how the weekend broke down for the Canadians in Italy, who no doubt will be pushing to return to this spectacle in a years time.
---
Ethan Simioni
Category: Rok Shifter
Team: BirelART Junior Team
Qualifying: 21st of 43 Entries
Heat race ranking: 33rd
Final result: 24th
After getting a taste of the Vortex Rok Shifter package early in 2017 at the Florida Winter Tour, Ethan Simioni was set on earning the chance to compete in the Rok Cup International Final and he did so through the Vega Cup in the Canadian summer.
Fast forward to the Rok Cup International Final and Simioni not only enjoyed his first international event overseas, but he also qualified for the Main event in Rok Shifter. Competing with the BirelART Junior Team led by Giorgio Pantano, Simioni also got his first taste of working with proper support from a factory karting team while under the guidance of Trevor Wickens from Prime Powerteam.
In qualifying he split the grid, posting the twenty-first quickest time, placing him in Group A for the heats.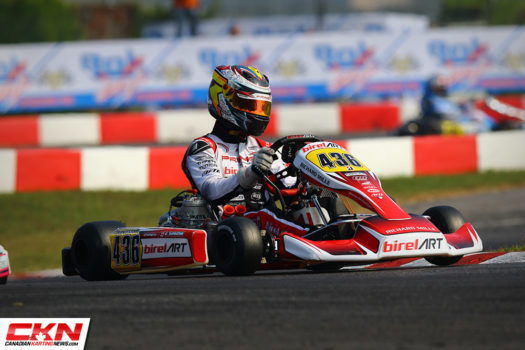 The heats got off to a good start, placing twelfth in his first run, but a DNF in heat two, caused by a water pump issue that overheated his engine, really hurt his points total. Simioni rebounded in heat three with another twelfth and by only two points, he advanced to the Rok Shifter Final.
Debuting a new helmet on the grid for the Final, Simioni started on the final row and could only move forward, which he did, advancing up to twenty-fourth at the finish line and posting one of his fastest laps of the week in the Final.
It was a surreal experience for Simioni who was simply blown away when he first arrived in Italy and witnessed the atmosphere of a true European kart race.