Another impressive Canadian season in Rotax DD2 sees Tyler Kashak is a member of Team Canada at the Rotax Max Challenge Grand Finals for the third year in a row.
In his debut on the global stage, Tyler Kashak easily advanced past the heats and into the main event of the 2015 Rotax Max Challenge Grand Finals, but trouble in the PreFinal forced him to start the Final from the 18th of the grid. Persevering and keeping his head down to drive forward, Kashak delivered a seventh-place result after being engulfed in an epic battle for fifth, to lead the Canadian contingent and secure his best international result to date.
Next week he will attempt to better it at the very same track in Portimao, Portugal and he remains very optimistic about his opportunity.
"Headed back to a track where I've had success before is always a great confidence boost. However, a new year is sure to bring some new challenges and we can only hope we don't get stuck with engine troubles like last year."
With experience at the RMCGF on his side, both good and bad, Kashak has a great understanding of the Rotax Grand Finals event and he breaks it down into a personal race against the driver first in order to secure the best result against a number of the worlds best Rotax drivers.
"I think the RMCGF is really a race with yourself. With so many drivers testing so many things at the same time and so few sessions, you really have to block out all of the noise and focus on yourself. The competition is incredibly close, so giving up a tenth might cost you a position or two at home in Canada but at the Worlds, it could be the difference between reaching the main final or going home early."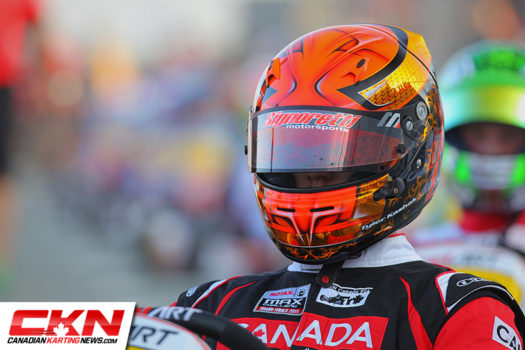 He also knows that trouble can find any driver during the Grand Finals, especially in the heat races, so every point matters and avoid incidents and penalties like a push back nosecone violation will go a long way in helping make his Grand Finals week as long as possible
"The Rotax Grand Finals are still a battle of attrition and keeping my nose clean will be my top priority if I am to make it to the front of the field. I'm very hopeful for this year but I can't take anything for granted and I can't wait for the opportunity to perform once again on the world stage."
Kashak will have the benefit of having four Canadian teammates in Rotax DD2, all of whom have raced against each other and have a great respect for one another. That bond should work well in sharing information to help everyone get up to speed as quick as possible in the limited number of practice sessions they are alotted.
With experience on his side, we're excited to see what Kashak can do it Portugal.
The Rotax Max Challenge Grand Finals runs from November 6 to 11 in Portimao, Portugal. Team Canada has fourteen drivers who have qualified to compete and looks to defend their Nations Cup title from 2016 as well as seek the podium in all six categories. CKN will be trackside for the sixth straight year at the RGF and will have all the action, updates, photos and information about Team Canada and the event!