15-year-old National Canadian Karting Champion Jeffrey Kingsley is now sponsored by Nintendo of Canada and Mario Kart 8! To kick off the sponsorship, Nintendo of Canada had Jeffrey as a special guest at Mario's Canadian Karting Day in Toronto to celebrate the launch of Mario Kart 8 for Wii U and
to meet with kids and fellow karters.
Jeffrey's passion for karting and competitive racing has taken him from his hometown of Whitby, Ontario to international competitions in Florida, Italy, and as far away as Dubai, Saudi Arabia. Jeffrey's hard work and determination is reflected in his many achievements, including winning both Eastern and Canadian Karting Championships, as well as representing Canada at the World Finals, where he qualified an impressive third. When he's not training or racing on the track, he's challenging friends to some friendly Mario Kart 8 competition!
You can check out Jeffrey's races on the following dates at the locations listed:
June 27-29 – Eastern Canadian Karting Championships, Goodwood Ontario
August 1-2 – Eastern Canadian Karting Championships , Trois Rivieres Quebec
August 20-24 – Canadian National Karting Championships, Mont Tremblant Quebec
September 20-22 – Eastern Canadian Karting Championships Final, Mont Tremblant Quebec
Other dates are to be announced. Please check www.jeffkingsley.ca for further details.
Check out Jeffrey's website and social media channels as he progresses through his karting career with Mario Kart 8 on his kart and helmet!
www.jeffkingsley.ca
Twitter: Jeff_Kingsley – https://twitter.com/jeff_kingsley
Instagram: Jeff.Kingsley – http://instagram.com/jeff.kingsley
YouTube: Jeffrey Kingsley – https://www.youtube.com/channel/UCvumeIDw1wkBtSBzsmGrLiA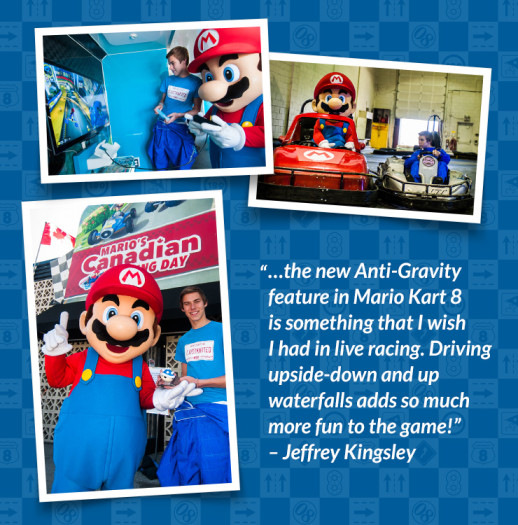 ---
Jeffrey Kingsley commandité par Mario Kart 8!
Jeffrey Kingsley, le champion national de karting du Canada âgé de 15 ans, est maintenant commandité par Nintendo du Canada et Mario Kart 8! Pour donner le coup d'envoi de ce parrainage, Nintendo du Canada a invité Jeffrey à participer à la Journée nationale de karting de Mario à Toronto afin de célébrer la sortie de Mario Kart 8 pour la Wii U et de rencontrer d'autres fans de karting.
La passion de Jeffrey pour le karting et la course compétitive l'a mené de sa ville natale de Whitby, Ontario, vers des destinations internationales telles que la Floride, l'Italie, et même Dubaï, en Arabie Saoudite. Grâce à sa détermination et à son assiduité, Jeffrey a remporté plusieurs prix prestigieux, incluant la première place au Eastern Canadian Karting Championship et au Canadian National Karting Championship, ainsi qu'une troisième place aux World Finals, où il représentait fièrement le Canada. Lorsqu'il n'est pas en train de s'entraîner ou de courser, il adore affronter ses amis dans des compétitions amicales de Mario Kart 8!
Vous pourrez voir Jeffrey courser lors des prochaines compétitions indiquées ci-dessous :
Du 27 au 29 juin – Eastern Canadian Karting Championships, Goodwood, Ontario
Du 1er au 2 août – Eastern Canadian Karting Championships, Trois-Rivières, Québec
Du 20 au 24 août – Canadian National Karting Championships, Mont-Tremblant, Québec
Du 20 au 22 septembre – Eastern Canadian Karting Championships Final, Mont-Tremblant, Québec
D'autres dates sont à venir. Consultez le site www.jeffkingsley.ca pour plus de détails (en anglais seulement).
Pour suivre le développement de la carrière de Jeffrey (avec en prime un logo Mario Kart 8 sur son kart et son casque!), jetez un coup d'œil à ses comptes sur les médias sociaux!
www.jeffkingsley.ca
Twitter: Jeff_Kingsley – https://twitter.com/jeff_kingsley
Instagram: Jeff.Kingsley – http://instagram.com/jeff.kingsley
YouTube: Jeffrey Kingsley – https://www.youtube.com/channel/UCvumeIDw1wkBtSBzsmGrLiA