Latest News
Coltin McCaughan Signs with SH Racing/FA Kart for 2014
After being named the winner of the 2014 CKN Brand Ambassador Search, Alberta's Coltin McCaughan has been a very busy guy. Given the opportunity to race against Canada's best racers at the Eastern Canadian Karting Championship, one of the first things McCaughan set out to do was seek out a team to race with in Ontario and Quebec.
Weighing a couple different options, McCaughan has come to terms with SH Racing and will race aboard an FA Kart chassis for the Eastern Canadian Karting Championship and ASN Canadian National Karting Championships.
The association with SH Racing will see McCaughan race under the team tent for the five major events with guidance from SH Racing. The signing also adds another strong Rotax Senior pilot to the SH Racing roster. Steven Szigeti has been a long time SH supporter and will team up with McCaughan to fly the SH Racing/FA Kart colours. The partnership should go a long way for both drivers.
For the races in Western Canada, McCaughan will compete aboard his current TonyKart, with a team association to be confirmed in the coming weeks. On top of the ECKC and Canadian Championships, McCaughan will race the Western Canadian Championships and Rotax Can Am Prokart Challenge.
As the CKN Brand Ambassador, Coltin McCaughan will regularly post on the site in his blog column.
Coltin McCaughan, 2014 CKN Brand Ambassador:
"I'm really excited to have the opportunity to partner with SH Racing for the 2014 ECKC and Canadian Nationals. Choosing the right team proved to be difficult, as I had to take many things into consideration as well as look at the big picture. Having had great success on OTK products in the past, that was a strong influence on my decision to race with SH Racing and FA Kart. I'm confident that they will provide the guidance and support necessary for a successful racing season. After finishing the 2013 season on a high note, I'm looking to keep the momentum going as I transition into Rotax Senior."
Sacha Gagnon, SH Racing Team Manager:
"We are really pleased to have Coltin race with us in 2014 and to be a part of the CKN Brand Ambassador Program. With our experience and staff we will give our best efforts to help Coltin perform to the best of his abilities. The SH Racing/FA Kart combination has already been proven strong with great results at the Florida Winter Tour and we can't wait to get on track with Coltin in May for the ECKC."
---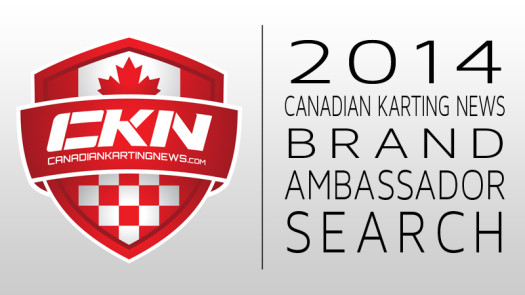 About the CKN Brand Ambassador Program:
Through the CKN Brand Ambassador Search presented by Cold Stone Creamery, CanadianKartingNews.com is able to provide one Canadian kart racer with the opportunity to race against Canada's best, covering the entry fees for the driver to compete in the four-round Eastern Canadian Karting Championship as well as the ASN Canadian National Karting Championship. The program is also supported by Bell Helmets and Polen Designs.
Program Partners: