We are now full throttle into the CKN Summer Tour and this weekend marks our biggest event so far; round one of the Eastern Canadian Karting Championship at Mosport International Karting near Bowmaville, Ontario. After our first two stops in Quebec, we are back in Ontario where over 150 drivers will converge to the facility that will host the ECKC opener for the second straight season.
It will be the first weekend of the tour with our CKN Lounge tent setup from ONE Race Gear. Perched up top of the Mosport deck, we will have a great view of the action courtesy of the excellent crew at MIK. For those who cannot attend the action this weekend, it is also the first weekend for our CKN Live program where viewers at home can log into our control centre, getting updates as the action happens, ask questions, monitor live timing, see results and more. All of this can be found at https://www.canadiankartingnews.com/live – and be sure to tell your friends and share it on Facebook. We would love for you and your friends to join the conversation.
Our official CKN Summer Tour t-shirts are ready and will be on sale at Mosport for $20.00 each. We have limited quantities and even a few ladies tee's as well, but get them early as we don't expect them to last long!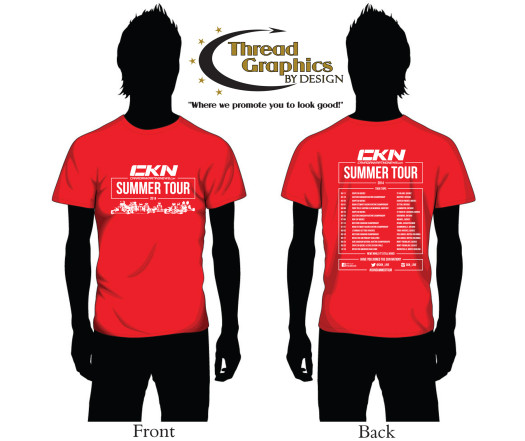 ---
Our coverage this weekend of the ECKC event on CKN is presented by Maranello North America/Prime Power. The Hamilton, Ontario based outfit offers a full support arrive and drive race team, kart prep, coaching and tuning along chassis straightening services. Prime Power helps drivers reach the podium and is a full service Rotax center, offering rebuilds and build kits for drivers on all chassis brands and classes. For more information about Maranello North America/Prime Power be sure to contact Trevor Wickens at trevorwickens@gmail.com or 1.905.902.5936.
Interested in being our presenting partner for future events? Contact info@canadiankartingnews.com for more info and rates.
---
This weekend's competition at the Mosport International Karting facility is part of the Canadian Tire Motorsports Park Victoria Day SpeedFest Weekend. Motorsports enthusiasts will invade CTMP and create a very unique atmosphere for those competing as along with the major karting events going on, the road course at CTMP will host the NASCAR Canadian Tire Series, Formula 1600 Super Series, Canadian Touring Car Championship as well as the Porsche GT3 Cup, all championship series that feature past and present go-kart racers.
Two of our very own kart racers intend on pulling double-duty as Stuart Clark and Jeffrey Kingsley will be racing back and forth from paddock to paddock all weekend long. Clark, who was our contest winner last year to test a CTCC car with Blanchet Motorsports, has signed with the team for a full season the Canadian Touring Car Championship, which kicks off this weekend. Kingsley's action will come in the form of a Formula 1600 open-wheel racing car as he will be competing in the Toyo Tires F1600 Championship, a series many kart racers first turn to when looking to advance up the open-wheel racing ladder. We will for sure be cheering them on from the karting track this weekend!
We are unsure what weather Mother Nature will deliver us this weekend. Rain has hit the Mosport facility all week long but we do have a glimmer of hope that she will serve us some dry weather come Saturday and Sunday. For those who don't remember last years event, need to have a review of our event video below for a reminder of the intense weather we all had to enjoy. Further down is a shot from Thursday afternoons practice at Mosport.
The turnout looks very good for this weekend, especially in the Rotax Senior and Briggs & Stratton Senior divisions as both should eclipse 30 drivers. Both classes always provide great racing but the competition level appears to be turned up a level in both classes this weekend and we can't wait to see what develops.
Along with our Canadian drivers, a handful of international talent has entered this weekend. The UK's Jordan Lennox is part of a very international PSL Karting team this weekend that also includes Milan Dontje and Rinus Van Kalmthout from the Netherlands and the American pair of Gavin Reichelt and Alan Rudolph. Mexico's Patricio O'Ward has joined SH Karting for a weekend in Rotax Junior while four drivers from the USA are entered in Mini-Max; Nicholas and Michael d'Orlando from KoeneUSA and Lachlan Defrancesco and David Morales with BENIK Kart. From Italy, Alessandro Bressan is part of a five-man J3 Competition team in attendance that also includes David  and Michael Ilavia, Ethan Tyler and Theo Chick, all from the USA. Finally KMS North America has American Dev Goore under their tent in Rotax Senior.
We began our coverage of the event on Wednesday as we worked our way through the previews for each competition class for season. There is also a championship prediction poll for each class, where you can select who you think will win the championship for every class. If you haven't cast your vote yet, or supported your favourite driver, what are you waiting for?! And once you've voted, tell your friends to vote too.
Our trackside officially coverage begins Saturday morning when qualifying hits the track, but you never know, we may just surprise with a goodie or two on Friday.
See you this weekend at the track or on CKN Live!