Latest News
Here We Go Again – Our 2023 CKN Summer Schedule is Jam-Packed!
Alas, we have finally firmed up our 2023 CKN Summer Schedule, and it's going to be a little crazy.
We have selected 18 races for this summer season in Canada, covering four different provinces, nine different series of events, and hopefully, a chance to see as many different racers on track as possible. We have some club races on tap, a number of regional programs covering all three regions of our country and of course, the Canadian Championships.
It all starts this weekend just east of Montreal, Quebec. The Coupe de Montreal has become one of our favourites to start each season, and we return to SH Karting for the first time in nearly five years. They've made some adjustments to the track, which hopefully the winter has been kind to, and we've spoken to a number of racers from Quebec who are amped up and ready to race.
We will follow it up two weeks later with the first race in Ontario as the Motomaster Ron Fellows Karting Championship will kick off their 4-race season at the Mosport Karting Centre. The following weekend we are back at Goodwood Kartways for the annual long weekend running of their regional program, KartStars Canada, which will run five races this season at four different tracks.
June will see the races being to pick up speed as Cup Karts Canada begins their sophomore season on June 10-11 and we're very excited to return to Karting Trois-Rivieres. We actually have two races in Quebec this June as we will also support the Coupe de Montreal at SC Performance two weeks later and that kicks off our summer on the road.
Ten weekends in a row will see July and August fly by and we're ready for it! We're heading out west for the EDKRA Summer Challenge on Canada Day weekend, a race we've been trying to attend for many years and finally get to put a checkmark beside. That is followed up by a trip to Lombardy Karting for Cup Karts round two and the first chance many racers in Ontario and Quebec will get to compete on an old-school bullring of a circuit. After that, we have a home race weekend. We are going to try and support the WRKC Night Race at Flamboro Speedway on the Friday evening. On the weekend we will be at the Canadian Mini Indy, with their HRKC club race on Saturday, July 15 followed by their Dash for Cash on Sunday, July 16.
We head back to Alberta the following weekend for the first of two Max Karting Group Canada Final races, which will take place at Stratotech just outside of Edmonton. We will wrap up the month of July in Quebec with the annual Canadian Open, which will now take place at Circuit ICAR and be the first to award Team Canada tickets to the Rotax Grand Finals.
August is packed with four powerhouse events to really determine our major champions. First, Cup Karts Canada will crown their title winners at Goodwood Kartways on the long weekend. Second, KartStars Canada will host their Nationals at Shannonville Motorsports Park where drivers will go Bear hunting for three days. Third will be the Canadian Championships, which have not confirmed their location just yet but will award tickets to the Rotax Grand Finals and Rok Cup SuperFinal. Finally, we cap off the month in British Columbia to crown the Canada Final Champions and see who will join Team Canada for the Rotax Max Challenge Grand Finals.
Needless to say, we're taking the Labour Day weekend off after that wild run of events.
In September we will cap off our summer schedule with the MRFKC on the 16-17 and the KartStars Canada night race on the 23 where both of those series will crown their champions.
Following our Canadian summer, we will cap off our year with some international adventures. We are finally able to add the Cup Karts Grand Nationals to our plans. The race has always had a conflicting date and finally, their weekend is free and we can support our Canadian contingent at the biggest Briggs race of the year.
We follow that up with the two largest ROK Cup races of the year, first the SuperFinal at South Garda Karting in Italy and then ROK Vegas at the RIO Hotel and Casino in Las Vegas.
Closing out the year, we are planning to cover the Rotax Max Challenge Grand Finals. CKN has not missed a Grand Finals since we launched in 2012 and it's a tradition we just don't want to break. Returning to Bahrain will be an experience and we can't wait to support Team Canada at this spectacular event.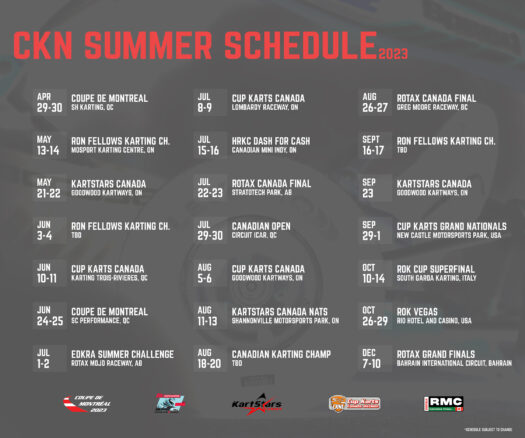 2023 CKN Summer Schedule:
04/29-30 – Coupe de Montreal, SH Karting, QC
05/13-14 – Motomaster Ron Fellows Karting Championship, Mosport Karting Centre, ON
05/20-21 – KartStars Canada, Goodwood Kartways, ON
06/3-4 – Motomaster Ron Fellows Karting Championship, TBD
06/10-11 – Cup Karts Canada Division, Karting Trois-Rivieres, QC
06/24-25 – Coupe de Montreal, SC Performance, QC
07/1-2 – EDKRA Summer Challenge, Rotax Mojo Raceway, AB
07/8-9 – Cup Karts Canada Division, Lombardy Karting, ON
07/14 – Waterloo Regional Kart Club Night Race, Flamboro, ON
07/15-16 – HRKC Dash for Cash, Canadian Mini Indy, ON
07/22-23 – Max Karting Group Canada Final, Stratotech Raceway, AB
07/29-30 – Canadian Open, Circuit ICAR, QC
08/5-6 – Cup Karts Canada Division, Goodwood Kartways, ON
08/11-13 – KartStars Canada Nationals, Shannonville Motorsports Park, ON
08/18-20 – GDS Canadian Karting Championships, TBD
08/26-27 – Max Karting Group Canada Final, Greg Moore Raceway, BC
09/16-17 – Motomaster Ron Fellows Karting Championship, TBD
09/23 – KartStars Canada Night Race, Goodwood Kartways, ON
**Schedule subject to change
This gruelling schedule is made possible by the support of the CKN Nation and we can't wait to see you at the track this summer. Your support by purchasing a weekend photo package or season photo package and our merchandise helps us tremendously. If you expect to see us a number of times, we suggest you order a season photo package to get the best selection of images this season. As always, orders can be completed on our online store: http://canadiankartingnews.com/store. We will have hats and t-shirts available trackside this summer as well, but hurry, supplies don't always last long.