Features
CKN Spotlight: Helmet Painters – Smart Race Paint
Canadian Karting News is proud to launch yet another unique and exclusive feature. Over the next few months, CKN will feature five different Canadian helmet painters, and ask them a handful of question about their unique job, and the challenges that come with it.
Photos courtesy of Patrice Harvey – Smart Race Paint
---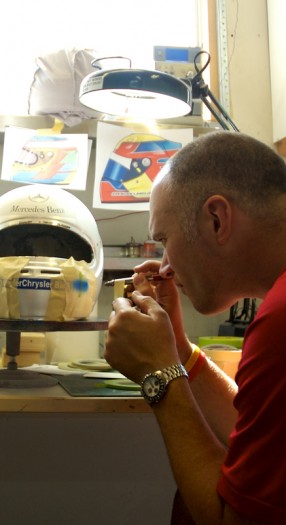 The second helmet painter we are featuring is from the Quebec province, but is a name well known around the world. Patrice Harvey is the man behind the brush at Smart Race Paint. Starting off in 1994, Smart has produced more than a thousand paint jobs and after a hiatus during the 2011 season, has returned to painting helmets in 2012. Smart Race Paint's electric colour's and beautiful airbrush work can be picked out of any crowd and is trusted by some of Canada's most successful professional racers ranging from go-kart racers all the way to stock car and DTM drivers.
Name: Patrice Harvey
Business: Smart Race Paint
Painting Since: 1994
Location: Lac Beauport, Quebec (North of Quebec City)
Number of Helmets painted (Approx): More than a thousand.
Professional Athletes/Drivers: Bruno Spengler, Andrew Ranger, The Dumoulin Brothers, Mark Wilkins, David Ostella, Fritz Leesmann, Marc-Antoine Camirand, Pier-Luc Ouellette
---
What brought you into the world of helmet painting?
Bicycle helmets. In the early nineties, Troy Lee (Famous California helmet painter) was painting helmets for pro mountain bikers. I was studying industrial design at the time and thought I could give it a shot. I still have my first helmet in the shop. J-F Dumoulin is the driver who got me into auto racing.
Can you describe your favourite paint job?
Hard to say, I did so many. In '06, for the Montreal ChampCar race, I did a special helmet for Alex Tagliani. It featured on one side a tribute to Gilles Villeneuve and on the other side a celebration of the 30th anniversary of the 1976 Olympic Games in Montreal.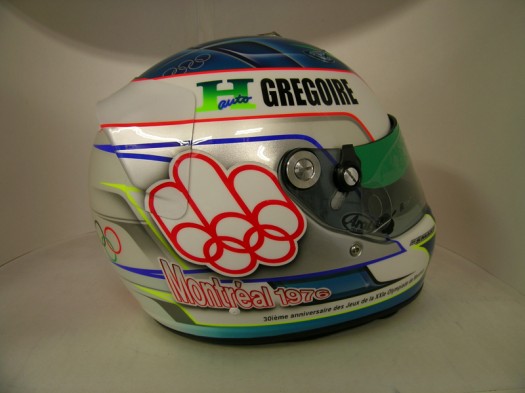 What do you find that helps make your work stand out from the rest?
Attention to details, and the finishing. I think it is of the upmost importance to have the best finish possible on a custom job. I get that from my background painting motorcycles (especially Harley-Davidsons).
Are there any athletes/drivers that have up the motorsports ladder that you continue to paint for/stay in touch with?
I still have good contact with everyone. Spengler, Ranger, the Dumoulin's, Camirand. They stop by the house whenever they can and I visit them once in a while. For obvious reasons, Bruno Spengler is the one I see the least but, I still talk to him every month.
Do any of your drivers offer you special perks for painting their helmets? (Ex: Trips to races, etc)
The last time I paid for race tickets was a long time ago. I had the privilege to be on the pitlane of many ChampCar, NASCAR races. My trip to a DTM race in Barcelona a few years ago is a highlight as well. I have a good collection of race-worned helmets I painted as well as other race memorabilia.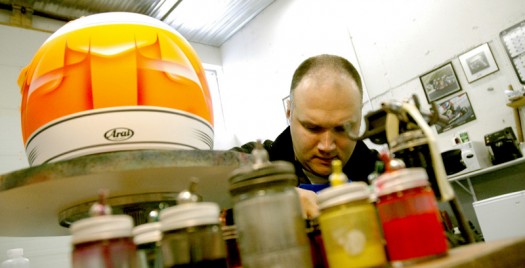 Is there a driver that really challenges you as a painter?
He used to (because I don't paint for him anymore) and it's Alex Tagliani. He is a very creative person and highly motivated. He would always come to me with some crazy ideas. I liked the challenge of keeping up with him, my schedule makes it impossible for me to do it anymore.
Preference: Gloss, Matte, or Chrome finish, and why?
Gloss! Definately. The easiest to clean, the most durable, the one that makes the colors shine. Chrome is really problematic because of the unequal quality on each helmet.
Do you paint anything other than helmets?
Not really. I did a few bicycles frames and some RC cars for myself.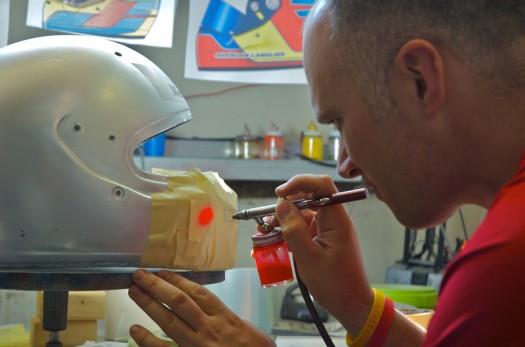 Someone you would like to paint a helmet for (any era), and why?
Alan McNish. I would really like to sit down and have a pint with the lad, seems trully genuine. The tartan pattern on his lid must be quite a challenge to paint as well. I love the simplicity and the complexity of it. I might paint myself a replica one of these days.
Where do you find inspiration to continually be creative with each helmet creation?
Anywhere I can. I am a magazines freak. Anything from ski to auto racing. I even take a look at my wife's fashion and home decor magazine once in a while. The new art magazines featuring graffitis and airbrush are great as well.
---
Previous Featured Helmet Painters: