Features
CKN Spotlight: Helmet Painters – LSDesigns
Canadian Karting News is proud to launch yet another unique and exclusive feature. Over the next few months, CKN will feature five different Canadian helmet painters, and ask them a handful of question about their unique job, and the challenges that come with it.
---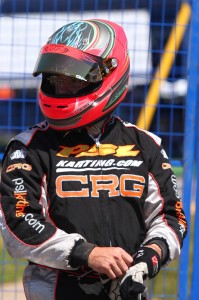 This month, we start with Luc Sauriol, from Laval, Quebec. Sauriol and his LSDesigns business burst onto the karting scene in 2010, first with Pier-Luc Ouellette. Sauriol's work can be seen from karts all the way to IndyCar. Luc is an avid karter, currently competing the Rotax DD2 Masters division. He is also a past Rotax Max Challenge Grand Finals Masters Max Champion.
Name: Luc "Poppy" Sauriol
Business: LSDesigns
Painting Since: Painting as a hobby since 2008
Location: Laval, Quebec
Number of Helmets painted (Approx): 60
Professional Athletes/Drivers: Alex Tagliani, Robert Wickens, and Dustin Cook (Canadian Alpine Ski Team)
---
1. What brought you into the world of helmet painting?
I like to undertake different projets. After building my home, restoring my old Mazda RX-7 to make it an RX-5.7 (yes, I've put a 350 Chevy V8 in it), I needed to do something else and it was time for another helmet. So I thought, why not paint it as well! At least have it a go and see how it goes…
2. Can you describe your favourite paint job?
Hard to pick one, I'd say they must be the ones that provide good challenges. Marc-Andre Bourgeois' helmet was quite something to do, chrome based with glossy and matte finish, but especially because of all the gear details on it (see picture). It literally took 30 hours to paint. Tagliani's Indy 500 and Vegas editions in 2010. The Indy one had all the previous winners written on it and the Centennial logo. On the Vegas edition, I used gold leafing to make it an old Vegas look, along with the classical cards and roulette.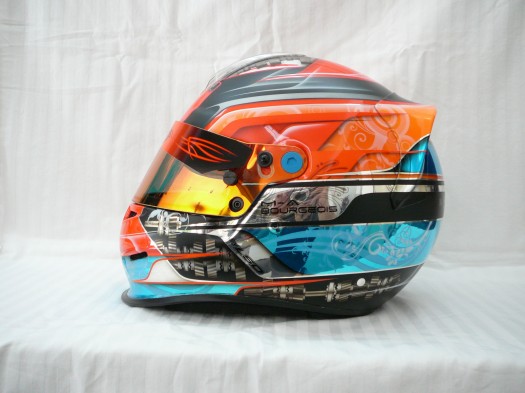 3. What do you find that helps make your work stand out from the rest?
Attention to details I guess, I like to have a nice and smooth clear also, so there's an additional clearcoat layer or two to ensure that. But there is talent out there as far as helmet painting is concerned. So I have to say I get inspired by the bests…
4. Are there any athletes/drivers that have up the motorsports ladder that you continue to paint for/stay in touch with?
I've been painting Alex Tagliani's helmet for the last two years now. I painted one for Robert Wickens but he's moved to someone else, however, still hope he makes it to the highest of car racing, he's so talented. But because this is a hobby for me, I don't do any promotion.
5. Do any of your drivers offer you special perks for painting their helmets? (Ex: Trips to races, etc)
Well I sometimes have access to Indycar races with Alex. It's just a question of finding the time and budget to get there. I went to the Indy 500 race in 2010 when Alex took pole, it was great to be there for the race. I got to watch it from the pitwall!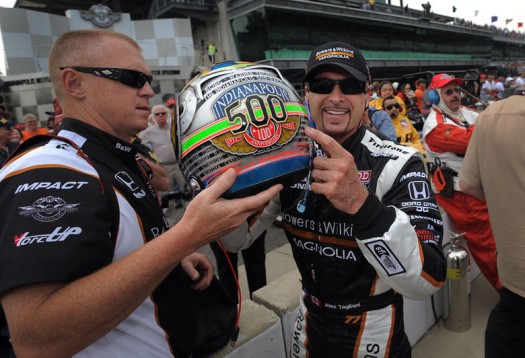 6. Is there a driver that really challenges you as a painter?
All of them! Especially those who have an idea of what they want and can't explain it…
7. Preference: Gloss, Matte, or Chrome finish, and why?
All of that. A mix of gloss and matte always provide an awesome look/effect. Just find the fluorescent colors stand out more with matte finish. Candy blue and gold on chrome is also outstanding. I must say although chrome is tricky to work with though. And don't forget the flakes, there are some awesome flakes and pearls out there that provide this extra subtle effect.
8. Do you paint anything other than helmets?
Never happened yet apart from my Mazda RX-7… and my dad's rocking chair!!!
9. Someone you would like to paint a helmet for (any era), and why?
I'd say someone who takes life lightly and seriously at the same time because that's the way I like to live. It's always possible to achieve things while having fun at the same time with people surrounding you. So for that I'd say Gerhard Berger. But anyone who's open for design changes and having theme helmets is always fun.
10. Where do you find inspiration to continually be creative with each helmet creation?
Images, themes, patterns, forms, shapes, influence from other painters, drivers' requests. And sometime you stare at a white sheet for a while…