Driver Blogs
CKN Driver Blog: Dowler's Drive at EDKRA Summer Challenge
Friday for me was getting everything positioned for the upcoming challenge I was about to face, for the 2016 EDKRA Summer Challenge. During the next two days l began shaking out all the jitters and excitement, and with that I and Apollo Motorsports captured pole in Junior Rotax with a commanding lead, due to my closest competitor having mechanical problems before getting in fast solid laps. Then on the other hand, in Junior 2 Briggs qualifying ended with me finishing a respectable sixth. I'd also like to add that Whitney Stevenson got the first flag of our weekend claiming the DD2 Summer Challenge champ tittle! That was one of many flags for Apollo!
Saturday greeted us with strange weather, at the time of the drivers meeting at 8:15 it was quite chilly, and within less than half an hour it was tropical heat pouring over us and just in time for me to get in the kart for Rotax practice and man was that track ever sticky!
The kart literally jacked in every single corner! The heat continued to the first Rotax pre final with me on pole and ready to go. Unfortunately there was an incident in corner one involving me. I had gotten my hand driven over by the off pole starter and we both fell to virtually last place. I was able to recover though, I had a huge gap between me and the driver in 15th, I began to hunt him down and with success, it was a pack of three go karts. The first kart I passed easily but lost some momentum, I gained it back within two corners though, and the racer began making unsafe passes that would not only hurt him but me as well. So I backed off a kart length to not get involved in another wreck and sure enough in the next turn he drove over the other competitor in corner one while giving an attempt to pass him.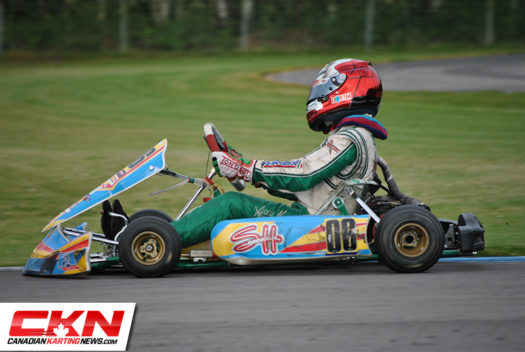 Me laughing in my helmet trying to focus again after that I set my sights on the next group of three and caught them within a lap. By this time it was two to go. I passed one of them in a deep braking zone pass and the other without me touching him drove off the track in the next corner. Then I had my aim set for the final pass I made it in the off camber corner, AKA corner 10, and finished ninth in that pre final. The next pre final was uneventful for me, there was a big wreck in corner one which consisted of virtually the entire field of racers. Only 5 karts made it out safe, me included, and with the great start I had I drove away in Rotax and won.
Then that was the end of Rotax for Saturday. Lunch break came with some unwanted and unwelcome weather. The sun began to fade away and was replaced with dark grey clouds from the west. Practice came and went with the track now fairly greasy. Now it was time for some Briggs and Stratton racing. When they began calling the first classes to the grid it began to rain. Classic Alberta weather! Then thunder and sadly but slowly everyone began to lug out their rubber boots, rain suits and wet tires then we waited.
We waited for almost and hour and a half by our little space heater in our trailer, ready to race. When the rain settled down and the thunder faded I was called to grid for my Briggs pre final. I made a bad call as a driver that I will always regret. I decided to go out on slicks, while every other driver was on wets as it wasn't raining anymore and the track was drying off and seemed to be drying off at a fairly quick pace.
On the pace laps I struggled to keep the kart under me with it twitching this way and that while turning. There were parts of the track that were actually drying but some places were still fairly damp. And with that the race began the leaders slowly stretched away leaving me to fend for myself. But on lap two there was an incident in corner one, involving a competitor who simply spun out in the racing line and there was nowhere for me to go and I couldn't really turn that well with slicks on sadly I drove away from the wreckage and into the water trackside In order to avoid him.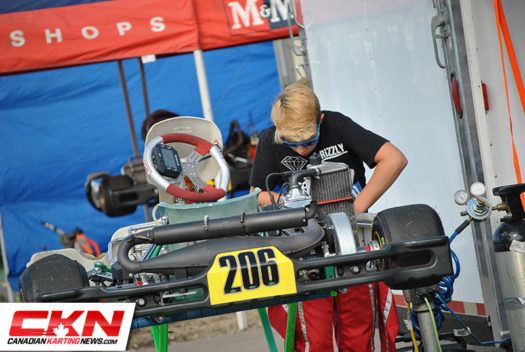 With some effort I was able to rejoin the race but with nothing to make up for my incident. I became a lap down on the last lap and the race was now over with the track now dry!
The next pre final I was determined to make up for the sloppy performance I had shown in the previous race, starting sixth again I made up three spots during the race and was running third. The racers in first and second Matthew Taskinen and Naila Deen were strongly battling for the win. I was about 4 kart lengths back from them and closing quick, trying my hardest to catch up. But that was short lived for the reason that Naila and Matthew had contact in a chicane and I had nowhere to go so again I had to drive off the track to avoid the wreck and basically finished last again. With my starting position for the final in Briggs 16th it was going to be a hard race for me, in corner one I managed to gain five spots. I now had my sights set on the leaders. Pass after pass I made and they stretched away while I fended for myself. In the end I finished fifth overall so I'm content with that 16th to 5th ain't bad and with that Saturday was over
Sunday was the final day of our four day summer challenge at the EDKRA. I was sad it was coming to a close so soon but it is what it is.
Due to inclement weather after my Briggs race the night before all racing was ended and set to finish today. My brothers Noel and Adam both put up a great fight for their positions in their races but in the end Noel prevailed with a dominant lead and won Briggs and Stratton Senior. Now that he had grasped his flag I was wanting to follow his footsteps and be Junior Rotax champion.
I won my pre final with ease as Matthew Taskinen had nothing for me.
Then the big race came, the one I had been waiting for, for over three days.
Tension started to rise, excitement was building, it was my turn to hold the flag. I strapped on my helmet and suited up and I was off.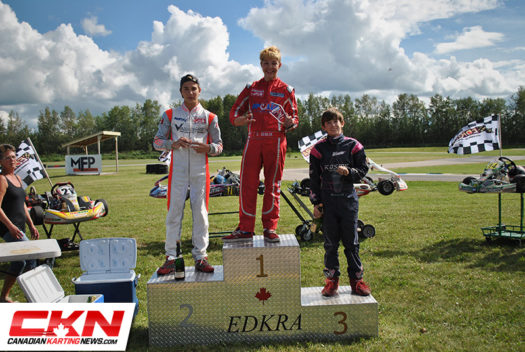 I brought the field to a crawl as we came around the last corner and brrrraaaaaaap lets go racin! Green, green, green! Taskinen and I both cut to the middle and it's anyone's race now. I look in the corner of my eye and see Taskinens bumper. He sneaks into first so I settle behind him and see no wreck in corner one. That's good now I'm in second all I have to do is stay calm, cool and collected and I've got this.
Lap 2 comes around I stuff Matt in corner one, he sells me a dummy and crosses back over in corner two, I try the same thing the next lap and it stuck! Now all I've gotta do pull away and that's what I did. Pulling away by almost 6 seconds!
My finish was Dablisious!!!
And with that we ended our weekend with three flags at Apollo Motorsports and champagne showers!
I'd like to thank my dad for helping me on my journey to becoming a better driver and a better person. My brothers Noel and Adam for being the best and funniest mentors ever, and Joshua Klein for helping us out this weekend and my mom for supporting my sport/hobby. OTK for giving me an amazing kart. Joey Guyon from Overdrive for giving me a super fast motor, the EDKRA for hosting this awesome event. Finally all the people that travelled from all over the place to make this event what it is. And to that I say bye guys see ya next year it'll be even better than before! Plus CKN for giving me this opportunity thanks!
-Griffin