Driver Blogs
CKN Driver Blog: Dale Curran Chases Championship Podium at ECKC Mosport
One of the things that we did before this round of ECKC is tested at Mosport with Alex (Vincent), the Lupien's (Cedrik and Samuel) and Ryan MacDermid. I really had a lot of fun spending some time with them. It was great to get some practice in before the week of ECKC. It was nice to have Sam, Cedrik and Ryan's help with driving. Having my mechanic/coach Mathieu and Alex there also to support me helped with my confidence. It was great to test Alex's motor and great to have Mathieu to test setups on the kart. My dad also spent a lot of time taking me to the track and letting me run laps. I wanted to say thank you to them all for helping me. Thank you to Zach for taking me to Mosport and spending a day with me also.
We started Saturday by qualifying in second position which I was very happy with. We finished in the pre-final in second position as well. In the final, we started in second position and off the start I went back to third. In corner 5, I passed back and I held the second position until the last lap. During the final lap, the kart stopped and I had to pull over to the side just before corner 5. I was extremely upset because I ended up losing my chance to come second in the championship due to the problem with my kart. I went home extremely disappointed about the final but pace wise it was a very good day. I told myself that tomorrow was a new day.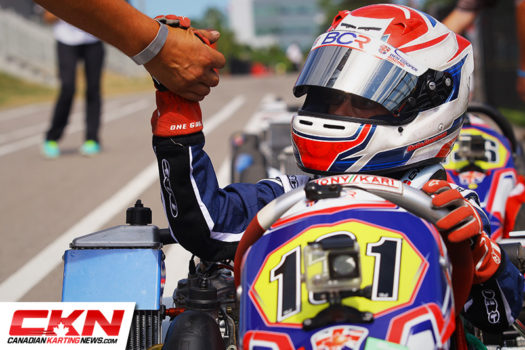 On Sunday, we qualified in third position. The prefinal was a very good battle with myself, Thomas, Gianluca, Chloe and Justin. I finished in second position, Thomas won, Justin was third, Chloe was fourth and Gianluca was fifth. In the final, I started second and was passed by Gianluca on lap 6. I passed him back on lap 7 and he passed me back on lap 9. I ended up finishing the race in third position. I was very happy with the finish. After the race was completed, I was penalized for two wheels out of the lane on the start, so I ended up finishing in fifth position.
I ended up finishing third in the ECKC championship which I felt was a good accomplishment, due to the up and downs of this season. Congratulations to Thomas on a perfect season!
Next up is the Canadian Nationals in Mont-Tremblant. Oops, I mean the Open ASN Canada National Championships. I'm excited for this race as I feel that I have the ability to do well.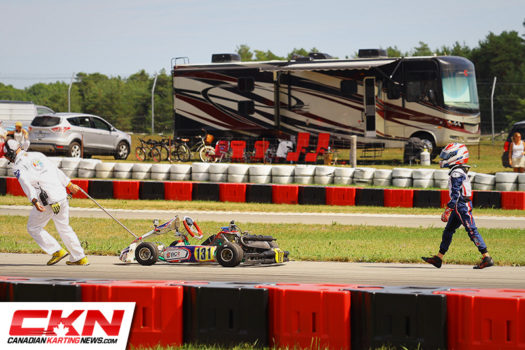 Special Thanks
I wanted to say a special thanks to my family for always being supportive and at the races with me. My dad always takes me to the track and spends a lot of time with me and my kart. I really appreciate all of his support. Thanks to Ben Cooper Racing, Mathieu Demers, Alex Vincent, Zach Robichon (aka Robocop) and Philippo.
See you in Mont-Tremblant and let's go to the luge!!!
Dale Curran Jr., #131