Welcome to CKN Chatter, where CanadianKartingNews.com sits down with go-karters from across our nation and around the world. This weekly feature will see a different kart racer interviewed by CKN each week, with quick and simple questions about their karting past, present and future. 
With only two weeks to go until the 2012 Rotax Max Challenge Grand Finals in Portugal, CKN chats this week Stuart Clark, the 2012 ASN Canadian National DD2 Masters Champion. Clark had a stellar season in 2012, adding the ECKC Championship as well, and will represent Team Canada for the second time at this years Grand Finals, hoping to improve on his 9th place result from a year ago.
---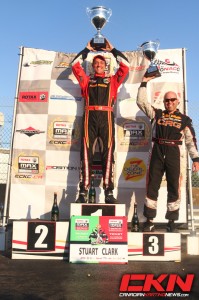 Name: Stuart Clark
Hometown: Campbellville, Ontario
Age: 40
Years Racing: 5 years
Chassis Raced (to date): CRG, Maranello
Favourite Track: Mont Tremblant, Quebec
Racing Idols: Ron Fellows, Jenson Button, Robert Wickens
Supporters: Prime Powersports, Trevor Wickens
Accomplishments: 2012 DD2 Masters Canadian Champion, 2012 DD2 Masters ECKC Champion, 2011 Rotax Grand Finals DD2 Masters top 10 finish w/ fast lap, 2011 DD2 Masters Rotax Pan-American Champion
Education Aspirations/Job: My Aspirations in racing are to develop my skills in karting and move into closed wheel touring cars.
---
To start, can you quickly recap your 2012 ASN Canadian Karting Championships?
Winning this year at the Nationals was to dream come true. I have worked hard to improve over the past 3 years and winning was a great reward. The Nationals is a world class event thanks to the help of ASN, Canadian Tire, SRA and the Jim Russell Karting/Mont-Tremblant organization. Looking forward to next year.
What is your most memorable karting moment?
Best memory to date is when I realized that I had won my seat on Team Canada after winning the 2011 Rotax Pan-American race in the rain in Indiana (USA). It was an incredible feeling after crossing the scales and being told I was going to the Grand Finals.
First trophy ever won? Do you still have it?
The 1st trophy I won was in 2003 for a club race in Hamilton. It was my 1st year in karting and I competed in Rotax Senior.
How did you get started in karting?
A got the bug when I was a young boy when my Father & brother karted at North Hamilton. Not having the opportunity when I was young I finally suited up in 2002 and joined a bi-weekly Honda arrive and drive program in 2002, loved it and jumped a Rotax in 2003.
What is your favourite thing about racing?
So many elements to racing that are addictive. Winning obviously is the ultimate high, the adrenalin, the competitive fight and it keeps your mind and body sharp.
Who is your favourite person to race against and why?
I enjoy racing against Pro Drivers like Jacques Villeneuve and Alex Tagliani, it's a great measure if you can out pace them. Also, I like running with the other top Masters drivers, all of us can relate to each other, there is a lot of mutual respect, we all have families, jobs and a passion to kart.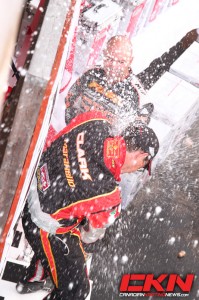 If there is someone from another generation you could race against, who would it be and why?
I think Ayrton Senna, it seems that he had talents that no other driver could match.
When you look at karting from a fan/spectator point of view, what do you see?
I think the events put on by ECKC and the Canadian Nationals are a great show. And all the work that is going on with Live commentary, LiveVideo and all the social media promotion creates a very professional atmosphere.
What is your current perspective on Canadian Karting and how do you think we could improve it?
Karting is a great sport that I think has a lot of room to grow. All new karters are born from fans and spectators. If there were more fans I think there would be more karters. If we can have more race events closer to the fans like Petit Monaco if would perpetuate the sport.
If you could win one race, and only one race, then retire, what would it be and why?
I would like to Win a race at Monaco (F1). For me it would be the true measure of concentration and preparation.
If you could choose one, would you choose a chassis tuner, engine tuner and driver coach?
I would choose a Driving coach. I think there is always more time in a driver than all the tuning combined.
What is something karting people don't know about you?
I keep busy with my Plastic Recycling business Simplas Inc., with travel across Canada. We recycle plastic underground utility pipe in Mississauga and Edmonton.
---
Previous CKN Chatter Interviews: