Welcome to CKN Chatter, where CanadianKartingNews.com sits down with go-karters from across our nation and around the world. This weekly feature will see a different kart racer interviewed by CKN each week, with quick and simple questions about their karting past, present and future. 
Continuing with our 2012 ASN Canadian National Karting Champions, this week we have Rotax Junior Champion Tommy Lemaire-Ouellet. Tommy surprised many with his impressive performance at this years Canadian Championships in Mont-Tremblant, and it comes in only his first full season in Rotax Junior and only his fourth season of karting!
---
Name: Tommy Lemaire-Ouellet
Hometown: St-Paul-Île-Aux-Noix, Quebec
Age: 15
Years Racing: 4
Chassis Raced (to date): I've always raced in Tony Kart, but next season I'll make the jump to Zanardi
Favourite Track: I really like Mont-Tremblant's track
Racing Idols: I admire Steven Szigeti in karting, and as for car racing I really admire Andrew Ranger.
Supporters: Les Roulottes Remillard, SH Karting, Kozy Heat de Jade and Alarmes Techniques
Accomplishments: 2010 Honda Jr Vice-Champion in Quebec Cup, 2011 Honda Jr Canada Champion, 2011 Honda Jr Quebec Cup Champion, 2012 Rotax Jr Canadian Champion, 2012 RMCGF Team Canada Member in Portugal
Education Aspirations/Job: I'm at my third year of High School in a Sport program.
---
To start, can you quickly recap your 2012 ASN Canadian Karting Championships?
I qualified second for the weekend. During the 4 heats I fought to keep my position as it already was. The starts were pretty difficult since I was on the outside line. Sunday I started first after Zachary Claman Demelo's accident, I finished up at the front with a 5 seconds gap in front of Olivier Bedard. That was such a great experience.
What is your most memorable karting moment?
That would have to be in 2010 at St-Roch-de-L'Achigan, where I finished 2nd but only on three tires. I lost my fourth wheel at the half lap before the checker flag. And also I would have to say my 2 Canadian Champion titles.
First trophy ever won? Do you still have it?
In 2009 I finished second at St-Roch-de-L'Achigan, and yes, of course, I still have the trophy.
How did you get started in karting?
In 2008 I went to watch a karting race at SH Karting, and I got the bite, the year after I was racing my first Honda JR race.
What is your favourite thing about racing?
I think it's the challenge, the competition, I really like to drive fast and the friendship that we have between drivers after the race.
Who is your favourite person to race against and why?
I like to race against Nicolas Doré because there is a great competition and such respect between the two of us.
If there is someone from another generation/division you could race against, who would it be and why?
I would like to race against Ben Cooper because I have a lot of admiration for him and because he is one of the best drivers in the world.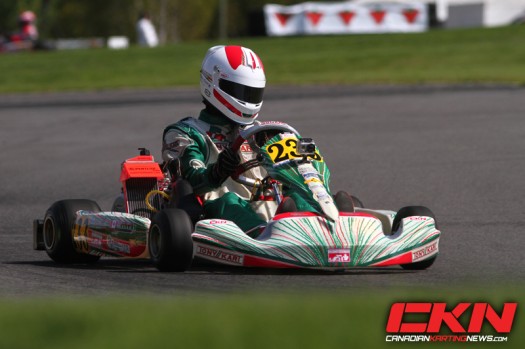 When you look at karting from a fan/spectator point of view, what do you see?
I like to watch the strategy that the drivers take on track, all their efforts and the work they do on and off track.
What is your current perspective on Canadian Karting and how do you think we could improve it?
Karting is an unrecognized sport in Canada despite all the worldwide renowned drivers that we have here. We would need more visibility to be able to promote the sport.
If you could win one race, and only one race, then retire, what would it be and why?
The SKUSA SuperNationals in Las Vegas because it is a huge and impressive event.
If you could choose one, would you choose a chassis tuner, engine tuner and driver coach?
As Chassis Tuner I already like Ives Demers, engine tuner I think I would take Steven Chapman and as Driver coach I'd like to have Ben Cooper.
What is something karting people don't know about you?
My second passion is snowboarding, during winter, when karting is over; I have Freestyle Snowboarding competitions in Quebec. I also have a practicing step in my yard.
---
---
Up next will be our first Briggs & Stratton Canadian Champion from 2012, stay tuned to find out if it was a Junior or Senior.