We hope everyone enjoyed their holiday break with their friends and family. We sure did, but now we're with the second half of our year in review awards.
Six Canadian race seasons are in the books for Canadian Karting News and we are excited to once again bring you our Year in Review Awards where we highlight many of the drivers and moments who have stood out to us. It's not hard selecting the winners for each of our categories, so we hope you understand that we do these awards based on our trackside experiences and with only good intentions.
We enjoy the opportunity to bring the CKN Nation the news and information about the sport we love so much and take passion in doing it. So we hope you enjoy our awards and are already looking forward to 2018 and seeing what all of our Canadian racers have in store.
CKN 2017 Year in Review Awards: Part 1 – Part 2 – Part 4 (coming soon)
---
Western Canadian Driver of the Year (BC/AB/SK/MB)
Nominees: Townes Allan, Skylar Dunning, Alan Haggarty, Jason Leung, Coltin McCaughan, Max Pankewitz
Winner: Jason Leung
It was a busy season for Jason Leung, the young driver from British Columbia who took part in many races in 2017, his first season in the Junior ranks. Highlighting his accomplishments included winning the EDKRA Alberta Shootout and securing a ticket to the 2018 Rotax Grand Finals as well as finishing second in the CAN-AM Karting Challenge, which awarded him a trip to compete in the 2017 Rotax Grand Finals, where he represented Team Canada in Portugal.
Leung has a bright future ahead of him as he continues to race at home and around the world.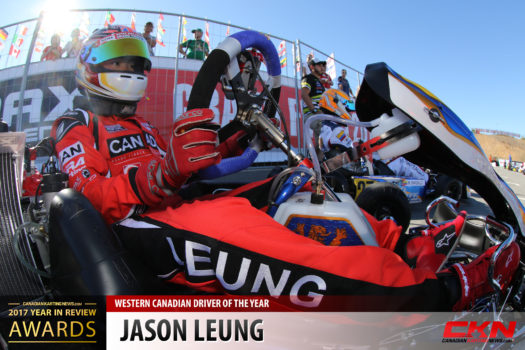 ---
Atlantic Canadian Driver of the Year (NS/PEI/NB/NL)
Nominees: Callum Baxter, Alex Davison, Kelsey Hann, Jordan Kennedy, Owen Mahar
Winner: Callum Baxter
Callum Baxter burst onto the National karting scene in 2017, but he stayed true to his roots at the small track in Dieppe, New Brunswick. Hailing from Nova Scotia, Baxter was a dominating force at East Coast Karting, taking home the CKRA championship in Briggs & Stratton Novice after a season-long battle with Owen Mahar, including a very spirited challenge at the summer challenge.
Along with his accomplishments at home, Baxter also brought home the National crown at the Canadian Karting Championships as well as victories in the Champion Ron Fellows Karting Challenge, a truly impressive season of performances.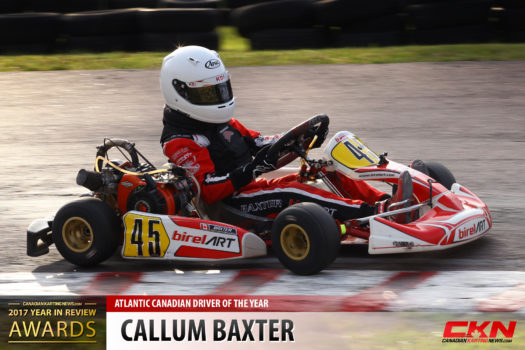 ---
Eastern Canadian Driver of the Year (ON/QC)
Nominees: Justin Arseneau, Marco Di Leo, Ryan MacDermid, Connor Pritiko, Marco Signoretti, Jonathon Treadwell
Winner: Connor Pritiko
There were a number of standout performances from drivers in Eastern Canada. All of the 2017 Canadian National Champions hailed from Ontario and Quebec and since we spend the majority of our season in this region, it was very difficult to pick just one driver.
However, after much deliberation, we have determined that Connor Pritiko is our Eastern Canadian Driver of the Year. Pritiko, from Komoka, Ontario competed in the Briggs Junior Lite category and was a force to be reckoned with all year long. He won the Champion Ron Fellows Karting Challenge title, the Eastern Canadian Karting Championship title, the Briggs Summerfest at Mosport title as well as the WRKC Oktoberfest Grand Prix victory. The only win he came up short on was the Canadian National Title, in which he stood on the podium in third place after leading much of the race.
Pritiko also dabbled in some Rotax Mini-Max competition throughout the year as well, making it a very busy season for our Eastern Canadian Driver of the Year.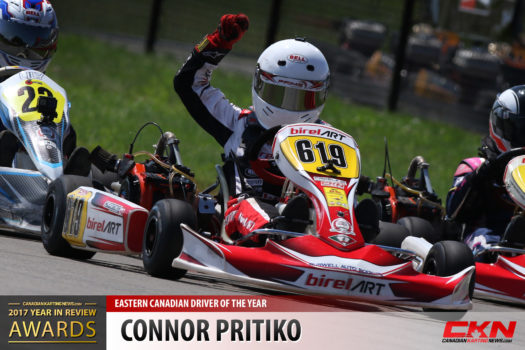 ---
The fourth and final round of CKN 2017 Year in Review awards are up next as we crown our Junior Driver of the Year, Senior Driver of the Year and International Driver of the Year.