For the third year in a row, I have traveled to the Pat's Acres Racing Complex in Canby, Oregon to have a presence at the season finale of the CAN-AM Karting Challenge. The Pacific Northwest series has had its highs and lows but this weekend more than not, it showed that the program is growing in a couple different directions. And while we see the Rotax Max Challenge programs slowing down in the USA, something used to be the staple of the CAN-AM, these areas of growth should help keep the CAN-AM Challenge rolling for years to come.
The CAN-AM is a truly international program that sees drivers and teams travel from multiple US states and Canadian provinces, something we just don't see anywhere else. This weekend even featured the Oregon State two-cycle Championships, which added a great group of local TaG and Shifter drivers and helped push the entry count over 100 for the first time in series history.
Briggs & Stratton LO206
When I first came to Oregon in 2015, the Briggs class was a hot mess. It found some life at the Chilliwack, BC round and going into Pat's, there was a change of heart around the class and suddenly there was a great handful of drivers entering, mainly mechanics and guys who haven't raced in a while, jumping into an old kart and hitting the track.
Fast forward two years and there are now three full-time classes on the schedule.
Briggs Cadet popped up out of nowhere and featured nearly ten young drivers this weekend, showing great future prospects. Briggs Junior was mainly just a couple Rotax drivers jumping into the Briggs Senior class to have some fun with their mechanics, but this year it was its own category, clearing the ten driver mark.
And finally, Briggs Senior. While it still features a number of last-minute mechanic entries, it has a bonafide group of dedicated racers who take it seriously. There are a few Masters drivers mixed in too, but overall, Senior Briggs has been the main event at the CAN-AM finale over the past two years and has the tendency to attract some out of region racers each year.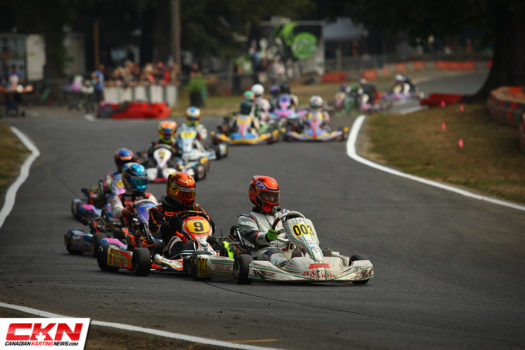 Shifter
Over the last three years, it was pretty painful to watch the shifter class run with 2-3 entries. Sometimes it would get to five, but it really was more of a chance to do some lapping. This weekend there was more than a dozen shifters on track and while Kyle Wick showed his dominating form, the battling behind was excellent. The class finally has some momentum and I don't doubt it will grow in 2018.
Looking at the future
While nothing has been announced yet, it's looking quite safe to assume that CAN-AM will be a part of the SKUSA regional program in 2018. Rotax has faded over the years and tickets to the Rotax Grand Finals are hard to justify when the classes can no longer attract even ten drivers to race for a ticket. Switching over to IAME engines would be an opportunity to send CAN-AM drivers to the SKUSA SuperNationals or even the SKUSA Pro Tour, which would still be a great reward. And with the Shifter classes already utilizing Stock Honda power and the SKUSA rule set, that group wouldn't even need a transition.
The future is bright for the CAN-AM Karting Challenge.