Baillargeon Dominates Mini-Max Again at Canada Final; Bedard Steps Up in Micro-Max
For the second year in a row, Alexis Baillargeon (PSL-SCR/BirelART) headed out west and dominated the Rotax Mini-Max division at the Max Karting Group Canada Final opening round.
Last year he was unstoppable in Saskatoon and this time it was his first visit to the Stratotech Raceway near Edmonton where he showcased his impressive skillset.
Baillargeon swept every competitive session in the Mini Max division, keeping ahead of Gabriel Balog (RaceLab/JV Kart), a Canada Final race winner last season.
In Qualifying on Saturday morning, Baillargeon was 0.404 seconds faster to earn the CKN Fastest Qualifier award with Balog joining him on the front row. Behind the lead pair, the group was very close together as the next four posted laps within a tenth of a second of each other on the high-speed Stratotech circuit.
After Baillargeon swept the heat races, all of the focus shifted to Sunday and he just simply wasn't beatable. Cruising in the main event, Baillargeon crossed the finish line 1.7 seconds ahead of Balog. Completing the podium after breaking free from the battling in the midpack was Teryk Bodenstab (SCR/CL Kart) while Jeremy Zsamboki (SCR/Ricciardo Kart) and Harrison Jeffrey (Overdrive/Praga) rounded out the top five.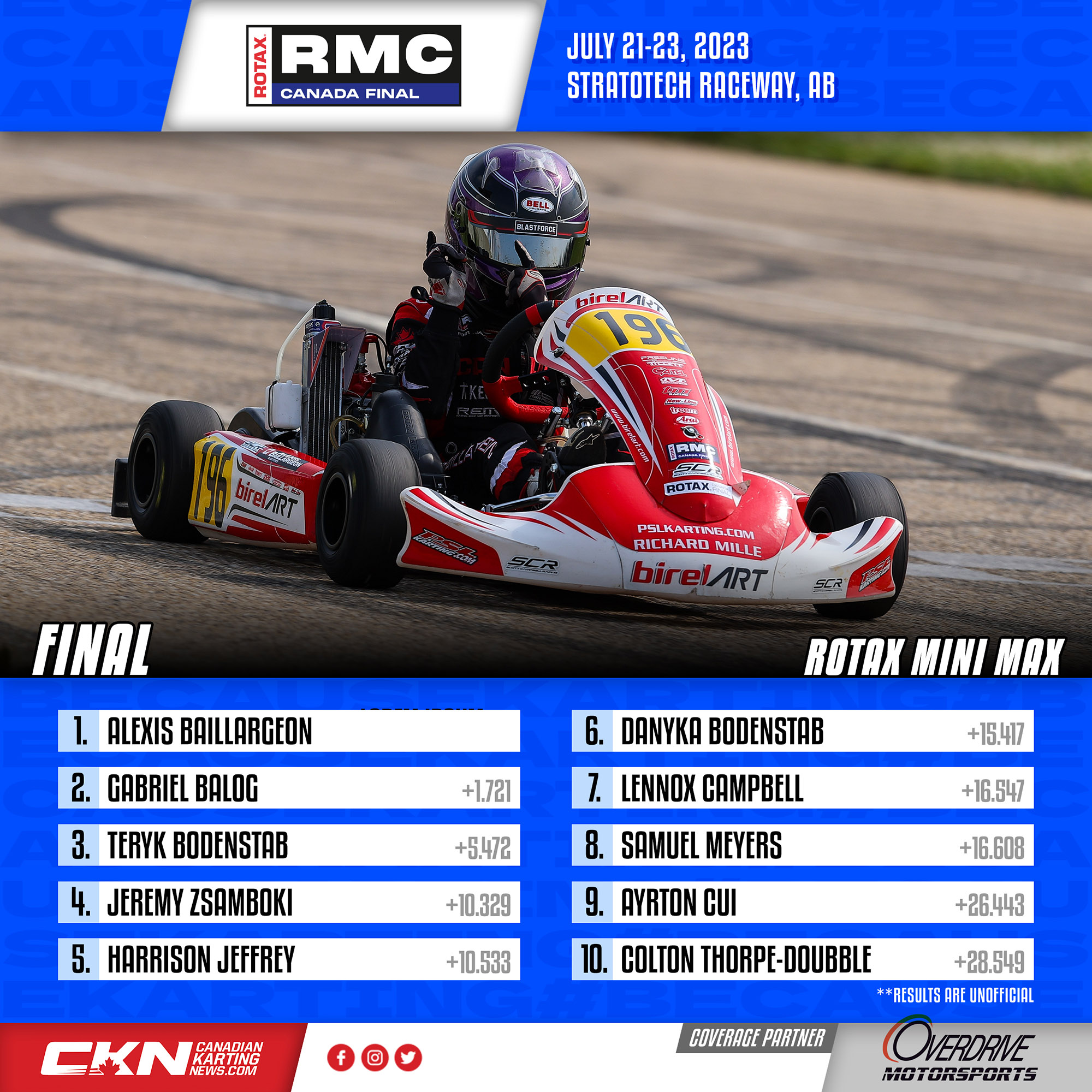 ---
In Micro Max, it was an interesting weekend of racing. Mateo Pai (BBR/Falcon) was the CKN Fastest Qualifier and in the heat races, he was able to defend the lead in two of the three heat races to keep himself on the pole position for Sunday.
However, in the PreFinal after some shuffling late in the race, contact with two laps to go resulted in Pai spinning out and falling to the rear of the field, forcing him to start the Final from last on the grid.
This opened the opportunity for James Bedard (RaceLab/TB Kart) and Sebastian De Moissac (Apollo/Exprit) to take over control.
The pair were able to break away from the pack early and as the laps ticked away, Bedard opened up a gap of De Moissac that would seal the deal. At the finish line, Bedard was five kart lengths ahead and scored the race win while Pai recovered to cross in third place.
Unfortunately for De Moissac, a technical infraction after the race removed him from the results, moving Pai up to second on the podium and elevating Christian Sanguinetti (TonyKart) to the third step after a hard-fought race with Lennox Campbell (SCR/CL Kart) and Charles Teo (SCR/CL Kart).
With so much action up front this weekend, this championship race is going to come down to the wire when the series heads to Greg Moore Raceway in Chilliwack, BC for the second half of the series. We can't wait to see who comes out on top and gets to represent Canada at the Rotax Max Challenge Grand Finals in Bahrain.