Club News
APKLQ Working Together with Coupe de Montreal in 2017; APKLQ et la Coupe de Montreal s'associent en 2017
La version française suit. Merci Tanya Beaudin pour la traduction.
Quebec karting innovates and positions itself on the development and quality of its event offering in 2017.
The association of pilots of leisure karting of Quebec (APKLQ) has officially launched its 2017 calendar. On the program eight weekends of activities that are gathering, innovative and spectacular.
Indeed, the APKLQ succeeded in uniting the CKAS series and the Montreal Championship with its activities and finally integrated the Quebec championship for the categories Shifter and Briggs and Stratton. The Québec Karting TOUR series is born. Our series will offer the following classes: Honda Open, Briggs and Stratton Jr, Sr and Master, Rotax Jr, Sr, DD2 and Shifter.
Furthermore, Quebec karting will be able to count on the development program of the APKLQ. The program 'One Bench, a wheel with US for YOU!' which will take place on Saturday mornings and will allow people who wish to experience a race to be paired with a driver, receive training and participate in a full race. The first prize is a free entry in the Briggs and Stratton category of the Québec karting TOUR series including the kart, equipment and a personal coach for a total value of $1000.00.

The APKLQ also innovates by creating a seven-race rental championship . This championship will take place on each Sunday of the Québec Karting TOUR series. A maximum of 20 drivers will compete on a 7-race schedule on the most beautiful tracks in Quebec for less than $700.00. This championship is strictly reserved for amateurs, counter to those whom have already participated to a race on a higher level than a regional scale.
Finally, APKLQ will start the season in force with the Québec festival of karting. It is the 2017 KartFest  that will take place on April 29th and 30st to Karting Trois-Rivières. Flea market, mechanical training, track training, specific training for young people aged from 6 to 12 who want to learn the sport, courses for the acquisition of pilot licenses, testing of karts in different categories, practice sessions during two days, enduro race, exhibition of new products, conferences and shows will be on the menu of KartFest.
The DNA of the Association of Pilots of Leisure Karting of Quebec (APKLQ) is the commitment of self, the respect of others and the equity. We share our passion for this discipline of karting by committing ourselves to offering professionally organized races at a fair price so that everyone can register and thus live together an extraordinary sport in 2017.
More information can be attained by contacting info@apklq.com or calling 819.383.3380. Registration can be completed online via http://apklq.ca.
---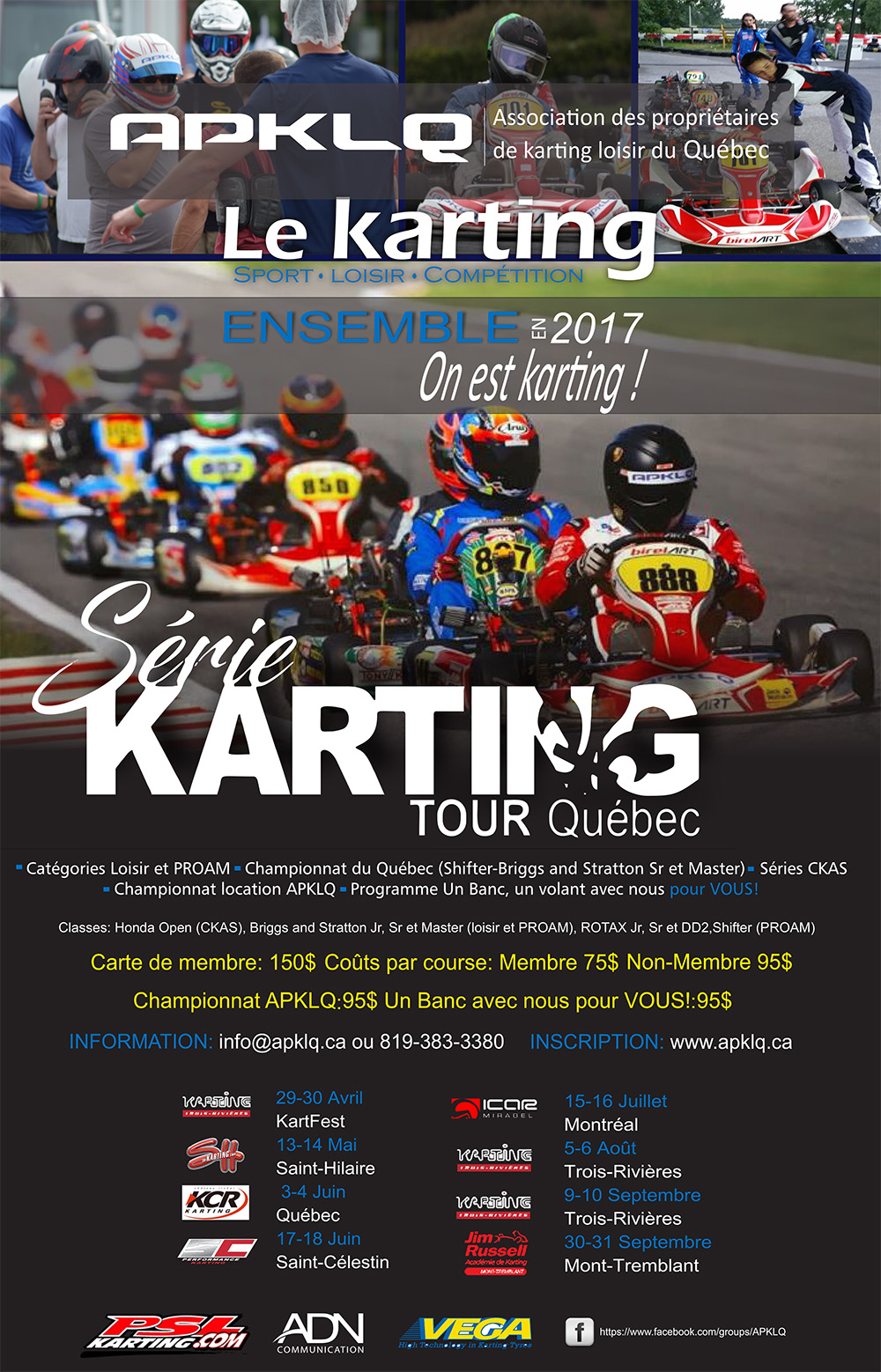 ---
APKLQ et la Coupe de Montreal s'associent en 2017
Le karting Québécois innove et se positionne sur le développement et la qualité de son offre événementielle en 2017.
L'association des pilotes de karting loisir du Québec (APKLQ) lance officiellement son calendrier 2017 avec au programme 8 fins de semaine d'activités qui se veulent rassembleuses, innovatrices et spectaculaires.
En effet, l'APKLQ a réussi à unir la série CKAS et le Championnat de Montréal à ses activités et finalement à intégrer un championnat québécois pour les catégories Shifter et Briggs and Stratton. La Série karting TOUR Québec est donc bien née. Notre plateau offrira les classes suivantes : Honda Open, Briggs and Stratton Jr, Sr et Master, Rotax Jr, Sr, DD2 et Shifter.
De plus, le karting québécois pourra compter sur le programme de développement de l'APKLQ. En effet, le programme Un Banc, un volant avec NOUS pour VOUS ! qui se déroulera le samedi matin permettra aux gens qui désirent vivre une course d'être jumelé à un pilote, recevoir une formation et participer à une course complète. Le premier prix est une participation gratuite dans la catégorie Briggs and Stratton de la Série karting TOUR Québec avec le kart, l'équipement et un coach personnel d'une valeur totale de 1000.00$.
L'APKLQ ne s'arrête pas là et innove en créant un championnat location de 7 courses. Ce championnat se déroulera le dimanche à même la Série karting TOUR Québec.  Un maximum de 20 pilotes inscrits à ce championnat disputeront un calendrier de 7 courses sur les plus belles pistes du Québec pour moins de 700.00$. Ce championnat est strictement réservé aux amateurs, donc à ceux qui n'ont jamais participé à une course de niveau supérieur à une course régionale.
Finalement, on démarre la saison en force avec le festival québécois du karting. C'est le KartFest 2017 qui se déroulera le 29 et 30 avril prochain à karting Trois-Rivières. Marché aux puces, formations mécaniques, formation en piste, formation spécifique pour les jeunes de 6 à 12 ans qui veulent s'initier au sport, cours pour l'acquisition de licences de pilotes, essais de karts de différentes catégories, sessions de pratique durant les deux jours, course enduro, exposition de nouveaux produits, conférences et spectacles seront au menu du KartFest.
L'ADN de l'association des pilotes de karting loisir du Québec c'est l'engagement de soi, le respect d'autrui et l'équité. Nous partageons notre passion pour cette discipline qu'est le karting en nous engageant à offrir des courses organisées professionnellement à un prix juste afin que tous puissent s'inscrire et ainsi vivre ensemble ce sport extraordinaire en 2017.
-APKLQ