Latest News
Another Successful PPKC Memorial Race Weekend
Every year, the Point Pelee Karting Club, located in Lemaington, Ontario, puts together a very special event. Celebrating the lives of club members and families that have been lost over the years, the club annually celebrates their lives with a Memorial race. This year's race was once again a huge success, and at the final podium ceremony, over $2500.00 in prize money was awarded to winning drivers.
This years event was in memory of: Calvin Newman, Brian Heron Jr, Gord Bonham, Al Casey, Peter Frydrychowicz, George Gilbert, Jason Willis and Paul McMillan. All of these individual's were once a part of the large family that is the Point Pelee Karting Club and it's previous associations in Canada's Sun Parlour.
Headlined by a special lunchtime demonstration that featured select drivers doing a handful of laps around the track holding flags of those lost. Sunday's race day was held under bright and beautiful sunny skies.
Adding to the benefit of winning, this year's event once again featured a very impressive prize purse, which disappointingly didn't attract more drivers from out of town.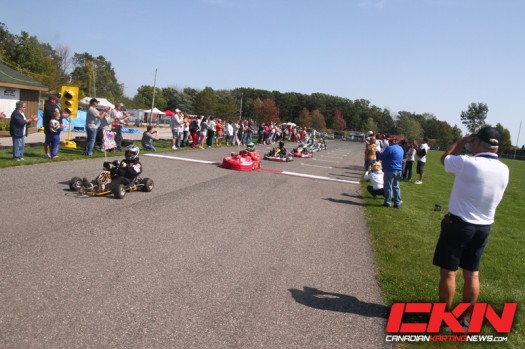 Marc Stehle of Windsor Mobile Wash generously donated $1000.00 to the winner of the Honda Sr. Pro class, deemed the Gord Bonham Memorial Sr. Medium Championship. Competing himself, Stehle was actually able come away as the victor after out a great battle with TJ Marshall and Greg Rempel. The unique race featured an eight-lap sprint, in which Rempel held the lead and earned a cool $200. From there, a full course caution was thrown and the group regrouped for a seven-lap dash for cash, wish the fences filled to take in the action. Rempel would take second ahead of Marshall, David Patrick and Cory Cacciavillani. Thanks to the support of MG Tires, positions 2-5 all earned cash payouts as well.
The generosity of Stehle was once again witnessed at the podium ceremony, when he traded down his winnings to second-place.
In the largest Junior category, Roman DeAngelis erupted as the victor in Jr 1 and took home a cool $500.00 for the win courtesy of Willis Service Center and Glenn Willis.
In the Briggs & Stratton Senior class, Marc Stehle was able to earn his second win of the day and earn $500.00 courtesy of CanadianKartingNews.com. Stehle, Greg Rempel, Cory Cacciavillani and David Patrick all waged in an incredible battle, with Stehle eventually crossing in first.
In the TaG Senior class, Brett Rickeard was awarded the victory and a $500.00 winners cheque, donated by Cole Cacciavillani and CF Groups, while Jamie Lockwood and Brayden Seberras completed the podium.
For more information about the Point Pelee Karting Club, please visit http://pointpeleekarting.com