KartStars Canada Nationals Weekend Report
The annual KartStars Canada bear hunt is officially complete following four spectacular days of karting at the Shannonville Motorsport Park. 16 Shannonville bears were captured during the event and are now heading to trophy shelves throughout Ontario.
The vibe that racing at Shannonville provides truly is unlike other events. Being a car circuit, the track is simple, sometimes forgiving and fast, and having a wall you can watch from mere inches away from the competition provides a viewpoint no other than can provide. With the draft playing such a large factor, especially with a headwind like on Sunday, strategy is so important, it truly is like playing high-speed chess. It's a neutral playing ground and always an opportunity for a driver to have a breakout weekend.
Over 120 drivers from Ontario and Quebec filled up the grids that combined totalled over 300 entries. There was no shortage of track time and races with Saturday and Sunday each having 28 competitive sessions and both days were complete before 5:00 PM.
Compiling our list from the weekend here are our key takeaways from the KartStars Canada National Championship at Shannonville Motorsport Park.
Click here for the official results from the weekend.
---
The Bear trophy is back
After a few years of trying to source out the mould for a Bear trophy, KartStars Canada revealed their new official bear trophy this week. He's a little more aggressive than the big cuddly bear from years past at Shannonville but the significance of this trophy still holds true to many racers who have spent many August summers over the past three decades on a bear hunt.
---
Di Leo Wins 3 of 4
It was nearly a perfect week for Jordan Di Leo as the Junior driver secured three wins this week and came within a kart length of a sweep.
He started out getting the win in KartStars Junior Pro on Friday after initial race winner Declan Black failed in post-race tech. Saturday Di Leo was lights out in the KartStars Junior, this time beating Black to the finish line for win number two. Following it up on Sunday he started the Finals off with a win in VLR Junior, edging out David Zhao in a race-long duel. However Black was finally able to track down a Bear in Sunday's Briggs Junior Final, with the two trading the lead many times on the final laps.
---
Treadwell wins 2 of 3; VRS sweeps the podium on Saturday; SM Motorsports sweeps the podium on Sunday
Making his return to Shannonville after at least a decade away, Jon Treadwell had himself a weekend.
Like Di Leo, he started the weekend off with a Bear on Friday in Briggs Senior Pro, leading every lap of the main event to start the event off. On Saturday it was a wild shootout to determine the race winner of Briggs Senior with Treadwell going three-wide into corner one with Vasil Tchiplakov and Chad Webster. Managing to hold the outside, Treadwell escaped with the race lead and led a VRS 1-2-3 across the finish line with Michael Ing and Webster just behind him.
However, his chances of a weekend sweep ended early in the Sunday KartStars Senior Final. Leading early, the pack was all over Treadwell and after he slipped back to third, his race ended on lap six with a spin in the chicane.
While the podium was all orange on Saturday, it was all blue on Sunday as SM Motorsports/Ricciardo karts finished 1-2-3 as Tchiplakov edged out Christian Savaglio, who made an overnight switch, and Steven MacVoy for the victory.
Like they have been all season between Ontario and Quebec, the Briggs Senior divisions were the best to watch this weekend and were very competitive all the way through the grid, with 31 drivers lining up in both Briggs Senior and KartStars Senior.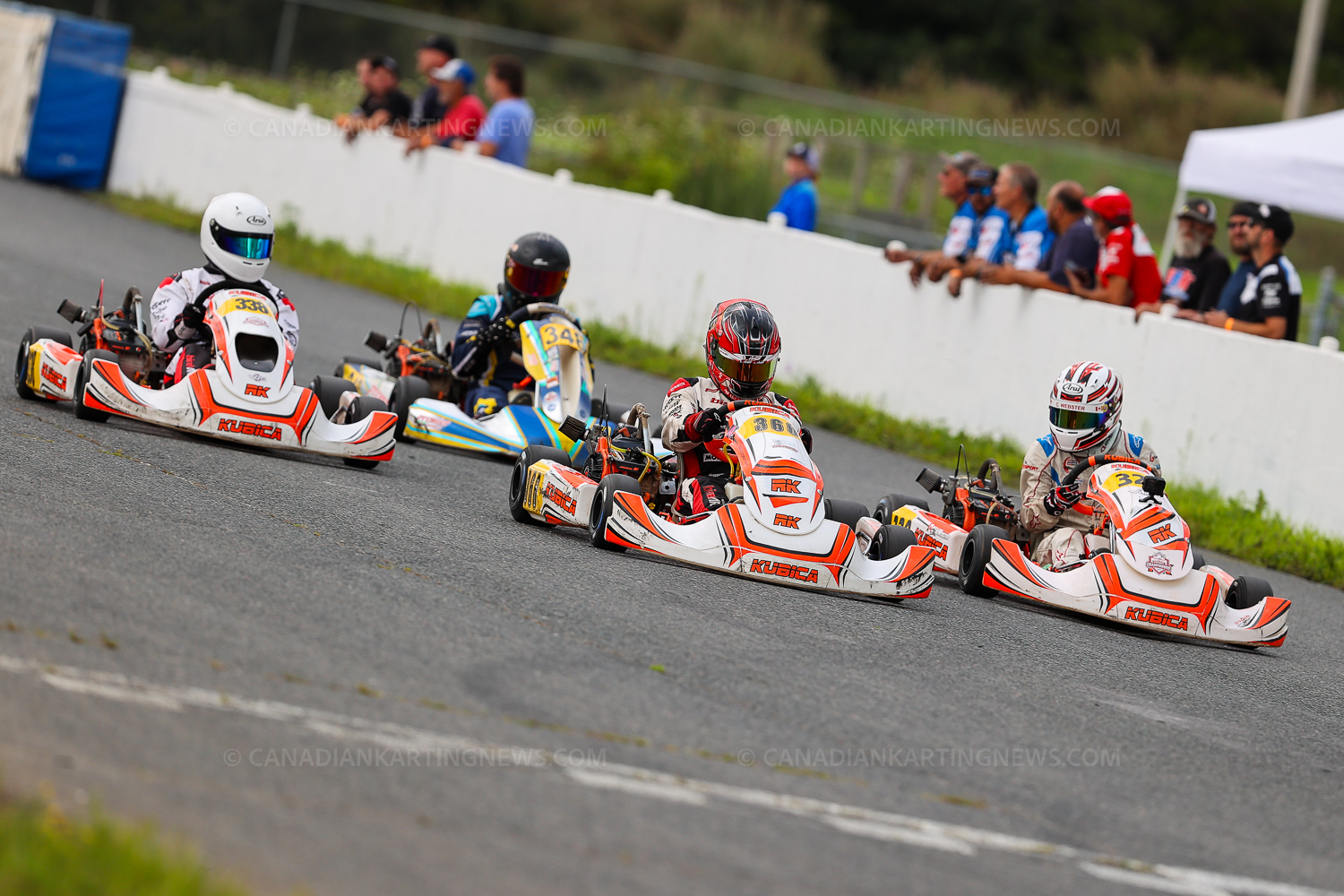 ---
Team Tyers Has a Day on Sunday
It was Super Sunday for the Tyers family as their two drivers, Ethan and Quinn, were able to lock down three race wins and a third place.
It may have been the extra luck of having their grandparents stopping in at Shannonville to watch them race but it sure was an impressive day. Ethan scored race wins in Briggs Cadet and Mini Rok while Quinn was successful in Briggs Junior Lite and third place in VLR Junior. Ethan also added a visit to the podium on Friday evening after finishing third in the KartStars Cadet Pro shootout.
Well done Tyers family!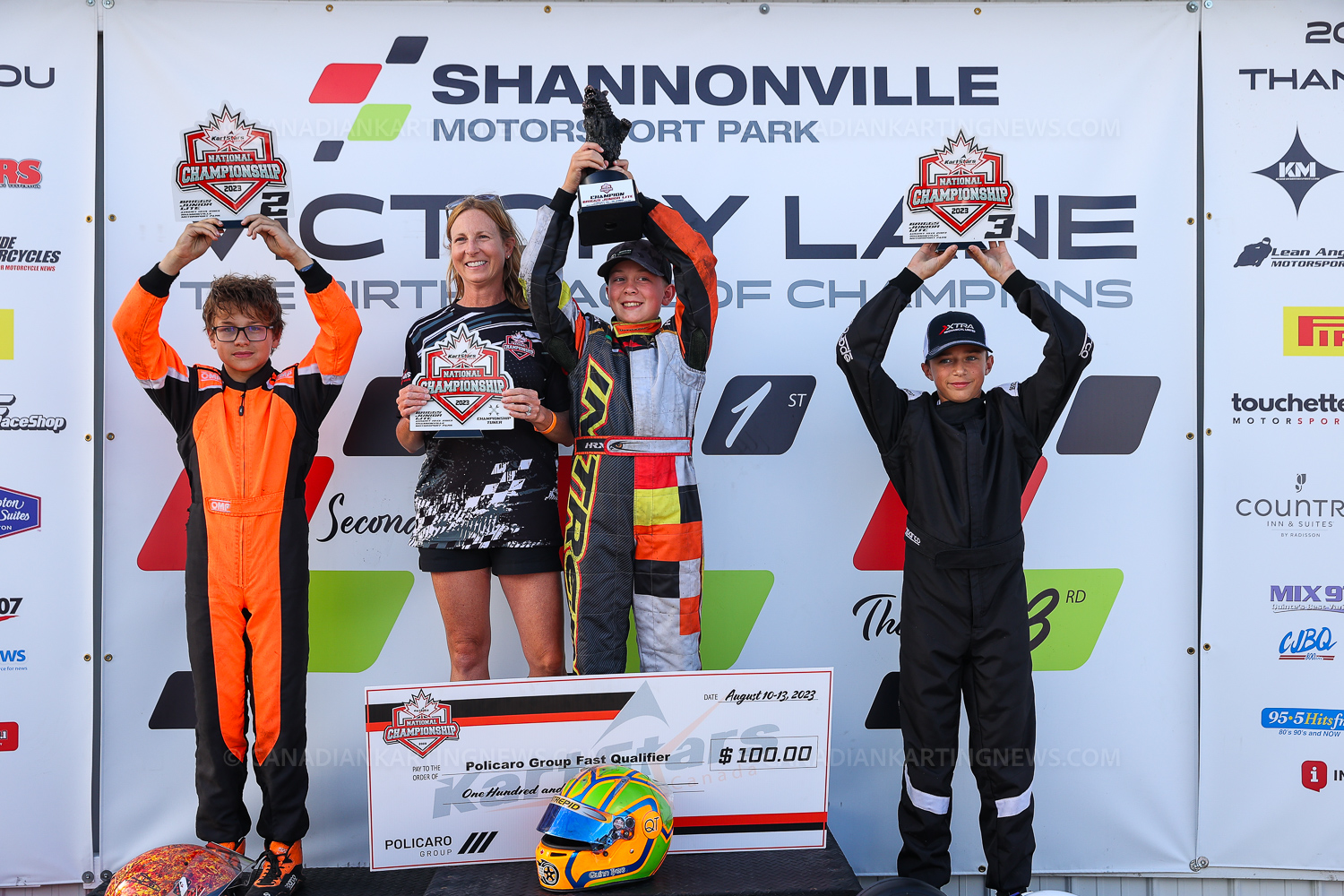 ---
Asher Pavan Update
During the Briggs Cadet Final on Saturday, there was a very scary incident involving race leader Asher Pavan. After getting airborne, Pavan's kart went for a wild ride when it hit the grass and unfortunately, his foot was caught and he went along for the ride.
Pavan required a trip to the hospital and on Sunday morning the family confirmed that he had a severely broken leg as well as a C6 vertebrae fracture and he will be sidelined for a good while to recover.
We want to wish a speedy recovery to Asher and hope to see him back at a kart track in the near future.
---
VLR racers win entry to Italy
The Vortex VLR racers had a little extra on the line this weekend as they were duking it for an entry fee to the Rok Cup SuperFinal in Italy along with a bear trophy.
Starting off the Finals on Sunday, Ethan Pollack drove to the race win in VLR Senior followed by Frankie Savaglio taking the checkered flag in VLR Masters. Ethan Tyers steered to the win in Mini Rok and then Jordan Di Leo steered himself to the win in VLR Junior.
---
It got muddy, very muddy, especially in Briggs Junior
Thanks to the recklessness of some of the Drift racers at Shannonville this summer, a lot of the run-off areas of the kart track have been torn up. While the track managers did do their best to fill in the voids, August has been a very wet month at the track and that meant the dirt they used to fill in the holes became mud.
And we're not sure why mud is so attractive to the Briggs Junior drivers, but holy moly did they not learn to take a little extra caution after the backstretch chicane this weekend. Nearly every session on Friday and Saturday had at least one driver finding the puddle on the inside of the corner, which would splash water and mud onto the track followed by a number of drivers sliding off the exit of the corner for the next few laps, which would eventually look like a pasture. The lineup for the hose at the end of each race day was impressive as karts came off the track completely brown from the mud.
It could be a busy week at the dry cleaners.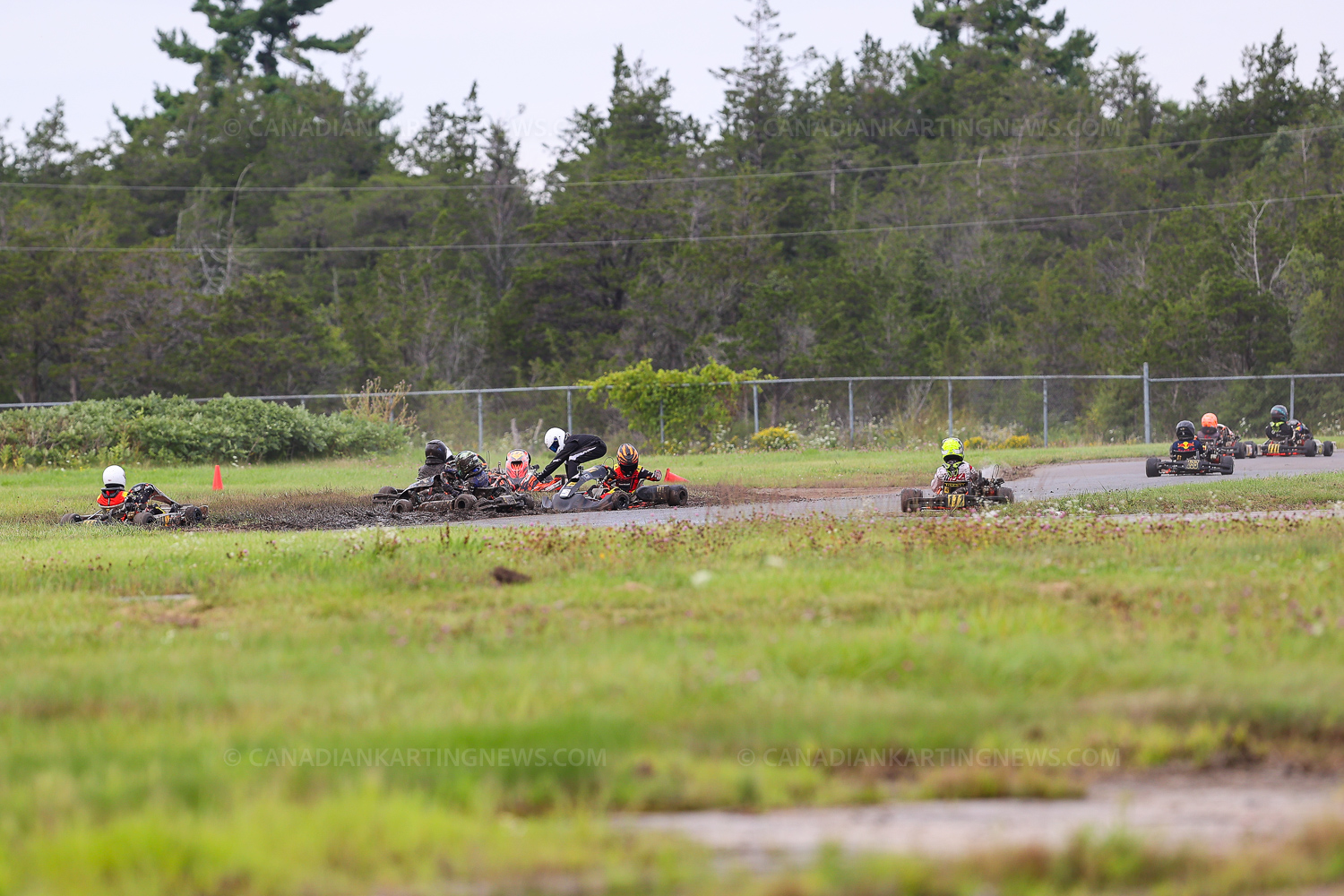 ---
Beautiful mornings, Dark afternoons
The weather was a big concern this week. Thursday forecasted an afternoon shower and that arrived shortly after practice began with most drivers calling it a day early. Friday was gorgeous and sunny but Saturday's forecast was dark and gloomy. Surprisingly, a little bit of rain fell and a few heat races switched over to rain tires, but they didn't last long and it was back to slicks for the rest of the day. The weather gods were very kind on Saturday after forecasting nearly 15mm of rain and thundershowers.
Finally, Sunday was supposed to be the nicest day of the weekend but a shift in the wide steered the dark clouds back over the track. Light sprinkles fell on a number of occasions and it got a little greasy during the VLR Masters Final, but they all managed to stay on track and no rain tires were needed.
---
Camping at Shannonville is seriously fun
One of our favourite parts of an event at Shannonville is the ability to camp. Racers from all corners of Ontario and Quebec make SMP their home for the week creating an awesome atmosphere on and off the track all weekend long.
The track has great showers, a newly renovated restroom in the paddock end of the facility along with a kitchen that is open late for some eats after a long race day if needed.
For adults and young racers, the week at Shannonville is like a week at Summercamp, where new friendships are formed, late nights are enjoyed, the stars shine bright and it's never a bad day when you wake up already at the race track.
We already can't wait to book our trailer for 2024 and you should too!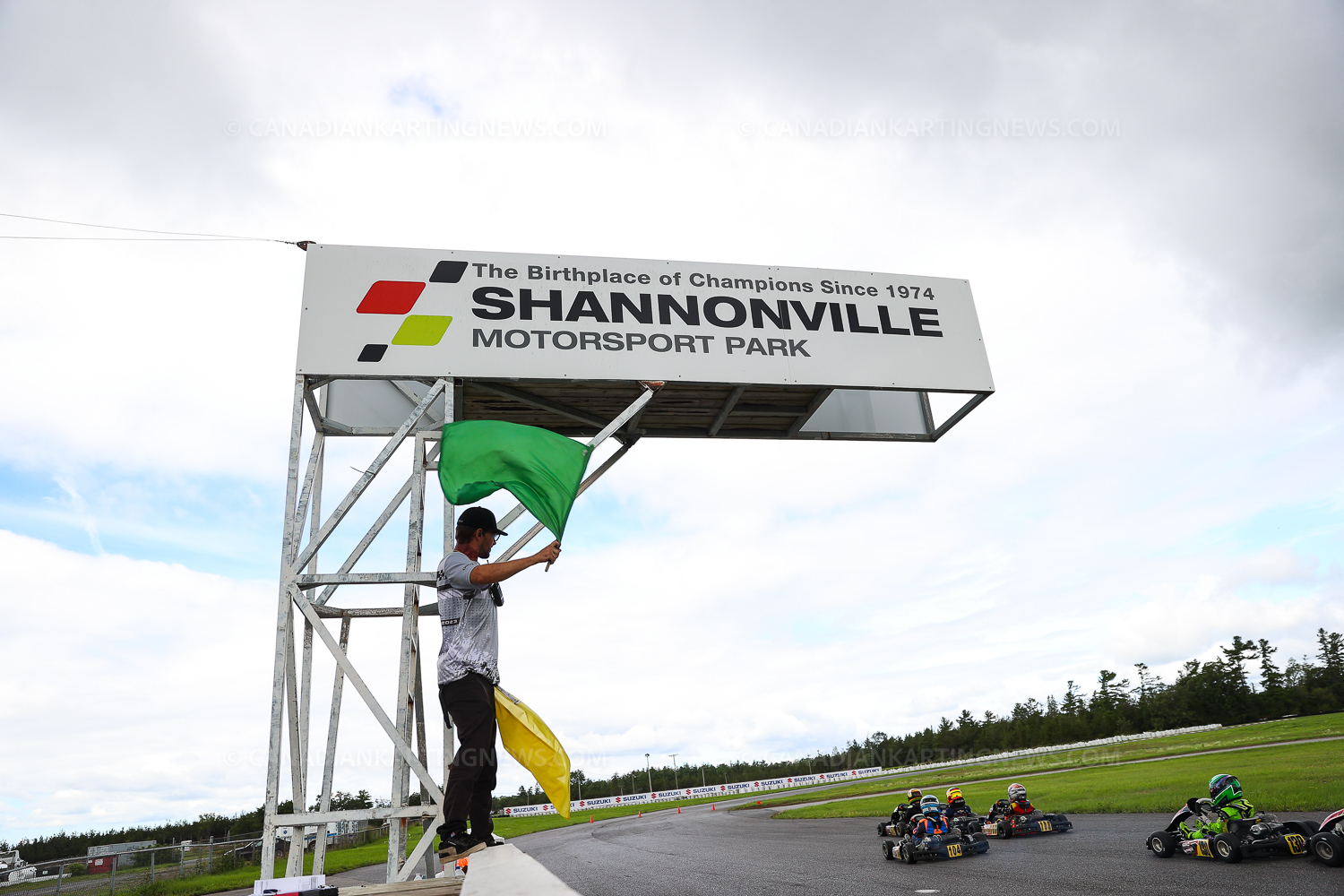 ---
Point Pelee Karting Club loves Shannonville!
We want to give a shout-out to the Point Pelee Karting Club for their continued love of Shannonville Motorsport Park and the bear hunt. Once again a good portion of their karting club made the 6+ hour drive from Leamington and area to Shannonville to compete in the KartStars Canada National Championships.
A number of Shannonville Bears have made their way back to club members since the event began back in the 90s, and it is so great to see how motivated their racers are to continue chasing them and having a great time at the event as well.
This year, Steven MacVoy was able to take home a bear in Briggs Masters while many club members were in the running throughout the week including Max Franceschelli who came close to a win a few times this weekend in Briggs Junior.
---
KartStars Canada will be back in action in a few weeks with round four taking place at 3S Go Karts in Sutton on September 2-3 followed by the championship finale, which will be held under the lights, at Goodwood Kartways on September 23.