Driver Blogs
Be a Part of the K1 Speed Hot Wheels Indycar Junior Grand Prix
With the school year ending, I've been looking for new karting challenges this summer. Even though I'm a year too old, I bet lots of young kart racers would be interested in the 'Hot Wheels IndyCar Junior Grand Prix' happening at K1 Speed in Toronto. Whether your kid races Mini ROK or Briggs Junior this special event is a once in a lifetime opportunity.
On Friday, July 13, the weekend of the Honda Indy Toronto, a qualifying event will be held at K1 Speed in Downsview Park. The single-day tournament is for racers between the ages of 8 and 14 only. The fastest drivers from preliminary races will advance to the final race of the day. All three podium finishers in that final race win an all-expense paid trip to California to compete in the 'Hot Wheels IndyCar Junior Grand Prix' championship round.
The top-three drivers from Toronto will be flown to California, where they will be mentored and coached by IndyCar driver Robert Wickens, the rookie sensation from Guelph. Team Wickens will be competing against qualifiers from Arlington, Texas (coached by 2017 IndyCar champ Josef Newgarden) and Indianapolis (mentored by Indy 500 pole sitter James Hinchliffe)! Kids who already qualified for Team Hinchcliffe and Team Newgarden happen to also race in Briggs and Rotax junior classes in their state, so this event is perfect for any young Canadian karters already competing in club racing series.

As part of Team Wickens, drivers will represent Canada as they race in the 'Hot Wheels IndyCar Junior Grand Prix' championship race on Thursday, September 13, 2018, in San Francisco, California. With only 9 drivers qualifying for the championship race, each being coached by an IndyCar driver, the event is sure to be exciting.
Team Wickens qualifiers will also receive tickets to the IndyCar season finale at the Grand Prix of Sonoma where they'll be get a behind the scenes look at the track and a chance to meet the starts of IndyCar.
When I was younger, my dad would take me to kart rental tracks, and we'd tell little white lies about being a year older, so they'd let me drive by myself. Now I wish I could say I was a year younger to compete in this event!
If you're not familiar with K1 Speed, it's the newest indoor kart track to open in Southern Ontario. The new track is quick, technical and fun. Unlike other indoor kart tracks, K1 Speed is all-electric, which means there's no exhaust fumes. The brand-new fleet of 40+ Italian built, OTL electric karts are definitely a step up from the bumper cars with old lawnmower engines you'll find elsewhere!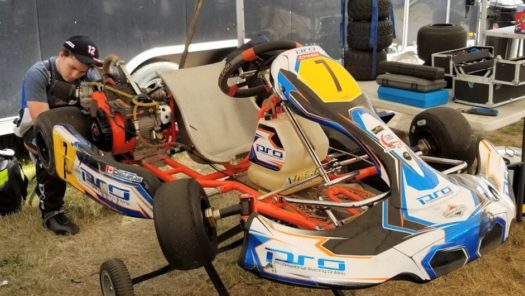 With the qualifying round at K1 Speed in Toronto happening the same day as practice for the Honda Indy Toronto, it's unclear whether Robert Wickens will make it to the event to meet fans. But it's sure to be a party atmosphere as everyone gears up for the big IndyCar race that weekend, so try to make it K1 Speed on Friday, July 13 from 4:30 pm to 8:30 pm. If you, or your young racer, is interested in competing in the event, you'd better act fast. Spaces are limited, so register for the event by calling K1 Speed, or visiting the track in person.
– Daniel Demaras, #7
www.Demaras.com
Fifteen-year-old Daniel Demaras will blog his experiences for CKN throughout the 2018 karting season. Racing for Professional Racing Ontario, Demaras will compete in Briggs Senior at a number of events in Ontario, including the Champion Ron Fellows Karting Challenge. Want to learn more about Daniel? Visit his website, http://demaras.com.