Club News
WRKC Champions Carrying Momentum to Oktoberfest GP
Winning a championship at the Waterloo Regional Kart Club is a pretty big deal, but adding a prestigious WRKC Oktoberfest Grand Prix title as well is a near perfect season for any racer in south-western Ontario. Six drivers have the chance to do that this weekend as the club crowned their annual champions just over a week ago and are now ready to host Canada's biggest single-day four-cycle karting event.
Making the season sweep a little more difficult, the club is also expecting drivers from all across Ontario.
In the Cadet category, driver Ty Riopelle is really looking to make history as this is his first season of racing, meaning the rookie has the chance to join some elite company in the WRKC history books.
The Donkers family has two chances at victory this weekend as Ethan Donkers led the way this year in the Novice class while his father Adrian Donkers is the champion in the Masters class.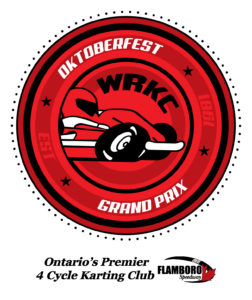 We are expecting some big competition in the Jr Lite, Jr Heavy classes where Josh Bisschop and Ciara Collison stood atop the championship podium this year. Both have also competed on the big stage this year, with Collison making an Eastern Canadian Karting Championship start while Bisschop joined in the action at the ASN Canadian National Karting Championships.
Finally, Jared Gill added another WRKC championship in Sr. Medium to the Gill family history, but will have to choose between Sr. Lite or Sr. Heavy as the class is split up for the GP.
For those looking to get some practice, the Flamboro Speedway track will open from 3:00PM to 6:30PM Friday, while the official event gets underway Saturday morning at 9:00AM. The full schedule can be found here.
CKN will be trackside for the race covering the action of the annual Thanksgiving weekend event.