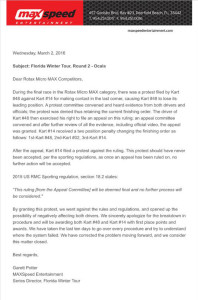 Following over a week of discussions, protests and appeals, MaxSpeed Entertainment, operators of the Florida Winter Tour, have declared it a tie for the victory in the Rotax Micro-Max race at Ocala.
In a letter to the competitors, Maxspeed explains the protest and appeal process that occurred and where a mistake happened, mentioning that a second appeal should have never been accepted in the first place.
"By granting this protest, we went against the rules and regulations, and opened up the possibility of negatively affecting both drivers. We sincerely apologize for the breakdown in procedure and will be awarding both Kart #48 and Kart #14 with first place points and awards. We have taken the last ten days to go over every procedure and try to understand where the system failed. We have corrected the problem moving forward, and we consider this matter closed."
All of this means that both Josh Pierson and James Egozi have earned first place points for the second round of the Florida Winter Tour.
---
Below, a video posted of the pass by Josh Pierson. What are your thoughts?