CKN Exclusive
Technical: 2012 Rotax Max Challenge Grand Finals – The Karts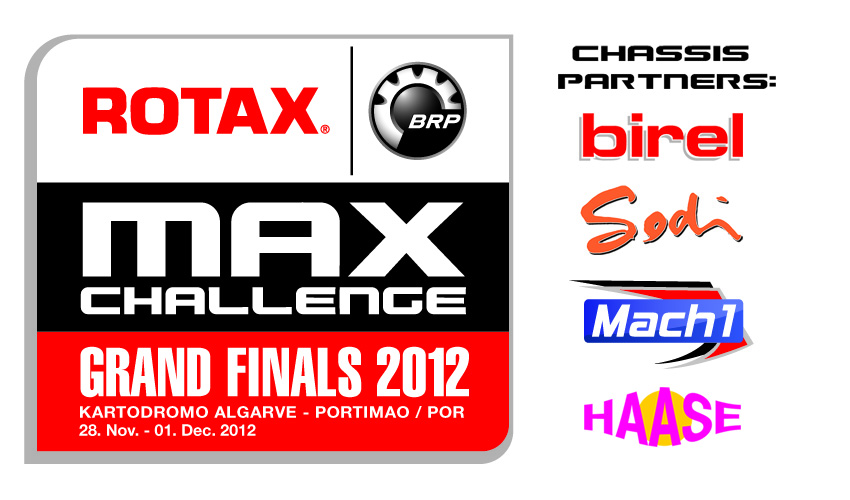 For those of you that are stuck at home wishing you were here at Kartódromo, we have put together a treat for you. We've shot all four brands of karts that are being used for the Grand Finals. Each kart has its own photo gallery highlighting it's components and any other trick parts.
A few interesting tech notes for this years Grand Finals:
Rotax has set a regulation on carburetor float height at a fixed measurement. They have introduced a gauge/nogo to check this.
Rotax will be verifying main jet sizes with pin gauges as they regulate the minimum size you are allowed to run.
Rotax appears to have some new "letter codes" on the cylinders.
Rotax is allowing the radiator flap and tape to cover the radiator. The tape must not be removed while on circuit.
---
Birel – RY30 – Rotax Max Junior
This Italian manufacturer has heritage and continues to show class.  As the Junior Max category competitors all compete on identical karts, it will be interesting to see the drivers and tuners extract the most from this karts substantial range of setup adjustment.
Unique Points
30mm Frame
18 way adjustable caster bushing with spherical ball – available in 0,0.5 & 1.5 degrees
Pedal adjustment is very modifiable with special parts kit
Self adjusting brake caliper with floating disc
Cast aluminum pedals
25mm Hollow stub axle shafts
Replaceable front stub axle shafts
Front & Rear wheel hubs are mountable with 6 bolts for added stiffness
Freeline Wheels
Freeline Bodywork
[ad-gallery id=72157632108111262]
---
Sodi – Celestra – Rotax Max Senior
Very well assembled with some of the most innovative ideas yet.  The French have bulletproofed many of the components on this kart to make it go the distance.  Every hose, bracket, nut and bolt, Sodi really shows why it's racing resume has always been so strong.
Unique Points
28/30mm Frame
Replaceable steering/fuel tank posts
Floating brake disc with manual adjusting calipers
Hollow spindles 25mm
Very clean Rotax exhaust mounting
Rear bumper hooks
2&4 degree caster eccentrics are available
Sodi uses Douglas Wheel Standard model wheels
KG Bodywork
[ad-gallery id=72157632106823618]
---
Mach 1 – FIA 9 – Rotax Max DD2
The Germans continue their ways with Mach 1, Very clean and well thought out details.  Martin Hetschel was very welcoming to show every feature of their kart.  We don't see this brand back home, but there is no reason why it can't play with the big dogs worldwide.
Unique Points
30mm Frame
Hollow aluminum front hubs with large mating face (light weight)
Aluminum front Axle shaft with bearings (Sniper will not magnetize without steel sleeve)
Sniper Caster/Camber Adjuster
Steering column uses offset bushings to make adjustments (see photo)
Brake Bias adjuster display reference markings
Fixed brake discs (non floating) with manual adjusting calipers
Double front torsion bar design with "C" shaped torsion bar – Rotating the bar gives 3 different stiffness settings
Rear Ride height is adjustable by 8mm (not available for the Grand Finals)
Tillet T11 seats have been given to use with the karts
Mach 1 uses Douglas Wheel LV model wheels
KG Bdywork
[ad-gallery id=72157632106269448]
---
Haase – Edox – Rotax Max DD2 Masters
Flying under the radar with its stealth matte black paint, these Italians have arrived to the Grand Finals for their third consecutive year.  Continuous improvements have really gained the attention and approval of the DD2 Masters drivers. Not to forget that the Haase brand is already a World Champion kart run by world champion driver.
Unique Points
30/32mm Frame
16 way adjustable caster bushing with spherical ball
DD2 motor is mounted on a separate mount (not welded to chassis)
SKF axle bearing (no grub screws)
Rear ride height adjustable (3 position)
Front and rear hubs have been changed from magnesium to aluminum for this years Grand Finals
Self adjusting brake calipers with floating rear disc and fixed front disc
Haase uses Douglas Wheel LV model wheels
KG Bodywork
[ad-gallery id=72157632102779213]