After an up and down set of heat races, Jeremy Fairbairn (Supertune USA/Tony Kart) captured the win in the 20-lap X30 Junior main event, edging the reigning SuperNationals Champion Jak Crawford (Nash/Kosmic).
Fairbairn had to start from the tenth place due to an unfortunate heat two where he finished outside the top-20. That didn't stop the lanky Floridian from knifing through the field with ease in the opening laps, having moved into second place by lap five. At that point, the polesitter Crawford had a distant 2-second lead and had looked dominant in the early going. Fairbairn made just as easy work of that as he did getting into second, cutting the lead down to 0.2 seconds in just five laps.
At the halfway point, Crawford led Fairbairn by the slimmest of margins and that's when Fairbairn dove to the inside of the turn two hairpin to take the lead for the first time. Despite having lap times four to five-tenths quicker than Crawford, Fairbairn was unable to pull away. Crawford kept his Kosmic in the tow of the taller Fairbairn, pulling up to the rear bumper each time down the long backstretch.
During the final two circuits, Fairbairn was able to gap Crawford just enough to where the Texan had lost some of that draft and could not close in enough to make a final lunge in the closing laps. Fairbairn went untouched to the checkered flag, followed by Crawford.
The race for third was intense down the stretch, with a trio of drivers fighting for a better podium position. Gabrielle Mini (Parolin) went from fifth to third in the closing two laps to grab the bronze, followed by Luca Mars (Speed Concepts/Tony Kart) who set the quick lap of the race, and Connor Zilisch (Team Felon/Tony Kart) in fifth.
A ninth place finish doesn't usually make our reports, but this time it should count for something. Jace Denmark-Gessel (RPM/Tony Kart) climbed 15 spots in the Final to get just inside the top-10. Why is that significant? He qualified 76th. That's a 67 place difference from Thursday to Sunday. We think it's safe to say that Denmark-Gessell would have been in the fight for the win had qualifying gone in a better direction.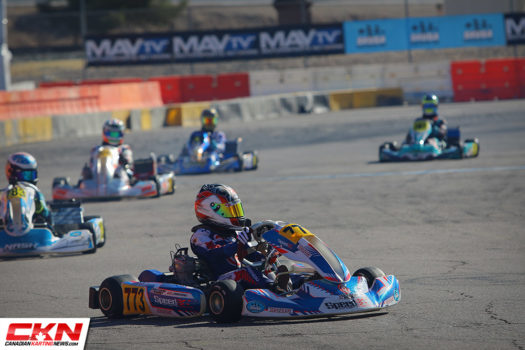 Our trio of Canadian drivers all made it to the Final after the heat races. Justin Arseneau had the best showing in the Final, moving up fifteen spots to finish eighth, often battling with drivers who made it into the top-five. After taking a 10-position grid penalty for an engine change before the Final, Mackenzie Clark progressed six spots to finish fifteenth while Thomas Nepveu struggled with pace, falling down to 32nd after a bumper penalty.
Article by Kart360.com/CKN
Watch the race below courtesy of SuperKarts! USA.