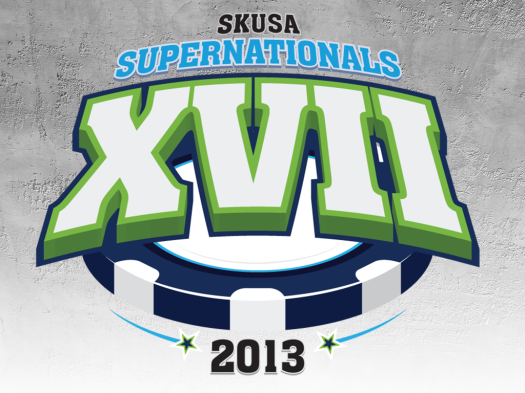 With the Rotax Max Challenge Grand Finals in New Orleans, Louisana complete, the focus of the karting world now switches to the other side of the United States as Las Vegas, Nevada hosts the 2013 SKUSA SuperNationals. The annual event in it's seventeenth year continues to build it's presence as North America's largest and most important event of the year and once again this year a full tap of national and international drivers and teams will be competing at the RIO All Suites Hotel and Casino in Sin City. Many drivers have taken the opportunity to compete in both the Rotax Grand Finals and SKUSA SuperNationals, with it being rare to be able to compete in both blockbuster events in the same year.
Eleven classes are set on the schedule with nearly 600 entries across the board. To maximize track time the event will continue to use it's AM and PM schedule to separate the action into two groups.
Today we look at the Canadian contingent competing in the Junior classes (TaG Junior, Rotax Junior and TaG Cadet).
---
TaG Junior
Canadian Lance Stroll is the defending TaG Junior class champion, and although he will not be in Las Vegas this year due to a conflict with the CIK World Championships in Bahrain, there are two names that could easily keep the title on Canadian soil. With the addition of Rotax Junior, there are fewer Canadians in the popular TaG Junior class than usual, but that won't stop Devlin Defrancesco and Jordan Redlin was seeking SuperNationals glory.
Defrancesco is coming off a disappointing Rotax Grand Finals. He was out of a kart for over six weeks before the Grand Finals, but having some seat time under his belt should make things a little better in Las Vegas.
It was a quiet season for Jordan Redlin, a British Columbia native. He did earn a third-place finish at the Western Canadian Championships in Rotax Junior, but from there his focus has been on the SuperNationals. He is prepared and ready to take on the best TaG Junior pilots in the world.
---
Rotax Junior
In it's debut at the SKUSA SuperNationals, drivers from around the world will be chasing their first opportunity to secure their ticket to the 2014 Rotax Grand Finals. The class sold out the 40 entry spots that were available, and within them is seven Canadians.
Devlin Defrancesco will compete double-duty in Vegas as he is also entered in the Rotax Junior division. Clay Van Eerd and his privateer effort are looking to build off a strong end to his Canadian season, while Gianfranco is hoping to close out a very successful rookie season in the Junior division. All three of these drivers will be aboard TonyKart chassis.
Out of the IPK North America stable is Russell Boyle, while Kyle Kunicki will compete aboard a Vemme Chassis with Extreme Karting. Another pair of Junior rookies Jeff Fulham and Nataël Cantin will complete aboard an LH Kart and KMS/Birel respectively.
Things should be very interesting in Rotax Junior with drivers from all over the world competing. From as far as Australia, to Germany, France Austria, the Netherlands as well as the handful from the USA, the class has a very international feel and will be exciting to watch.
---
TaG Cadet
Only four Canadian drivers are entered in the TaG Cadet class, which is down from past seasons. The youngest division competing at the SuperNationals has provided some of the best action since it's introduction three years ago and with 88 young drivers set to duke it out again this year we can't wait.
Three of the four drivers are coming straight from New Orleans where they competed in Grand Finals Invitational Mini-Max shootout. Roman DeAngelis was a threat for victory all week in New Orleans as the Belle River, Ontario pilot hopes to close out his Cadet campaign with a solid finish, while Antonio Serravalle is seeking his second victory in as many weeks. Griffin Dowler from Alberta is also coming from New Orleans and is looking to turn things around after mediocre week. All three of these drivers will be aboard TonyKarts.
The fourth driver is making his return to major karting action after a short hiatus. Lachlan Defrancesco took some time off in the second half of 2012 and the early parts of 2013, but returned to the season late this summer and is looking strong. He will be aboard a BENIK Kart as it makes it's international debut at the SuperNationals.
The TaG Cadet class is full of mainly American and Mexican drivers, but with some international drivers such as Rasmus Lindh of Sweden, Jack Doohan of Australia, Petr Ptacek Jr. of the Czech Republic we are sure these youngsters will put on a show in Las Vegas.
---

Loading ...
---
Tomorrow we will look at the Senior divisions before completing our preview with a look at the headline SuperPro KZ2 division on Thursday.