Latest News
Skip Barber Racing School to Award Total Value of $22,000 to the Top Three Registered Points Scorers in the 2013 Florida Winter Tour
Skip Barber Racing School is proud to award prizes for the top registered points scorers of the 2013 Florida Winter Tour (FWT) and continue the 38-year tradition of training champion race car drivers. The partnership with FWT is another example of the Skip Barber Racing School mission to find the best racing talent and give them the opportunity to pursue their dream.
The three Winners will be awarded the equivalent of the full price of the entry fees in the following 2013 Skip Barber programs:
FIRST PLACE PRIZE: one 3-Day Racing School ($4000), plus one Advanced 2-Day Racing School ($3500), plus one guaranteed 2013 Karting Shootout Entry ($3000) — total current retail value $10,500
SECOND PLACE PRIZE: one 3-Day Racing School ($4000), one Advanced 2-Day School ($3500) — total current retail value $7500
THIRD PLACE PRIZE: one 3-Day Racing School — current retail value $4000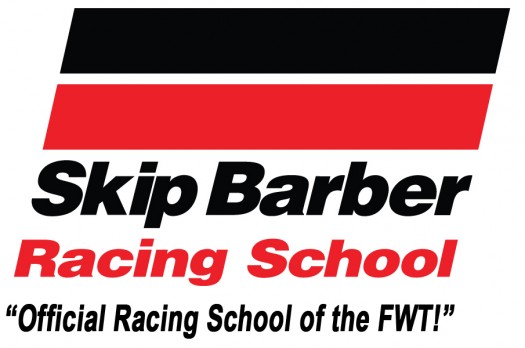 Registered award participants who have completed the prizes listed can use the value of the prize to take another Skip Barber Racing School program.
FWT participants who want to register for these awards must contact FWT's Bill Wright for more information at info@formulakart.com .
Because FWT is a premier karting proving ground, Skip Barber Racing School will guarantee the 2013 FWT Skip Barber Award Champion a seat in the 18th annual Skip Barber Racing School Karting Scholarship Shootout. The winner of the Karting Shootout is awarded a substantial scholarship for the 2014 Skip Barber Regional Race Series presented by Mazda, which represents the first step in the Mazda Road to Indy ladder program.
The Karting Scholarship Shootout includes guidance and evaluation both on and off the track by a panel of motorsports experts. The will take also take part in seminars on a variety of pertinent topics including media training, driver development and sponsorship.
Florida Winter Tour
The Florida Winter Tour is one of the world's largest, longest running and most geographically diverse kart racing programs. The 2012 FWT featured over 400 drivers from 28 countries and all six karting continents, and for the 5th consecutive year was the world's largest official Rotax Max Challenge series. www.floridawintertour.com
Skip Barber Racing School
For 38 years, Skip Barber Racing School LLC, has been the leader in training motorsport legends of the future through entry- level, equal car championships. The athletes are given media exposure, expert coaching, on-track arrive-and-drive experience, financial awards and motorsport scholarships. Skip Barber Racing School launched the auto racing careers of Ryan Hunter- Reay, Marco Andretti, Scott Speed, A.J. Allmendinger, Raphael Matos, John Edwards, Conor Daly, Spencer Pigot and many more.