#MRFKC
Rok Cup Canada: CRFKC Finale To Kick Off Rok Racing In Ontario!
The fourth round of the Champion Ron Fellows Karting Challenge next weekend is a finale in one sense, but a beginning in another as Rok Cup Canada will take centre stage racing under the lights at Goodwood Kartways! A full range of Vortex Rok power will be on display for the first time and the first National Roster will be set for the 2017 Rok Cup International Final.
"We're really excited to get the Rok program rolling," said Goodwood Kartways President Daniel Di Leo. "We have a great example with Briggs racing, that when engines aren't the dominating factor in running at the front and standing on podiums, racers get behind the product, kart counts significantly rise, and podiums are possible for all. The days of buying podium positions are gone with Vortex, just as they were in four-cycle racing with Briggs. The future is now. We're in great shape headed to the CRFKC Finale and we have a great national team coming together for an Italian trip in October. It's surely one of the most exciting times I've seen in Canadian karting."
The National Roster Di Leo speaks of expanded by one at the Canadian Nationals last weekend as CRG pilot Antonio Serravalle earned the second spot in capturing the Canadian title at Mosport Kartways in come-from-behind fashion. He was joined on the podium by Prime Powerteam/BirelART driver Ethan Simioni, the teen who earned the first spot on the Rok Cup National Roster for 2017 by virtue of being the highest standing Rok powered shifter pilot in the Vega Cup. Action at Goodwood next weekend will bring the roster total to five, as drivers will be added from Rok Junior, Senior and Masters.
All drivers with Rok power are now eligible for points in CRFKC, TRAK and MIKA action as the transition to Rok racing has truly begun. The highest Rok finishers in Junior, Senior and Masters at the CRFKC finale September 9th will be awarded the three remaining spots on the National Roster for 2017. The Rok Cup International Final runs October 11-14 at the famed South Garda Karting in Lonato, Italy. The National Roster prizes include driver entry for all Official Events, the after party, a new OTK complete kart, Rok engine, kart stand, tented pit space, practice and race tires!
Beginning immediately, Rok Cup Canada is making engine parity a priority, following the Vortex belief that a stock engine should be competitive right out of the box. Rok Cup Canada Vortex engines must have Canadian serial numbers and 'Rok Canada' sealed cylinders. This program eliminates the sourcing of cylinders from the United States and overseas, and to go a step further, Rok Cup Canada will have a Claim Rule in effect beginning next weekend. Event, Technical and Supplemental details are available at http://goodwoodkartways.com/?page_id=308. If teams have previously purchased Rok engines, they should contact Rok Cup Canada immediately to determine the eligibility of their engines for use in Rok Cup Canada events.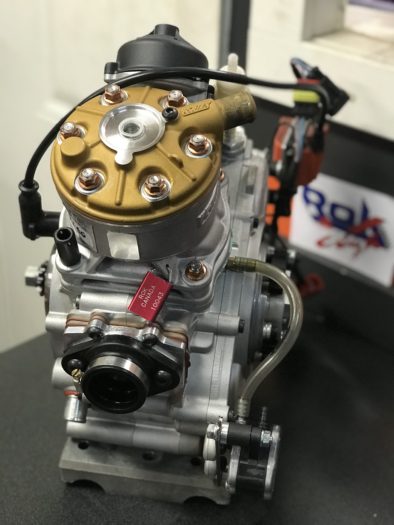 Teams and drivers should also note that CRFKC, TRAK and MIKA will be ROK ONLY in two-cycle classes for 2018, with new class structures having been established and confirmed. As such, karters are once again reminded that Rok Cup Canada is offering a trade-in opportunity that is available now through December 1, 2017, which will ease the transition to Vortex power. Drivers can trade in select Rotax, Honda, Maxter or TM engines as they prepare for the CRFKC finale, Florida Winter Tour and an exciting year ahead. Trades can be arranged at Goodwood Kartways or through any authorized Canadian Vortex dealer.
Vortex Engines has been at the forefront of karting for over 20 years, and collected 17 World Cups over a variety of categories. Vortex Engines' production is divided between units for international competition, and Rok engines for one-make Rok Cup championships around the world.
Rok Cup International Final 2017
The track: http://www.southgardakarting.it/en
The event: http://www.vortex-rok.com/intcup-home_eng.php
The follow: @ROKCUPOfficial