International News
RMCGF: Americans Sweep Invitational Qualifying: Tavella on Micro-Max Pole; Boutot leads Mini-Max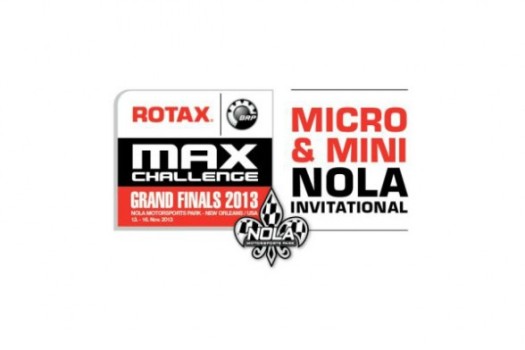 The Rotax Micro-Max & Mini-Max Invitational kicked off their official sessions at the Rotax Max Challenge Grand Finals in New Orleans, Lousiana, USA on Friday. Running a practice session during the lunch break, the two classes hit the track to cap off the days action for their 12-minute qualifying sessions. The action was intense with all kinds of drafting and even a few accidents as drivers navigated the challenging NOLA Motorsports Park circuit.
Dylan Tavella Snags Micro-Max Pole by 0.009 seconds!
He won here at the Rotax Pan American Challenge and American Dylan Tavella continued his hot hand by taking the pole-position in Rotax Micro-Max. Edging out Canadian Matthew Latifi by 0.009 seconds, Tavella will start the prefinal with Latifi beside him. Maxwell Waithmann was third with Harry Coulton and Derek Carmenate capping the top-five as Team USA scored eight of top-ten positions. Tavella, Coulton and Latifi waged some great battles at Pan Am, and it looks like the Invitational will act as round two, albeit with a few extra drivers in the mix. Marco Kacic was the only other Canadian in the top-ten, in tenth.
Thomas Nepveu was eleventh, William Chayer sixteenth, Jordan Novota eighteenth and Joshua Cunha nineteenth. Further down, Alexandre Legare was 21st, Ryan Dezell 23rd, Patrick Woods-Toth 30th and Jeremy Tallon 32nd.
---
---
Devin Boutot On Top in Mini-Max
Mini-Max was a huge flurry of activity as the potential future Grand Finals drivers all tried to score the best lap in Qualifying. American Devin Boutot scored the pole by over a tenth of a second with American David Malukas second. A pair of Canadians fill row two as Antonio Serravalle and Roman DeAngelis put in good laps while Michael Benyahia was fight. Samuel Lupien was the only other Canadian inside the top-ten in eighth.
Giffin Dowler placed himself seventeenth, while the remainder of Canadians struggled to find the pace of the leaders. Tommy Simard was 25th, Thierry Cote 26th, Joe Soranno 27th and Carson Vogel 29th. Trouble continued to hamper JP Hutchinson as he pull off track early well off the pace and will start 36th tomorrow.
---
---