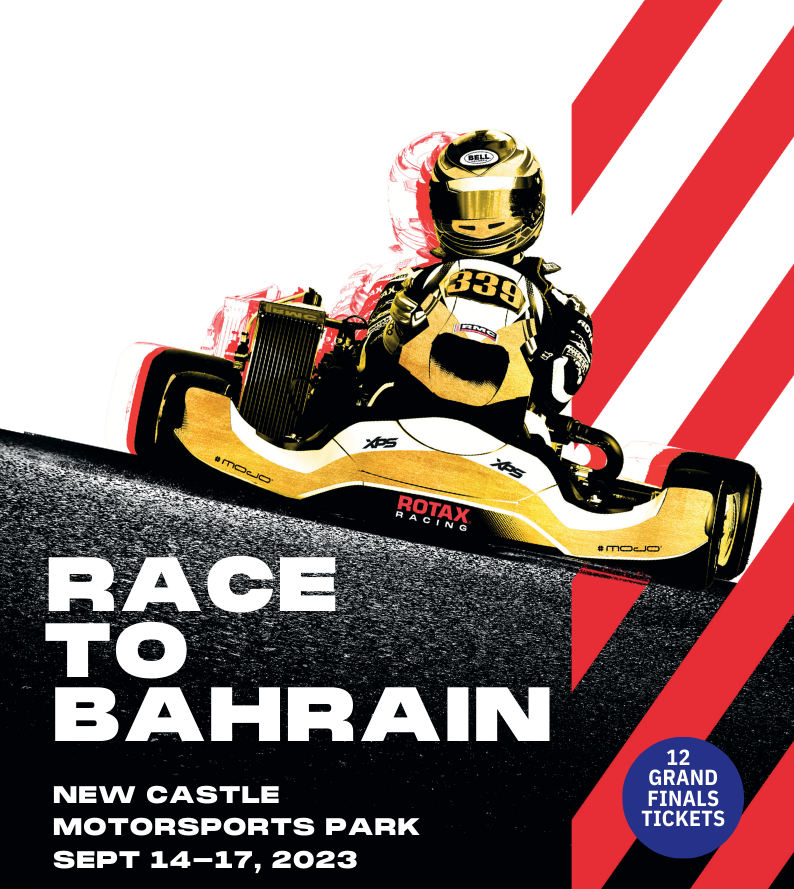 #RMCGF
RMC US Trophy Final to Award Six Open Tickets to Competitors
Non-US and US Residents in the running for additional RMC Grand Finals Tickets
Press Release – With the RMC US Trophy Final being held at New Castle Motorsports Park (NCMP) just over one month's time, anticipation is building for the final North American opportunity to earn tickets to the 2023 RMC Grand Finals in Bahrain. With six open tickets available for either the United States or International entrants, series officials are aiming to attract drivers from Canada, Mexico, and around the world to join some of the top competitors from the United States in one of the last chances to earn the right to travel overseas and race for their country.
"Rotax has been huge in Canada, both presently and in the past," stated J3 Competition's Justin Stefani. "With the Indiana event just a short drive from Ontario and Quebec, we would anticipate some of Canada's top Rotax drivers to enter and have their chance at an RMC Grand Finals birth."
Two Open tickets are available in Rotax Mini and one additional ticket in each of Junior, Senior, Masters MAX, and a DD2 Senior ticket awarded within the Senior category. With twenty-one Canadians attending the 2022 RMC Grand Finals in Portugal, the RMC US Trophy Final provides the perfect opportunity for drivers to have their last chance to join the North American karting contingent overseas later this year.
Stefani continued, "Canada has produced a great crop of Rotax racers with much success in the years past. Luc Sauriol was the first Canadian to win the RMC Grand Finals as he was eventually joined by Pier-Luc Ouellette, Danial Morad, Scott Campbell, and Ben Cooper. Names like Parker Thompson and others have been on the podium at the Grand Finals and Team Canada had a strong showing in 2019 by winning the Nations Cup."
With a host of engine prep shops offering Rotax Engine rentals for the event weekend, drivers without Rotax powerplants can make the trek to Indiana and be covered by one of the many engine suppliers including Fox and Son, Black Engines, Overdrive Engines, Forward Direction, Fulkrum Competition, Ruthless Karting, AM Engines, and more.
Set to take place September 14 – 17, the RMC US Trophy Final will also include nightly giveaways, Mojo Tire Changing Competition, and more. Stay tuned for more details or visit RaceRotax.com to get registered.
For more information on the RMC US Trophy Final, please contact J3 Competition's Justin Stefani via e-mail: Justin@J3Competition.com.
For more information on RMC events in the United States, please visit RaceRotax.com. For more information about BRP-Rotax and the Rotax Racing brand, please visit rotax-racing.com.