Latest News
PSL Karting Named #1 CRG Distributor in the World!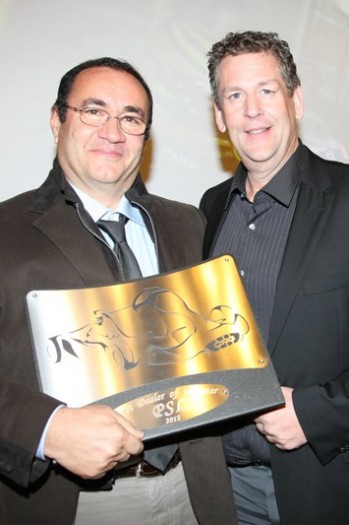 PSL Karting, of Trois-Rivières, Quebec, has again been named the #1 CRG Distributor in the world. Earning the prestigious title back in 2010, and taking second place honours in 2011, the North American karting powerhouse has now capped off a successful 2012 season as they were honoured last weekend during the official CRG Awards Gala.
"It's an entire team effort to receive such an award," explains PSL Karting President Dominic Labrecque. "From our parts department, to our race team, to our administration – everyone is part of it. We have built a close relationship over the years, and with that, they depend on us as much as we depend on them."
Traveling to Lonato del Garda, Italy to receive the award on behalf of everyone at PSL Karting was Stephan St-Charles, Vice President of PSL Karting. The awards banquet also honoured CRG champions for their achievements in 2012, with PSL Karting taking first prize among CRG dealers around the world, ahead of France's KCM and Germany's Prespo.
"CRG, Tinini, the entire family, treats me like one of their own," adds St-Charles. "It's not a surprise the CRG product is built and designed to the highest standards. Every employee takes time, and pride in an effort to build the best chassis on the market; and our results certainly speak louder than words."
The CRG award highlights an incredible 2012 for PSL Karting, with PSL branded drivers earning championship titles in the SKUSA Pro Tour, Florida Winter Tour, United States Rotax Max Grand Nationals, Canadian National Championships, Eastern Canadian Karting Championship, Pan American Championship, Gatorz Challenge of the Americas, and Western Canadian Championships. Through their championships and vice-championships, nine PSL branded drivers qualified for the recent Rotax Max Challenge Grand Finals. And despite their continued success both on and off the track, the team continues to strive for more and has already begun preparations for the 2013 season.
"There is a considerable amount of room for improvement, race-team and business wise, in which we are looking forward to for 2013," concludes Andrew Campbell, PSL Karting Team Manager.
Team PSL Karting is associated with CRG, Maxter Kart Engines, Rotax, Tillett Racing Seats, Sniper, Unipro, Douglas Wheels, Vega, MG Tires, Arai, Bell, ULV, Mir, Freem, Elf Fuels, Alfano, MaxJet Software, D.I.D. Racing Chains, KC and Power Mist.
To learn more about the World's #1 CRG distributor, sales & service, arrive & drive opportunities, PSL racing engines or dealer opportunities, please visit www.pslkarting.com or www.pslkartingusa.com.