News
PR: Toyota sponsored kartSTART now open to kids in Québec for 2012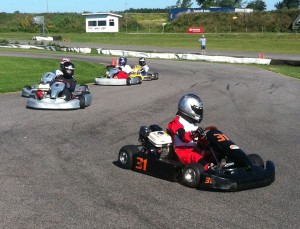 The Toyota Canada Inc. supported kartSTART (www.kartSTART.ca) program  returns and expands in 2012 with the addition of a Quebec-based program hosted by Autodrome St-Eustache on July 10-12, 2012. The kartSTART program which gives kids an early start on understanding vehicle safety is now in its second year.  For 2012, the Ontario program has also found a new home in Sunset Speedway on June 25-27, 2012. 
"I am thrilled about all the exciting new activity for kartSTART this year," kartSTART's Russ Bond said. "Toyota's continued  support of the expansion of kartSTART is providing more kids their first chance to drive a kart this year, and more families to experience the Toyota Star Safety System™."
The kartSTART program is an exciting one-day driving course that focuses on the entire family. Kids, as young as 10-years old, are given their first opportunity to drive a motorized vehicle. "Karts are ideal for kids to get their first driving experience," Mike Goodyear, Chief Instructor for the kartSTART program said. "After the kids have spent the morning in the karts – with no ABS or traction control – we introduce the entire family to the safety systems that are available in today's street cars. We use Toyota products, and we not only teach them about Toyota's Star Safety System™, we also demonstrate the systems for them – it is something the whole family benefits from," Goodyear said.
With the Toyota Star Safety System™ standard in every new Toyota vehicle, Toyota is committed to engineering some of the safest vehicles on the road," said Sandy Di Felice, Director, External Affairs, Toyota Canada Inc. "More than this, Toyota continues to support community programs that focus on safe driving, so we are pleased to sponsor kartSTART once again this year as the program expands into Quebec."
To register for the kartSTART program in Ontario or Quebec, please visit www.kartSTART.ca and sign up online. Simply pick a date and location and hit 'register'.
For more information on kartSTART, please visit www.kartSTART.ca or email info@kartstart.ca
About kartSTART
KartSTART is a unique family driving education program that is designed to give teenagers and their families a true – real world – understanding of the physics behind driving a motorized vehicle.  The goal at kartSTART is twofold: firstly, to give young drivers their first experience behind the wheel, and secondly; to give the entire family a better understanding of current vehicle safety systems operate.  The one-day kartSTART course gives youngsters – 12 and up – a driving experience in vehicles that fit them: go-karts. Expert instructors give new drivers a clear understanding behind the physics and dynamics of driving a motorized vehicle in a closed course environment.
In addition, the families that attend our kartSTART program are mentored in the latest safety developments in passenger vehicles. kartSTART uses Toyota to demonstrate the operation of Toyota's  onboard Toyota Star Safety System™.   This gives the entire family a better understanding of how to make the most of these technologies which are standard across the entire Toyota lineup.
About Toyota Canada Inc.
Toyota Canada Inc. (TCI) is the exclusive Canadian distributor of Toyota, Lexus and Scion cars, SUVs and trucks. Toyota is the first full-line manufacturer to make all of the elements of the Star Safety System standard on every vehicle. The Star Safety System includes Vehicle Stability Control (VSC), Traction Control (TRAC), Anti-lock Brake System (ABS), Electronic Brake-force Distribution (EBD), Brake Assist (BA) and Smart Stop Technology (SST). TCI's head office is in Toronto, with regional offices in Vancouver, Calgary, Montreal and Halifax and parts distribution centres in Toronto and Vancouver.
——
Pour 2012, le programme kartSTART parrainé par Toyota maintenant offert aux enfants québécois
Les dates des événements tenus au Québec et en Ontario ont été annoncées
TORONTO, ONTARIO – Le programme kartSTART (
www.kartSTART.ca
), parrainé par Toyota Canada Inc., est de retour et prend de l'expansion en 2012 avec l'ajout d'un volet québécois, qui aura lieu à l'Autodrome St-Eustache du 10 au 12 juillet 2012. Le programme kartSTART, grâce auquel les enfants peuvent commencer tôt à comprendre la sécurité automobile, en est maintenant à sa deuxième année.  Quant au volet ontarien du programme 2012, il se tiendra à son nouveau domicile, le Sunset Speedway, du 25 au 27 juin prochains. 
« kartSTART offre cette année tout un lot de nouvelles activités excitantes », s'est réjoui Russ Bond, porte-parole du programme. « Grâce au soutien continu de Toyota, kartSTART a pu prendre de l'expansion cette année et offrir à encore plus d'enfants leur première chance de piloter un kart. De plus, il offre à un plus grand nombre de familles l'occasion de vivre l'expérience du système de sécurité StarMC de Toyota. »
Le programme kartSTART est un passionnant cours de conduite d'un jour conçu pour toute la famille. On y donne aux enfants de 10 ans et plus une première occasion de conduire un véhicule moteur. « Le kart est idéal pour une première expérience de conduite », explique Mike Goodyear, instructeur en chef du programme kartSTART. « Après que les enfants ont passé l'avant-midi dans les karts – sans ABS ni régulateur de traction – nous présentons à toute la famille les systèmes de sécurité disponibles dans les automobiles modernes. Nous nous servons pour cela de produits Toyota. Nous ne nous limitons pas à leur parler de la théorie du Système de sécurité StarMC de Toyota, nous leur en faisons la démonstration; toute la famille en profite », a poursuivi M. Goodyear.
« Chaque véhicule Toyota neuf est équipé de série du Système de sécurité StarMC, ce qui démontre à quel point Toyota est déterminée à fabriquer des véhicules qui comptent parmi les plus sécuritaires qui soient », a déclaré Sandy Di Felice, directrice gestionnaire des Affaires extérieures chez Toyota Canada Inc. « En parallèle à cela, Toyota soutient avec constance des programmes communautaires consacrés à la sécurité routière, notamment le programme kartSTART que nous parrainons encore une fois cette année et qui s'étend maintenant au Québec. »
Pour participer au volet ontarien ou québécois du programme kartSTART, visitez www.kartSTART.ca et inscrivez-vous en ligne. Choisissez simplement une date et un lieu puis cliquez sur « On-Line Registration ».
Pour en apprendre plus sur kartSTART, consultez www.kartSTART.ca ou écrivez à info@kartstart.ca
À propos de kartSTART
kartSTART est un remarquable programme familial de formation de conducteurs conçu pour fournir aux adolescents et à leur famille des connaissances pratiques sur l'aspect physique de la conduite automobile.  L'objectif de kartSTART est double : premièrement, faire vivre aux jeunes conducteurs une première expérience au volant et, deuxièmement, apporter à toute la famille une meilleure compréhension du fonctionnement des systèmes de sécurité des véhicules actuels.  Le cours kartSTART d'une journée place les jeunes de 12 ans et plus au volant de véhicules à leur mesure : des karts. Des instructeurs chevronnés enseignent avec clarté aux nouveaux conducteurs la physique et la dynamique de la conduite d'un véhicule motorisé sur un circuit fermé.
En outre, les familles qui participent au programme kartSTART obtiennent une formation sur les plus récentes évolutions en matière de sécurité automobile. kartSTART emploie des produits Toyota pour faire la démonstration du Système de sécurité StarMC de Toyota qui leur est intégré.   Grâce à cet enseignement, toute la famille comprend mieux comment utiliser de façon optimale les technologies du système Star, qui est de série dans tous les modèles Toyota.
À propos de Toyota Canada Inc.
Toyota Canada Inc. (TCI) est le distributeur canadien exclusif des voitures, VUS et camions Toyota, Lexus et Scion. Toyota est le premier constructeur automobile généraliste à équiper de série tous ses véhicules de tous les éléments du Système de sécurité StarMC. Le Système de sécurité StarMC comprend le dispositif de contrôle de la stabilité du véhicule (VSC), le régulateur de traction (TRAC), le système de freins antiblocage (ABS), le répartiteur électronique de force de freinage (EBD), le système d'assistance au freinage (BA) et la technologie d'arrêt intelligent (SST). TCI a son siège social à Toronto, des bureaux régionaux à Vancouver, Calgary, Montréal et Halifax, et des centres de distribution des pièces à Toronto et Vancouver.