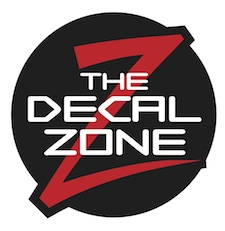 With the new season just around the corner and as always beginning with the Florida Winter Tour, The Decal Zone has extended it's support of the series into 2014!
"Florida Winter Tour has been a long running series that continues to offer racers a place to kick off each new racing season so we wanted to continue our commitment to both the series and the racing community," stated The Decal Zone co-owner Drago Vincec.
"We've changed our format for this season a little as we felt we could offer a broader range of support to all involved and are sponsoring the Masters Shifter class for the Formula weekend and the DD2 Masters during the Rotax weekend," commented Drago. "With that we are still providing an added bonus to all registered competitors of the FWT a 15% discount on any orders placed for either the Formula or Rotax weekends."
We have a large amount of unique karting designs with new designs being added continually throughout the year. In addition to our standard designs The Decal Zone offers NASCAR and F1 themed graphic packages to suit every racers dream. We do have replica factory graphics for most chassis that can be adjusted to fit any bodywork combination and all are available for immediate delivery with the opportunity to choose from three different material grades to fit any budget.
"We specialize in creating custom graphics for both race teams and individual racers," comments The Decal Zone co-owner Mary Vincec. "Whether your needs range from small to large-size graphics, we provide you with the best products that can build and maintain your image."
So with 2014 racing season upon us, be sure to make The Decal Zone your stop for custom body kits, name flags, number panels, banners, display panel designs, trailer graphics and much more.
The Decal Zone is your complete source for all your graphic needs. We also offer specialized custom graphics, vinyl banners, display panels, large format posters, decals, flyers, brochures and many other promotional products. Call for details or go online to www.godecalzone.com to place your order today!