News
PR: Team News – Italian Motors Supernats XVI Preview
With the MG Tires SKUSA Supernationals just around the corner, Italian Motors USA is excited to announce its driver lineup for the 16th running of the event. The strong lineup will include twelve drivers competing in five classes, and representing three countries.
Leading the way will be team manager and three time Supernats champion Michael Valiante. After focussing his attention during last year's event on management, Michael will return to the driver's seat in Tag Senior where he stood on the podium at Supernats XIV with his 3rd place finish.
Joining him in Tag Senior will be a number of drivers, including Remo Ruscitti. After a victory in the Summernationals, he currently sits 2nd in the Pro Tour standings, and has set his sights on victory in both the Supernats and the Pro Tour. Remo will supplement his Tag Senior effort with his first stock moto entry in S2. With support from Darcy Decoste Racing, he will certainly be one of the favourites in that class as well, and has been training hard for this year's race. "Running two classes for the first time will certainly be a challenge, but with the support I have around me, I know a double podium finish is very attainable" Remo commented.
Back with the team for a fourth time, Supernats XIV Tag Senior champion Andre Nicastro will lead the Brazilian contingent on the team for a fourth straight year. Each time he has been in contention for the Tag Senior victory, and this year will be no different.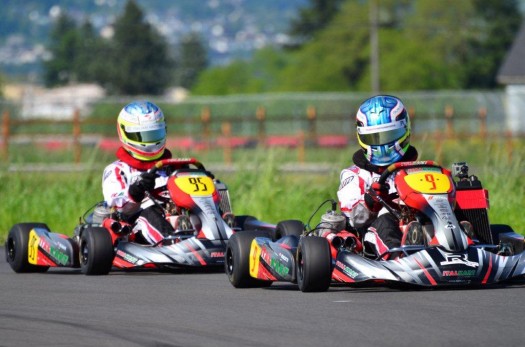 Also in Tag Senior will be long time Italian Motors drivers Scott Hargrove, Adam Isman and Jamie McAllister. Hargrove is coming off a strong rookie season in USF2000, and like Ruscitti, he will be doing double duty as well in S2. However, unlike Ruscitti, he is familiar with this class having finished on the podium in 3rd at last year's event. Having just returned from the IAME International Final in France, he will be in the hunt in both classes as well. Similarly to Hargrove, Isman is coming off a strong rookie season in cars, and also competed in the IAME International Final. He will be competing in his third Supernats, and hopes that the bad luck of the past is gone, and he can contend for a strong finish. McAllister returns to Supernats for a third year, and has been training hard all year. He will look for a strong finish to end off his 2012 season.
Rounding out the Tag Senior lineup, Italian Motors welcomes Dan Roeper. Hailing from Florida, Roeper has shown his pace regionally, and will work closely with the team to show that he is fast on the national stage as well.
Entered in the hotly contested S4 class is long time Italian Motors driver Don McGregor. No stranger to S1 competition, Don has his eye on the podium and will no doubt be in contention.
In Tag Junior, two drivers who have both raced with Italian Motors USA will return to the national stage. After competing in the Springnationals in Phoenix, Calgary native Ethan McDade will be back in the driver's seat at his first Supernationals. Joining him on the grid will be Brazilian Yurik Carvalho. Yurik had a strong weekend at last years Supernats, and was in contention for a victory right up until the final. Watch for both drivers to impress in the always fierce Tag Junior field.
Rounding out this year's lineup will be Brazilians Bruno Fusaro and Alessandro Xavier. Both will compete in Tag Master and Italian Motors wishes to welcome them to the team as well.
"This year's driver lineup is one of the strongest in team history. Each and everyone at the shop at SIMA has worked extremely hard over the past several months to get ready for the race, and I can't wait to see the returns for the hard work that has been put in" Michael Valiante concluded.
On-track activities will begin Wednesday morning from the Rio All-Suite Hotel and Casino.