News
PR: Successful night race for Lombardy Karting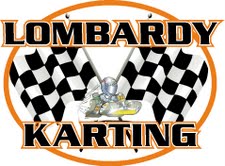 Well once the afternoon monsoon was over the evening became one of the nicest ones we had all summer, the temperature dropped ,the sun came out, our track crews jumped into action to clean and dry the track just in time to line the novice class up for their first heat.
It was time once again for the third annual "Lombardy under the Lights Gran Prix", at the famed Lombardy Raceway Park, racers from NCKC, Mosport and Sudbury joined the regular cast of Lombardy characters for one of the best races we have had to date.
The racing action was some of the best ever seen as eight classes took to the track over the evening to race for the amazing trophies supplied by the nights sponsor, Total Fence of Ottawa.
From the novice to the masters it was anyone's race as the Briggs powered karts seem to all come alive in the cool evening air as the bumper to bumper racing continued well into the night as our locals gave some of our visiting veterans a lesson in old school, inverted grid racing, Lombardy style.
Action in the Box Stock classes was also intense as the points chase for the championship is close in both classes giving the spectators some great racing action to watch.
The features were completed by 11pm, followed by the podium presentations to present the evenings winners with their trophies.
The management and racers would like to give a big thanks to the following companies for their generous support to make this evening a huge success.
1. Total Fence ,Ottawa
2. Cavanagh Construction , Carleton Place
3. Contractors Rental Supply, Ottawa
4. Battlefield Equipment, Ottawa
For more information on Lombardy Karting or to view our schedule, go to lombardykarting.com
Lombardy, "where you're still smiling on the way home"