News
PR: Pserra Racing Restructures, adds Tony Kart and OTK
As the Eastern and Western Canadian Championships prepare for upcoming finales and karters are planning for season's end, industry leaders are already well into preparations for next year and there is no bigger news for the moment than that stemming from 23 Cardico Drive in Gormley, Ontario: Pserra Racing is a new Tony Kart importer and will have a variety of Tony Kart and OTK Products available within the next two weeks!
"Adding Tony Kart to the Pserra Racing line-up is going to strongly show our commitment to winning," said Operations and Race Team Manager Petri Ranta. "In looking to have a solid, club-based program and be a force in National competitions next year, we needed to put together a strong package and we have definitely done that with Tony Kart and OTK. It's a world-class chassis and as we pair it with direct factory support and the strong engine program that already exists here at Pserra Racing, we've definitely got something to be excited about!"
Many will recall Pserra Racing had a lot to be excited about last year as well, with team driver Antonio Serravalle thoroughly dominating Canadian competition in Rotax Micro-Max. After sweeping his way to the Eastern Canadian Karting Championship title with five poles and five wins, Serravalle then earned his first Canadian National Karting Championship at Mont-Tremblant in August. With nothing left to prove in the Micro-Max class but a year too young to move up to Mini-Max this season, Serravalle headed to Italy for his next challenge, one that put him in the seat of a Tony Kart for the very first time. Racing 60cc Mini in the WSK Euro Series, Serravalle was 23rd in his first start and 21st in his second after starting at the back, but really caught attention after finishing third at the recent Italian Karting Championships. That result brought suitors to his tent, and the rest, as they say, is history.
"The deal came about while Peter and Antonio were racing in Italy with BabyRace, a very well known Tony Kart-based team," continued Ranta. "With Antonio producing strong drives in the WSK Euro Series and reaching the podium at the Italian Championships, Tony Kart approached them to discuss the possibility of Antonio remaining on a Tony Kart when he returned to race in Canada. After some lengthy discussions a deal was reached, and now not only will Antonio be on a Tony Kart for Pserra Racing, but the team is able to offer the same package to all in the karting community."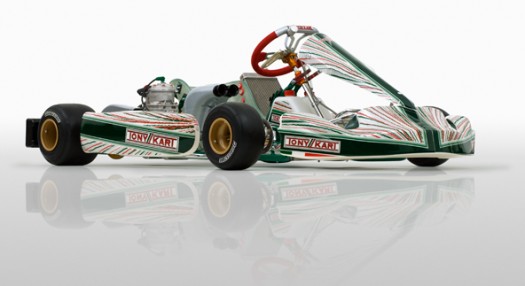 Each and every step in the team transformation has been thoroughly planned, and Pserra Racing will definitely have much more than just a new chassis available when it returns to the Canadian scene as the outfit has been reworked from top to bottom. While it continues to support its existing customer base through the summer, Pserra Racing will be back en-masse as a team effort beginning with the Canadian National Karting Championships in late August, a date that all at the shop are eagerly anticipating.
"Pserra Racing needed some retooling so we decided to strip it right down to the core with a major overhaul," said Ranta of the changes taking place, himself being included. "Getting organized was first and foremost on the priority list and we've done that with everything from the books to the trailer and the engine shop to the inventory. It's all been tackled this month and we are now ready for product to arrive. It's been a lot of hours and a lot of work, but in the end it was necessary in order to return in the right way."
"Personally I feel really excited to be back full-time with Peter at Pserra Racing as well. It's very rare to have second chances in life, and I'm grateful for the opportunity that has presented itself. I never really wanted to leave, but it was the right choice last year given the personal issues I was dealing with at the time. Now I'm back with a firm, committed plan in place for the team and organization, and I'm looking forward to putting it into action!"
The new Pserra Racing Tony Kart program will be launched in the near future with an Open House and a trial-and-test day where interested parties can test Tony Kart products with the Pserra Rotax engine of their choice. The team hauler is being refitted in Tony Kart green with a new matching tent, and watch for an updated pserraracing.com web site coming soon.
* Team Facts: Pserra Racing is based at 23 Cardico Drive in Gormley, Ontario, and its race team competes in club, national, and international competitions on both Tecno and Tony Kart chassis. Pserra Racing will return to competition this season at the Canadian National Karting Championships in August and will continue on to the Pan American Rotax Max Challenge Championship Event and the SKUSA SuperNationals to close the season. Engine Rental and Arrive-and-Drive opportunities are available at each race, with programs and full-time race team opportunities currently being developed for 2013 beginning at the Florida Winter Tour.
Pserra Racing operates in conjunction with Tecno Kart, Tony Kart, OTK, Rotax, Tillett Racing Seats, MiR, MyChron, AiM, DiD Chains, Beta Tools, Streeter Stands, BOCA Bearings, Molecule and the Rotax Depot. For more information on Pserra Racing and how it can help you achieve your racing goals, please call the shop at 1-905-888-6400, toll free at 1-877-880-6455, or visit pserraracing.com