News
PR: Matthew and Nicholas Latifi to contest the Canadian Nationals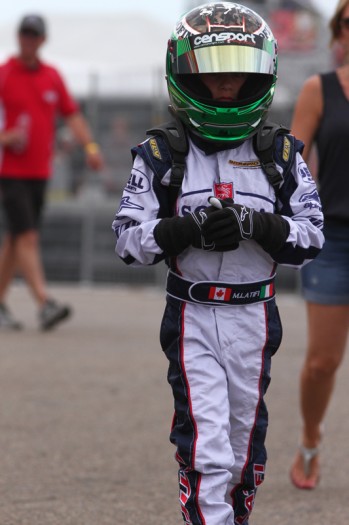 Matthew Latifi (9) and Nicholas Latifi (17), both members of the Sofina Foods Drivers' Development Program and competing for the Ferrolati Corse Karting team, head to the natural beauty of Mont Tremblant to participate in the 2012 ASN Canada FIA Canadian National Karting Championships. This will mark the fourth appearance for Nicholas while Matthew will be making his first start at Canada's biggest karting event. Both drivers are heading into the weekend with a championship already in hand as they each look to lock up a major milestone on home soil. The elder Latifi has had success at the Nationals, hitting the podium in 2010 in just his second appearance and earning a spot on Team Canada in Rotax Junior Max.
"I am really excited to have both Nicky and Matthew racing at the Nationals this year," comments David Tennyson, coach for the Latifi brothers. "Matthew has been amazing in his rookie year of racing and Nicholas has been balancing racing karts here in North America and racing cars in Europe. Both have developed their own style and have delivered championships this year. A win this weekend would be very nice."
Matthew will again pilot a PSL Karting CRG cadet, the same kart he used to dominate the ECKC this season. Nicholas will run in his familiar CRG DD2 supplied by PSL Karting. Under the guidance of tuners 'Coy' Arbour and 'Alex' Vincent, look for the Toronto-based brothers to charge to the front of the field through out the weekend.
"I am really looking forward to seeing my little brother Matthew compete in his first Nationals," comments Nicholas. "He has been doing a great job in his first season of karting and is learning all the tracks really quickly. He is incredibly fast. I think he will do great this weekend."
The 2012 ASN Canada FIA Canadian National Karting Championships begin today and wrap up on Sunday were some of Canada's top kart racers will see the victory podium. Up for grabs will be several National titles along with new members added to Team Canada.
The Sofina Foods Drivers' Development Program was created to help Canadian karting series offer young drivers a goal and a prize to work towards. In 2010 and 2011, the Sofina program supported the Eastern Canadian Karting Championship as well as Team Canada drivers going to the Rotax Max Challenge Grand Finals. The Sofina Foods Drivers' Development Program is proud to support Canadian drivers reaching the international motorsports stage.
For more information about this release, please contact David Tennyson at davidten@h10media.com.
About Sofina Foods Inc.
Sofina Foods Inc. is a privately owned Canadian company headquartered in Markham, Ontario dedicated to providing great tasting, high quality food products for retail and foodservice. As one of the nation's leading manufacturers of primary and further processed protein products, Sofina Foods has a broad portfolio of branded and private label pork, beef, turkey, and chicken products. Sofina's family of branded products consists of: Lilydale, Janes, Mastro, San Daniele, Fearmans Pork, Fletcher's, Vienna, Cuddy and Quality Meats. Sofina Foods currently operates 18 HACCP-approved manufacturing facilities (17 in Canada and one in the northwestern United States), three hatcheries and has over 4,700 employees.