News
PR: Le Circuit Quyon Racing / Margay Racing Florida Winter Tour Report
By: Le Quyon Karting – Photos by: FWT and Le Quyon Karting
The racers from Le Circuit Quyon enjoyed a successful outing at the 2014 edition of the Florida Winter Tour, recently held in Orlando, Florida. For those of you unfamiliar with the series, the Florida Winter Tour is a well organised winter kart racing series established in 1999. In 2013, the series hosted more than 340 drivers from 26 countries, and featured participation from eight reigning and former CIK and Rotax World Champions representing 15 World titles. Recent participants have included F1, Indycar, NASCAR, and Daytona 24 Hour drivers. Needless to say, the competition is
fierce, fast, and you guessed it, furious!
Our drivers included William Lalonde in the Briggs LO206 Senior Class and Eric Lefebvre in the Briggs LO206 Masters Class. They were joined by Margay Racing drivers Hunter Fox in the Briggs LO206 Juniors Class and James Froemming in the Briggs LO206 Masters Class.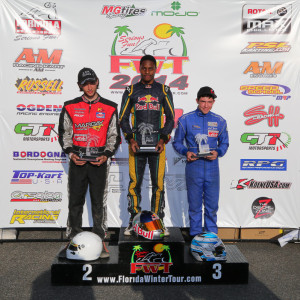 On Saturday, both William and Eric performed extremely well for Le Circuit Quyon and Margay Racing, placing in third and first places in their respective classes. In the Senior final, William was holding second position behind Red Bull racer Collin Daley Jr (Jamaica) until he was passed by Johnny Flute (Canada). Flute was able to reign in Daley to take the lead in very close quarters; however, nearing the end of the race, Flute was able to take the lead after an error by Daley. Unfortunately for Daley, both of the top two racers received varying time penalties resulting in a position swap – with Flute crowned the victor. Daley managed to maintain second, while William finished a close third. A great Saturday result from William, who was participating in his first major karting event in two years!
For Eric, it was a day of firsts: he participated in his first Florida Winter Tour; his first international event; and placed first in the final! He and Jason Froemming (USA) of Margay Racing raced neck and neck for a large portion of the race, trading fastest race laps as the final progressed. In the end, Eric finished a tight 1.7 seconds ahead of Froemming in second. John Morris (USA) placed third in his Victory kart, a full 11 seconds off the leaders' pace.
In the Briggs LO206 Junior Class, Hunter Fox (USA) of Margay Racing had a great day, finishing in second place behind Roman DeAngelis (Canada) of Team Koene USA in his Tony/Kart. Third place in the Briggs Junior category went to Tyler Bouillon (Canada) in his CRG. The top three racers were separated by a large 28 second gap from first to third – Bouillon was on fire!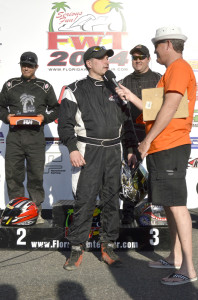 On Sunday, Le Circuit Quyon racer William Lalonde had another great race. Saturday's winner Johnny Flute (Canada) jumped out to an early lead, but soon suffered from a mechanical failure which ended his campaign for a double victory over the weekend. His position was quickly taken by Collin Daley Jr in his CRG; however, Chad Campbell (Canada) and William were not about to let him escape to victory without a fight. Both Campbell and William pursued Daley fiercely, but Daley continued to protect his lead. William had Campbell under significant pressure, and after a few laps of battle, was able to usurp Campbell and make his way into second position. As the race wore on, Campbell dropped down the order and third place was taken by Christopher Proietto (Canada) in his Praga kart. William was only a second off of Daley's bumper, while Proietto was a further three seconds back. Great job William!
In the Masters category, Margay was represented by only one racer – Jason Froemming (USA) due to Eric Lefebvre not starting the Sunday final. Froemming was able to take the win from a hard charging John Morris.
Meanwhile, Hunter Fox had a great day representing Margay Racing. Hunter eked out an early lead over Tyler Bouillon (Canada) and Logan Cusson (Canada) who were trailing by over two seconds. After a few laps of unsuccessfully trying to track down Hunter, Bouillon and Cusson bump-drafted together to gain valuable seconds and catch up to the leading driver; however, with only a couple of laps to go, the three top racers tangled with each other resulting in Hunter once again eking out a small lead. At the finish line, Hunter managed to retain his well fought first place, closed followed by Bouillon in second and Cusson in third.
Le Circuit Quyon and Margay Racing are very pleased with the results achieved by our team of racers. Here's hoping that 2014 is a successful year for both of our organisations! See you at the track!