News
PR: IPK North America FWT Palm Beach Report
The 2013 season is officially underway for IPK North America after the Florida Winter Tour International Rotax Max Challenge began a week ago at Palm Beach International Raceway. With drivers competing in five Rotax classes, a young IPK North America squad was quick from the first test sessions of the week and gained valuable experience for its drivers while making podium trips on both days of the event.
"We had a lot of speed in both the wet and dry conditions but things just didn't go our way too often," said Team Manager Marco Di Leo. "Schippers was one of the quickest in senior but got beaten around in turn one both days, and a couple of times we had to start right from the back of the grid. Still, it was a great weekend of experience for our young team, and we're all now looking forward to the second event as many of our young drivers will bring the same good speed with a little more experience to the table. We'll get them in Homestead. There will be more podiums to come!"
Noting the podium, Di Leo himself found the way there both Saturday and Sunday racing a Praga kart in DD2, a new class for the Canadian star. His day went from fifth to third in a wet first run, then he charged from the back of the pack to finish third once again on Sunday after being deemed less than a mm too wide in qualifying.
"It was a solid points weekend for me in my debut in the DD2 category," Di Leo said after the event from the IPK home base near Toronto, Canada. "It was gutting to not take the win on Sunday, but I'll work harder to win the next one and hopefully get into a better position in the points race."
Another driver racing a new class was also quick to establish himself as Sam Schippers impressed in his first senior starts and in his first races in America. Guiding an all-new OK1 Cruiser R chassis, the karting star from the Netherlands quickly found the front among some of the fastest drivers in the Rotax world.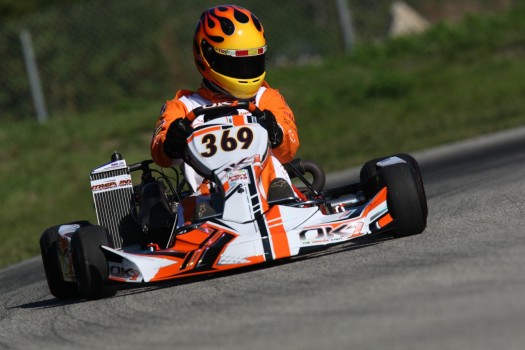 "My first time at the FWT was really awesome!" Schippers said afterward. "Overall I'm really happy with my first races in senior max. My first race was really difficult, as driving in America is a lot different than Europe, but I had a great week in Palm Beach with some good results. I learned a lot and we were fast enough to win!"
Of that point there can be no doubt. After posting the fourth fastest time of his group during final practice, Schippers then posted P3 in qualifying for Sunday, right behind reigning Rotax World Champion Charlie Eastwood, and followed up with P5 from Saturday qualifying in a field that had 55 karts. One day later on race morning, he was P1 in morning warm-up! The first day would sadly end with a fouled plug that left him on the Final grid, but Sunday began much better. Starting from P3 and on the inside, Schippers raced to second in the Prefinal and was on the front row in just his second start.
"It was a great feeling!" Schippers said of his Sunday morning run. "I had a good start and I had a little gap behind me. I knew we were fast enough to keep the position and we finished second. That was really fine after a disappointing Saturday. But in the final I had to start on the outside line, then was pushed off the track on the fifth lap, but that's racing. I was really impressed with the new OK1 chassis and working with IPK North America was a nice experience. I also have to thank my mechanic Ton Vink, Marco Di Leo, Alessandro Manetti and IMAF Racing Seats for their support. Hopefully I can also drive the second round of the FWT as well!"
Also showing very well Sunday in Rotax Senior was Wilson Hurtado, fresh from finishing on the podium in opening weekend TaG Senior action. The Colombian started the day P18, advanced four spots in the Prefinal and climbed all the way to seventh in the Final. Fellow senior Artem Korolev also climbed a long way in his return to North America, his trip starting from the LCQ on Saturday and taking him all the way to P14 in the field by the end of the day. Luis Schiavo looked on form in his first DD2 Masters weekend, setting the fastest lap in the field on his way to fifth Sunday, a field that included the last three Masters World Champions. Full team results can be seen below.
The FWT Rotax Max Challenge resumes February 22 at Homestead Karting, just outside Homestead-Miami Speedway. For more information on how IPK North America can assist you there, please contact: marco@goodwoodkartways.com
IPK North America Driver Results
Florida Winter Tour Round 1, Palm Beach International Raceway
Rotax Micro-Max
Xavier Harris – 16th, 20th
Jeremy Tallan – 43rd, 37th
Rotax Mini-Max
Victor Prato – 26th, 28th
Rotax Senior
Wilson Hurtado – 18th, 7th
Artem Korolev – 14th, 24th
Sam Schippers – 32nd, 33rd
Rotax DD2
Marco Di Leo – 3rd, 3rd
DD2 Masters
Luis Schiavo – 7th, 5th
*Team Facts: IPK North America is based at Goodwood Kartways in Stouffville, Ontario, Canada, where drivers can progress from turning rental kart laps to world championships. The IPK North America race team represents the facility at National and International Championships like the Florida Winter Tour, Pan-American Rotax Max Challenge, Eastern Canadian Karting Championship and Canadian National Championships.
It has also had drivers contest SKUSA SuperNationals, the World Karting Association Manufacturer's Cup, the Rotax European Championship, the Rotax International Open Championship and the Rotax Max Challenge Grand Finals. IPK North America operates in conjunction with IPK in Verona, HRS Racing Engines, IMAF Racing Seats and Intremax.
Report: IPK North America / Photos: Cody Schindel – INTL-KartingMedia.com