News
PR: Gianfranco Mazzaferro sets sights on National title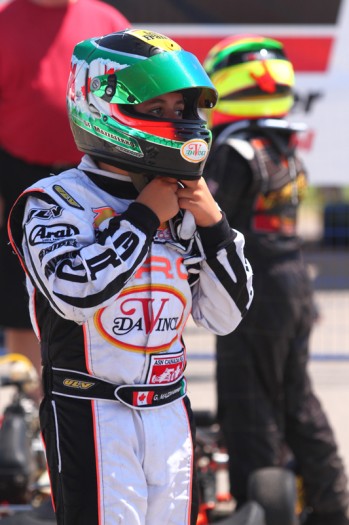 Gianfranco Mazzaferro, a member of the Ferrolati Corse Karting Team, will take to the Circuit Karting Mont Tremblant for five days of national competition as the best kart racers from across Canada look to hoist a National Championship on Super Sunday. The 12-year-old racer from Dollard-des-Ormeaux, Quebec has already secured a place in the 2012 record books by taking the Eastern Canadian Karting Championship Rotax Mini Max title a few short weeks ago. Mazzaferro and tuner Nick Cosca have been on top of their game through out the season as GF looks to close out the campaign in Canada with his first national title. Piloting a Zanardi Kart from SH Karting of St. Hilaire, Quebec, GF calls Mont Tremblant his second home and has seen success at the world-class karting complex over the past few seasons.
"I am really pumped to be heading into the Nationals this weekend at Tremblant," comments Mazzaferro. "Everyone has been working very hard all year to be ready for this event. We did a ton of testing last week and found some speed. I was on the podium last year at the Nationals and this year I am hoping to make it to the top step with a win."
2012 will mark the third visit to the ASN Canada FIA Canadian National Karting Championships for Mazzaferro who has been steadily moving up the finishing order each season. In 2010, GF finished the event in 12th place in the final standings as a Rotax Mini Max rookie. Last year Gianfranco made an impressive run for the national crown, taking fifth in qualifying followed by third in the prefinal. GF used that inside second row starting position to grab third place at the line securing a spot in the post race ceremonies and a place on the podium.
"I tested a new Zanardi Kart this week and we have been working hard on our engines," continues Mazzaferro. "I get great support from a everyone under the Ferrolati Corsa Karting tent. Our goal is to win the final on Sunday and bring home a national title. There are some really fast guys in the Mini Max class and we are going to need our 'A' game for sure."
The Ferrolati Corse Karting Team will be in action today to contest the ASN Canada FIA Canadian National Karting Championships at the Circuit Karting Mont Tremblant on August 23 to 26.