News
PR: Florida Winter Tour Wraps Up Palm Beach Weekends With Action From Start To Finish
The inaugural weekend of Rotax MAX Challenge competition in Formula Kart Productions' Florida Winter Tour 2013 season wrapped up at Palm Beach International Raceway today with perfect racing conditions and no sign of the rain from Saturday. It's been a weekend of racing that will surely get lots of replays in the FWT LIVE! archives when the video footage is posted. So many battles throughout the seven classes had fans on their feet as they cheered for their favorite drivers.
Many of the drivers here this weekend are here in part because of the invitations available to compete at the Rotax MAX Challenge Grand Finals, held this November in New Orleans. These invitations are just some of the extensive awards to be given away during the championship weekend at Ocala Gran Prix in March. After two weekends of competition, points have been accumulated in the Drivers, Nation's Cup and Manufacturer's Cup point's battles.
Another special award to be presented at the end of the year is the Dan Wheldon/FWT Karting Ambassador award. Dan was such a special competitor and friend to many at the FWT that his absence is still felt through the paddock. We know the action seen at PBIR over the last two weekends was what he relished in life and that, hopefully, he's watching over us and likes what he sees.
Last year we sat down with Canada's Ben Cooper to see why he came to the FWT and why he made the move to Canada from the UK. Normally, we wouldn't interview someone again this soon. But many changes for Ben in the last year, not the least of which is earning a third World Championship, warrants another chat with the one known as "Super Cooper." For Ben, the big changes started last October when it was decided that SRA would concentrate on sales and service of Rotax products, and Ben would manage the racing arm with Peter Kalman under the name KMS North America.
"It's been a fantastic challenge," said the 22-year-old champion, "I've been so focused on what we're doing with the academy and the race team that I almost forgot I was supposed to be driving this weekend in Palm Beach!" The focus, he says is to create an easier transition for people new to karting to go from the academy to the race team. In doing so, Ben has created a teaching program to show people exactly what he does, how he does it and why. For someone that's a natural driver, this has been a difficult process. "When I first started putting the driver training together, I knew I would have to teach them things I do, but have never thought about. So, I've literally watching film of me driving and studied it so I know what to tell my students," Ben said.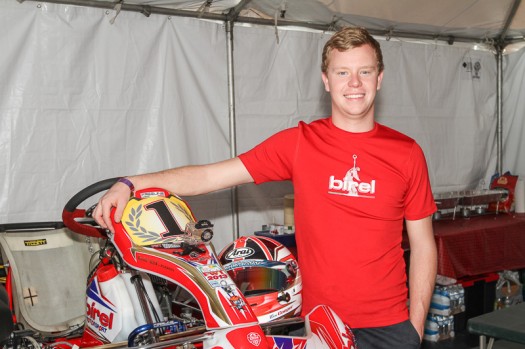 On becoming a three time World Champion, Ben just had this to say, "It's truly unbelievable. I used to be teammates with Cristiano (Morgado) after he'd won his first and before I won. I really looked up to him and to be sitting here tied with him as the only two three-time Grand Finals World Champions is very special." From what we saw at the FWT in 2012, we're looking forward to seeing more from Super Cooper in 2013.
While Ben Cooper is making a profession for himself in karting, many talented racers aspire to transfer into racing cars. Unfortunately, too many talented individuals have tried, only to come up short. But some possess all of the special qualities needed to make it as a professional driver. One such driver is James Hinchcliffe. James has been racing for 17 of his 26 years and is preparing to enter his third year of competition in the IZOD IndyCar Series. As he did last year, James will be driving the GoDaddy sponsored Dallara for Andretti Autosport.
About 10 years ago, James was making a name for himself on the highly competitive SKUSA ProMoto shifter kart tour. Ironically, when asked about those days his first reaction was, "Those were great days. But, sadly, I think that was the last time I drove a kart!" When asked what brought him back, he said, "Last fall, I was talking to Mike Maurini, who was my mechanic back in my karting days. He suggested I come experience the FWT and was able to get support from Jorge Arellano of Ocala Gran Prix. I'm really glad this came about because I've been having a great time driving a kart again."
James' resume is very impressive. In between his karting days and life on the IndyCar circuit, he's spent time competing in Formula BMW, Star Mazda, The Formula Atlantic championship, A1-GP and Indy Lights. Even with all this success, James says the only real goal he sets for himself is to improve every time out in the car, or kart. "So many variables in racing are out of your control, if you set specific goals, it could drive you crazy," he said.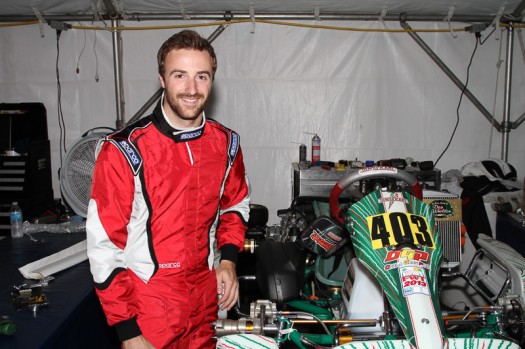 When not racing, James says his favorite hobby is scuba diving. "Normal life is so hectic," he said. "I've found diving to be the perfect way to get away from everything. When you're under water, it's like a completely different world." Last year James made a big impact with his "Hinch For Homepage" campaign aimed at getting users to vote for him to replace Danica Patrick on the GoDaddy homepage. With the fan base he's acquired in the last few years, we can only wonder how long it will be before people start writing us to put James Hincliffe on the FloridaWinterTour.com homepage!
After not being in a kart for 10 years, James found the early going a bit of a learning curve. But, by Sunday, he was right in the thick of the battle for the lead. Here's a rundown of how he, and the other competitors did Sunday at Palm Beach International Raceway, and who took home the prestigious FWT Palm Trophies.
MRP Motorsport Sponsored Senior MAX
Senior MAX started the day with Oliver Askew (USA) on pole position for the pre-final. He used the top starting spot to his advantage to take the pre-final win over Sam Shippers (Holland) by 1.136 seconds. The final would turn out to be one of those you MUST watch on the FWT LIVE! video archives. There was so much going on that even if you were here to see it you will want to watch it again!
Oliver Askew started on pole and looked to make a break in the first two laps. But, the field, led by Danny Formal (USA) caught him and the battle was well and truly ON. Several drivers had their time in the lead; Oliver, Danny, Nick Neri (USA), Luke Varley (UK) and reigning world champion Charlie Eastwood (N. Ireland) all had a nose in front at some point in the 18 lap race. On the last lap, the top six came off the final corner together and it was Charlie Eastwood taking a hard fought win. MyLaps data shows the gap from first to sixth place at the finish to be less than six-tenths of a second. It was THAT close!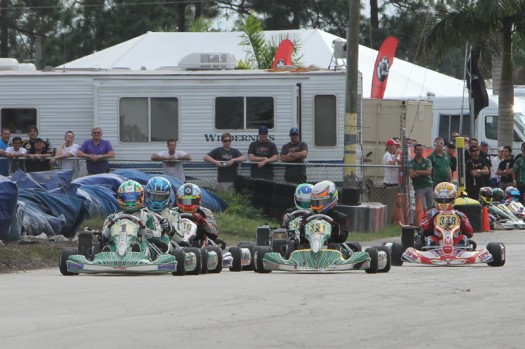 GT7 Motorsports sponsored Micro MAX
Emiliano Richards (Mexico) was again on pole for the Micro MAX pre-final and, after a great run, would find himself on pole again for the final. As the Micros swept into turn one on the opening lap, Emiliano kept that lead, but the pack was charging hard. For the first few laps, the battle for the lead looked like it was up for grabs. But, after a handful of laps, Emiliano and Giovanni Bromante (USA) separated themselves from the field and built up a gap over third.
While the lead two were off on their own battle, the fight over the final podium spot consisted of eight karts, each more than capable of taking it. In the end Emiliano Richard took the win by two-tenths of a second over Bromante with Guiherme Romano Peixoto (Brazil) prevailed over the pack to take third.
Rolison Performance Group sponsored Masters MAX
On Saturday, Derek Wang (USA) took the win in the first Masters race he had ever competed in. If he was to do that on Sunday, he would have to go through fast qualifier Scott Falcone (USA) who had taken pole position by less than a tenth of a second over Jason Bell (USA). The pre-final was a race long duel between Wang and Falcone, with Wang prevailing to start the final in the top spot.
In the Masters final, Derek Wang and Scott Falcone again ran nose-to-tail for almost the entire race. Lap after lap the two traded fastest time and were around a half second a lap faster than the next fastest runner. In the end, Wang pulled out a small gap to take the win over Falcone. Jason Bell hung in to take a well-deserved podium in third place.
Ocala Gran Prix sponsored Junior MAX
In Friday's Junior MAX qualifying session, Thomas Issa (Jamaica) set a time that would earn him the pole for Sunday's pre-final. Saturday's Junior MAX winner, Jack Weprin (USA) would set fast time, but a technical infraction would see him having to start dead last in the Last chance Qualifier. With 28 karts in the LCQ, it was a daunting task to make the top six, but Weprin used the six lap race to go from 28th to 4th and transfer into the pre-final.
Starting on the front row in the pre-final, Kyle Kirkwood took command of the race and scored the victory over Thomas Issa. While these two were circulating at the front of the pack, Jack Weprin was cutting through it. At the end of the 16 lap pre-final, Weprin was up to third and was looking forward to the final. At the start of the Junior MAX final, Kirkwood and Issa moved wide to take a sweeping line into turn one. Weprin saw a gap on the inside and went for it. The three entered the first turn three- wide with Issa coming out first.
As the karts took their first lap of the PBIR circuit, some drivers moved up and some got shuffled back. One driver on the move was Juan Manuel Correa (USA) who was up to second behind Kirkwood by the end of lap one. Weprin was one of those shuffled back, but not for long. By mid-race he was back on point and ended up taking a half-second victory over Thomas Issa and Dominic Tesoro (USA). With so many position changes in this race, it is yet another one you will want to watch in the FWT LIVE! video archives.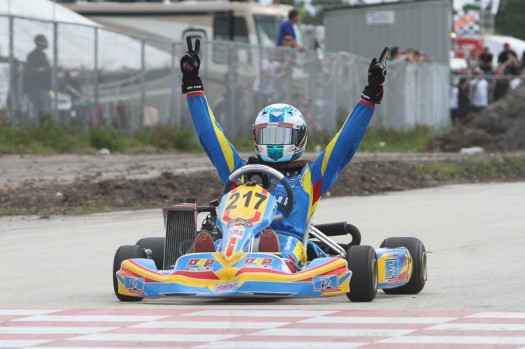 AM Engines sponsored Mini MAX
Qualifying for Sunday's Mini MAX grid saw Texan Nicholas Brueckner set fast time with a lap of 55.875 seconds. The reigning Micro MAX US National Champion is adapting to the Mini MAX quickly and has been on the pace all weekend. In the pre-final, Anthony Gangi jr, the defending Mini MAX US National Champion continued his hot streak at this year's FWT by taking the victory over Brueckner by less than a second.
In the final, Santiago Terife, another one of the many very quick Venezuelans, took the early lead on lap one. Santiago and Anthony jr. fought a tight battle for the lead with Brueckner never far behind. Eventually, Gangi was able to pull out a lead while Benjamin Espinoza (Ecuador) and Neil Verhagen (USA) worked their way through the pack to round out the podium.
SH Karting sponsored DD2 Masters
Stuart "Stumacher" Clark would start the DD2 Masters pre-final on pole position with fellow Canadian Scott Campbell alongside him. But, the race would be a fight between Campbell and Cristiano Morgado (South Africa) with Cristiano taking the win. In the final, Morgado and Campbell resumed their battle from the pre-final with each taking the lead at different points of the race. Behind the lead two, Belgian Christophe Adams held off a pack that included Stuart Clark, Luis Schiavo (Venezuela) and Andres Fonseca Grajales (Costa Rica).
Nearing the end of the race, problems for Campbell dropped him back to the battle for third, which then became the battle for second. This fight would eventually be settled with Adams taking second and Clark third. Up front, Cristiano Morgado showed why he's a three-time world champion as he cruised to a 2.596 second victory to sweep the DD2 Masters races on the weekend.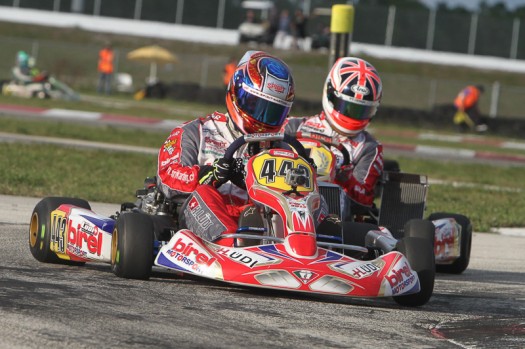 PSL Karting sponsored DD2
Last, but certainly not least for the weekends action was the premier Rotax class, the high-powered DD2s. Swiss driver Kevin Lüdi set pole position in Friday's qualifying with a fast lap of 51.801 seconds to edge out teammate Ben Cooper (Canada) by 0.089 seconds. Cooper would avenge his qualifying performance by taking the victory in the pre-final over Lüdi.
In the DD2 final, Cooper and Lüdi set sail from the pack while a tight group consisting of Xen De Ruwe (Belgium) and Canadians Marco DiLeo, James Hinchcliffe ans Jesse Lazare put on a great show as they fought over third place. Towards the end of the race, Cooper held the point and set off on the last lap with a slight advantage over Lüdi. Going into the last corner, Ben moved down the inside to block Lüdi and that gave Kevin the advantage of momentum coming off the final corner to beat the defending world champion to the line by 0.038 seconds. Four seconds adrift of the lead battle, Marco DiLeo prevailed to come home in third to take the last podium spot.
Once the races were in the books, it was time to hand out the FWT Palm trophies, then pack up and get ready for Homestead. Last year's action from the track just South of Miami was some of the best we saw all year. With all that facility has to offer, plus the fantastic attractions, shops and restaurants, not to mention one of the world's most famous beaches, the Homestead FWT event is surely "THE Winter PlaceTo Be" in February.
Stay informed by logging onto www.FloridaWinterTour.com and our facebook page (facebook.com/FloridaWinterTour) to get the latest news and info from the Florida Winter Tour!
The Florida Winter Tour is one of the world's largest, longest running and most geographically diverse kart racing programs. In 2012 the FWT featured over 400 drivers from 28 countries and all six karting continents, and for the 5th consecutive year was the world's largest official Rotax Max Challenge series and event.
For more detailed information log on to the official FWT web site at www.floridawintertour.com
Report and Photos by: Ken Johnson/Bill Wright